The experience of fighting terrorists in the cities of Syria formed the basis of a number of new curricula at the Moscow Higher All-Arms Command School (MosVOKU), which today turned 100 years old, according to
News
.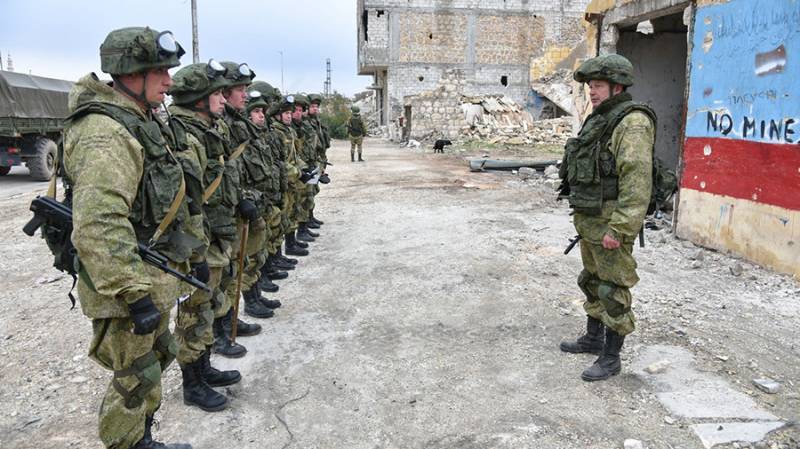 It is noted that more than half of the teachers of the tactics of this university have visited Syria and are now adjusting the curricula based on the experience gained there.
This work is ongoing. There are new sections, directions. We have to keep up with the times. For more than a year, we have been sending our officers to Syria to study combat experience. This year, a number of school teachers, including myself, underwent an internship there,
said the head MosvOKU Major General Alexander Novkin.
Lecturer at the Mosvok Department of Tactics, Corresponding Member of the Academy of Military Sciences Nikolay Moiseenko:
In almost all recent operations, troops had to fight in urban conditions. Syria is no exception. Some cities, such as Palmyra, had to be beaten off from terrorists twice. Considering this, special attention in the training of cadets is paid to the mastery of a locality or its defense. Changes have been made to the work programs, an educational section entitled "Platoon and company actions on mastering a populated area" has appeared, additional objects have been created on the tactical field.
Future officers are studying the composition and tactics of the actions of assault squads and groups during the destruction of the enemy on the approaches to the village and in it. "Cadets learn to use reinforcements, including grenade launchers, anti-tank, sniper units. In the company link, special attention is paid to working out interactions with mortar and artillery units,
aviation
, including unmanned, "the article says.
According to the editor-in-chief of the magazine Arsenal of the Fatherland, Viktor Murakhovsky, Syria has revealed new features of actions in the city and this experience must be taken into account.
The role of commanders of small divisions - departments, platoons, companies has significantly increased. Now they often operate autonomously, independently occupy or retain individual objects. For example, there is a case when in Syria, 12 special forces fighters held back a gang of up to 300 militants for several hours. And they solved the problem without losses due to the very good coordination and precise guidance of our aircraft. The organization of this interaction must be taught
said Murakhovsky.
He noted that in conditions of urban combat there are significant restrictions on the use of heavy weapons.
If an artillery or aircraft strikes the enemy in a city, as a rule, this is done according to the laser range finder targets. That is, we need to highlight the target from the ground. And the unit commander should be able to organize the work of the aeronautical planners and artillery spotters,
added an expert.