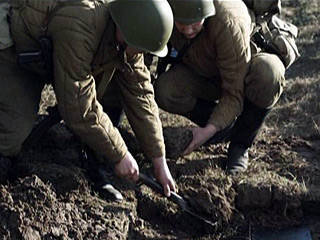 October 16 1944, the Red Army crossed the USSR border and set foot on German territory. Along the East Prussia, soldiers and officers of the engineering troops came along shoulder to shoulder with infantry and tankmen, helping to assault enemy positions, building roads, neutralizing minefields, building ferries, bridges and airfields. They were waited by a huge number of water barriers through which the Germans destroyed the bridges.
The sappers had to carry out engineering reconnaissance of rivers, find fords through which T-34 could be shipped. Liberators went to Koenigsberg. The city, blocked from the north, east and south, in the north-west was held by German troops on the Zemland peninsula.
The Königsberg fortification consisted of the outer and inner defense belts. Forts, built in the middle of the nineteenth century by German engineers, were turned into a truly impregnable fortress. The front edge of the defense completely covered minefields. On the night from 5 to 6 on April, before the beginning of the storming of the fortress, the sappers made passes in the minefields and obstacles of the enemy, clearing approaches to the forts.
During the war, the training period for sappers was reduced to three months. Classes were held daily with almost no days off. The cadets studied the mine case, camouflage, erection of fortified barriers, the construction of bridges, command posts and other structures. Future sappers were taught the "hidden", "rolling" and other types of mining, as well as demining tricks. The sappers were armed with electric detectors and simple probes.
The series describes the types of German mines and the features of their demining, what is behind the inscription "Checked - no mines", and what tasks were carried out by assault engineering-sapper brigades. Also in the series -
история
create medals for the liberation of cities.