The American press publishes materials announcing US measures to counteract the implementation of the Nord Stream-2 project. Edition
Washington examiner
referring to sources in the US Department of State, writes that representatives of the US Foreign Office are busy working to find ways to completely block the construction of the pipeline.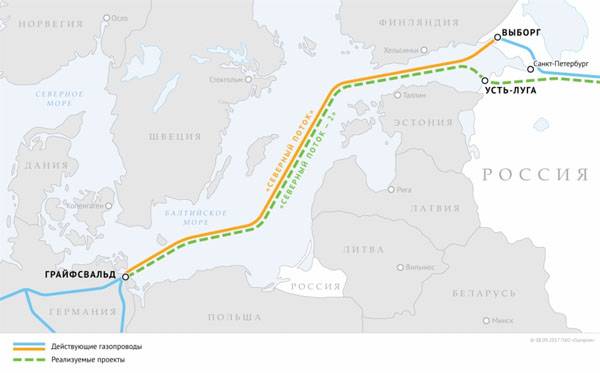 RIA News
publishes a statement by Assistant Secretary of State Aaron Mitchell, made during a report to representatives of the Subcommittee on Foreign Relations of the US Senate:
Since the Nord Stream-2 will pass through the waters of Denmark, this can be a significant political and legal stumbling block that can severely slow down the construction of the gas pipeline. If we take into account that the new gas pipeline will supply 75% of the gas supplied to Europe, then it can be stated that this does not meet the interests of Europe and the USA.
Recall that the deputies of the Danish Parliament have already made a decision on the approval of the draft law, which allows banning the construction of the Nord Stream-2 gas pipeline.
In other words, the United States no longer hide the fact that, in order to realize their own economic interests, they are ready to exert obvious pressure on the authorities of other countries, including the EU countries.
The ultimate goal of the United States, as is known, is to force Europeans to buy their LNG, which will definitely strike at the European budget, since this type of energy will cost European consumers much more expensive than pipe gas from Russia.