Question from a journalist from Poland:
When will Russia return the fragments of the Tu-154 aircraft to Poland? How do you comment on the statements that the Polish leadership claims about the explosions aboard, that you are not personally, but your people are actually involved in this catastrophe?
Putin:
Listen, but we are already tired of this. If there were explosions, then the question is: where did the plane take off from - from Moscow or Warsaw? From Warsaw. Look then for yourself ... Yes, there were no explosions there. This established numerous commissions of experts. We know: a man entered the cockpit, ordered to sit down anyway. So they sat down ... There was a tragedy. The same fragments (airplanes). What are you doing all this for? Turn you this page. Get mature. Work for the benefit of Poland, for Russian-Polish relations. How many lost your country from the support of various sanctions? How many jobs are closed, how many are not open. We do not need anything from Poland. We would like to develop our relationship.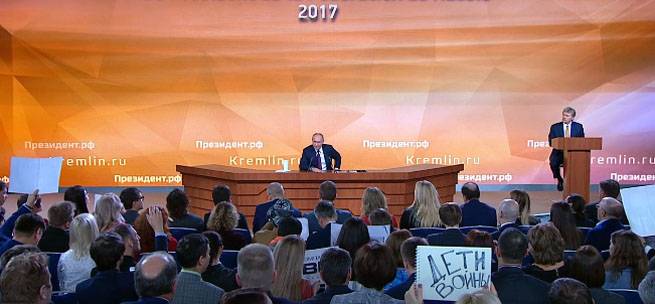 An Interfax journalist asked a question about Vladimir Putin's visit to the Middle East and specifically the question about arriving at Hamim's airbase in Syria.
The president noted that the trip was necessary. The question concerned the creation of appropriate conditions (security) and when the process of liquidation of bandit formations would be completed.
Putin:
Security was provided by our servicemen both on the ground and in the air. The most dangerous thing is landing and taking off an airplane that can be shot down by MANPADS. The pilots flew not just nearby, they, in fact, covered our plane. Then they broke up. I am very grateful to them for this.

And the main obstacle to the final resolution of the issue in Syria is the increase in the level of education and welfare. It is from a low level of education and living standards that terrorism is generated. All participants in these processes should not be tempted to use terrorist groups for their own purposes. Al-Qaeda was created to fight the Soviet troops in Afghanistan, and then they attacked 11 September. we tell the Americans: militants are moving to Iraq. They do not react there - apparently, they want to save the militants,
then to use them, including, to attempt to dislodge Assad.
According to the President of Russia, it is important to establish a political, humanitarian process that will lead to the restoration of peace in Syria.