London - Perhaps there are more sleeping agents in the United Kingdom and in the United States today than during the Cold War, as stated by Victor Madeira, senior researcher at the Institute for Statecraft and an expert on Russia, who told parliament about Russia's secret intervention in the UK.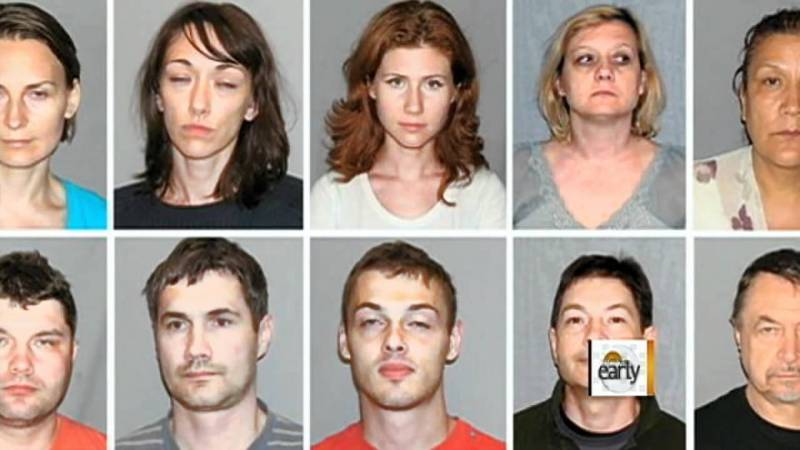 In his affidavit, which he gave to the defense committee of the House of Commons, Madeira described in detail the resources that Russia uses in its attempts to influence the British, Europeans and Americans.
The main point of his testimony was that the number of agents of the Russian intelligence services far exceeds the number of their colleagues in the United Kingdom. However, Madeira also focused on the activities of the Russian General Intelligence Directorate and its operations with the participation of so-called illegal or dormant agents, who at first glance live in the United States and Great Britain in a completely normal life - until Moscow contacts them.
"The GRU has been implementing" illegal agents "for a long time. These carefully selected intelligence officers live abroad according to their "legends," that is, elaborate fake identities with fake
stories
life (sometimes they live like that for decades), which allows these agents to fully assimilate. "
"Currently, British counterintelligence has a lot less resources, while citizens of the former Warsaw Pact countries can easily travel to NATO member countries. This becomes a particularly serious problem if the intelligence officer uses "natural cover" (that is, self, which is sometimes called "unofficial cover"). Some banker or travel agent may actually be a banker or travel agent, but they may well be intelligence officers or illegal agents (in the latter case, they can do it voluntarily or under duress). Since such people do not maintain any traceable links with the intelligence services of a hostile power, they are much more difficult to calculate, monitor, or counteract. That is why they are so valuable. "
"Illegal agents are the most valuable intelligence resources," said Madeira, author of Britannia and the Bear, a story about the espionage of these two countries.
"Despite the end of the Cold War in 1989-1991, the long-term Russian programs for the introduction of illegal agents continued to operate. These programs still remain as strategically important, long-term, resource-intensive and valuable as before, and they are based on one goal: to introduce Russian agents into foreign governments and societies, regardless of the current state of relations between East and West ", - Madeira said in an interview with Business Insider.
Anna Chapman - spy who worked at Barclays
Perhaps one of the most famous "sleeping agents" was Anna Chapman, who was arrested and deported from the United States along with nine other agents in 2010.
When Chapman (her real name, Anna Kuschenko) was arrested, the media took this event as a joke: Chapman was not involved in any serious espionage operation.
She received British citizenship by marrying a British citizen whom she met at one of the parties. She lived in London for at least five years, from 2001 to 2006 a year, and worked on NetJets and Barclays. She then moved to the USA. Some believed that Chapman was part of a group of Soviet agents, whom the Russians had forgotten after the fall of the wall. Later, her story was the basis of the television series "Americans" with Keri Russell (Keri Russell) in the title role. It tells about a couple of two KGB agents who live in a suburb of Washington.
Today, almost nothing is known about the scale of the Russian program of "illegal agents" - besides the fact that Chapman's arrest confirmed that she continued to work successfully in 2010. However, we know a lot since the days of the Cold War, when Western counterintelligence took the Russian threat more seriously.
In the middle of 1980, according to expert estimates, the First Main Directorate of the KGB supervised the activities of 200 "secret agents", and the GRU - still 150.
Today, the number of "undercover agents" working undercover in the West is much higher.
"Personally, I am convinced that today these numbers are much higher," Madeira said in an interview with Business Insider.
The reason is that Russian state security agencies tend to think for decades or generations, not years. The end of the Cold War allowed Russians to easily travel to Western countries, and the successor agencies to the KGB found it a good opportunity in the long run.
Spies no longer had to make grueling journeys from Moscow through Asia or the Middle East, changing passports several times to eventually arrive in Europe. Meanwhile, the desire of the United Kingdom to invest in counterintelligence has gradually decreased, since we entered into a long period of peace that followed the collapse of the USSR.
All this greatly simplified the work of illegal agents. Now they can get on the plane to Heathrow airport and disappear without a trace by the afternoon.
Control "C": the preparation process may take several years
The spy group Chapman was led by the Russian Foreign Intelligence Service (there are several intelligence agencies in Russia). The SVR was previously a department of the KGB. Inside the NER, there is a mysterious administration "C", which recruits, trains and manages the activities of illegal immigrants.
This process can take several decades, and some illegal immigrants go to the West along with their wives and husbands, while their adult children remain in Russia as semi-free "hostages", guaranteeing unquestioning execution of orders. The story of how things are happening was published in 1984 by Viktor Suvorov, a GRU agent who went over to the United Kingdom in 1978. It all starts with the fact that the future illegal immigrants are settled in a secret dacha outside Moscow, where everything looks exactly as it would in the West:
"He wears clothes and shoes, eats food, even smokes cigarettes and uses razor blades made abroad. Each room has a tape recorder that runs 24 an hour a day while he is in the country. These tape recorders continuously transmit
news
from radio programs broadcast in the destination country. From the very first day of preparation, he has been supplied with many newspapers and magazines. He watches a lot of movies and gets acquainted with the descriptions of television programs.
Instructors - mostly former illegal immigrants - read the same newspapers and listen to the same radio programs. They constantly ask their students all sorts of difficult questions about what they have read. It is quite obvious that after several years of such preparation, the future illegal will know by heart the composition of any football team, the opening hours of any restaurant and nightclub, weather forecasts and everything related to the area of ​​gossip and current affairs in a country where he has never been in his life. " .
They become ordinary citizens leading the most ordinary life.
The most curious thing about the program of illegal immigrants is that when they are activated, they do not turn into characters from the novels of Le Carrés. They are not being introduced into MI6 or the CIA and do not begin to transmit secret information to Moscow. They become ordinary citizens leading the most ordinary life.
The most obvious question is why should Russians put so much effort? But for them the opportunity to settle their agents in another country is already an end in itself. Only after that they begin to try to conduct espionage activities.
"Cases where illegal Russian intelligence officers personally infiltrated foreign governments were generally quite a rarity. No matter how high the legends of illegal immigrants are, no matter how well they are suitable for ordinary life, not a single "first generation illegal" would be able to pass a security test (I hope I would), "Madeira said.
"The role of the illegal intelligence officer is to remain invisible to counterintelligence services and at the same time recruit people / agents / sources who either have access to valuable information or can potentially receive such access," he added.
"These people / agents / sources are those who work in government departments, corporations, NGOs, the media, academia and so on."
Suvorov wrote about it very well:
"After arriving in the destination country, the illegal begins to go through the registration process. It is supplied with impeccable documents, made by the best masters of forgery in the GRU on real forms. At the same time, he will be in an extremely vulnerable position if he fails to properly register with the police and tax services. Any check can give him away, and for this reason he often changes his place of residence and work, so that his name appears on the lists of many companies and that he has characteristics signed by real people. Ideal for him - under any pretext to get new documents to the police. Often such people marry other agents (who are often already their spouses), then she is given a real country passport, and he "loses" his fake passport, which is replaced with a real one on the basis of his wife's documents. The acquisition of a driver's license, credit cards, membership cards of various clubs and associations is an important element of the "legalization" of illegal ".
According to Madeira, they often steal the names of dead children. "One of their favorite tricks is to walk through western cemeteries, find a dead child who died at a very young age, take his name for him, and if everything works as it should, they get a fake" legend. " Later, he gradually acquires a life story, a foreign passport, and begins to speak in a foreign language without any accent. "
In addition to NetJets and Barclays, Chapman also owned a small real estate agency in New York.
The goal is to start with the outer circles of influence and gradually create a network that extends to the very top. According to Madeira, illegal immigrants become "travel agents, employees of think tanks, students."
"But they are united by the fact that all of them are gradually trying to find ways, through work or through acquaintances, to get to the centers of power, to politicians, special advisers, people who are related to the decision-making process, and to people who are able to influence. A well-off person who sponsors the party ... Perhaps they studied with the senator, perhaps they studied with a member of parliament. "
Sometimes they choose political assassination victims.
The worst side of all this is that they are really capable of doing this if Russia gives such an order. Some illegal immigrants are used to identify victims of political assassinations. When the conflict broke out on the Russian-Ukrainian border, according to Madeira, high-ranking Ukrainian security experts began to die one by one. The last such attempt was made in October.
"They determine which of the experts must be killed ... The confusion of the enemy is already a half-won battle." According to Madeira, their victims were "high-ranking officers of the armed forces and counterintelligence." "The victims for the murder were chosen very carefully."
Political assassinations work because "at least they have a demoralizing effect." "At best, this accumulates knowledge and contacts over the years, which disappear in an instant," Madeira explained.
"The media underestimate how long and continuous these Russian programs are."