Question to the president:
When will the decision be made to raise the retirement age? And at what age men and women will retire?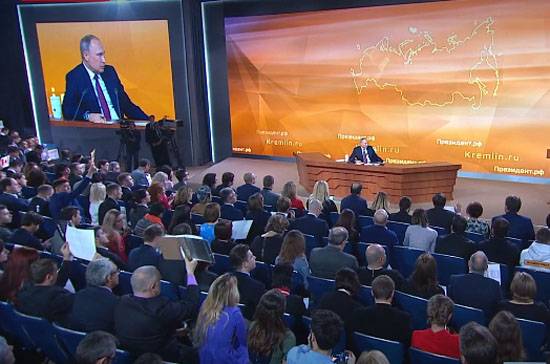 Putin:
This bar, which is now, was designated in 30-s of the last century. Now all European countries, as well as Belarus, Kazakhstan, Ukraine, have all decided to raise the retirement age. If you leave everything as it is, the number of pensioners will far exceed the number of employees. At the same time, the incomes of pensioners with regard to inflation will fall. But there are those experts who warn about problems when raising the retirement age. They say that the economy should be put on innovative rails, for example, if today the project needs about a thousand workers, then tomorrow there may be no more than a hundred, with the same profitability. To make a decision, you need to calculate everything for each position. In any case, this will not affect those who have already retired. This should not be a shock decision. Such decisions cannot be made behind the scenes. Everything will happen openly with discussion.
Journalist Match TV asked about the scandal with doping and the removal of Russian athletes.
Vladimir Putin:
This campaign, and I know it perfectly well, is purely political. But we ourselves are to blame, we gave a reason.
According to the president, there are facts about the use of illicit drugs by individual athletes. But our competitors, as Vladimir Putin says, use illicit drugs, trying to hide behind certificates about diseases.
The question was asked about who was behind the fact that Grigory Rodchenkov, being accused of implementing doping, being a mentally ill person, prone to suicide, became the head of the Russian Anti-Doping Agency?
Vladimir Putin noted that Rodchenkov also exported illicit drugs from North America. The president added that today Rodchenkov is under control (under protection) of the FBI, this is a big minus for Russia.
Putin:
What did he do under the control of Western intelligence services? What kind of scratches on the tubes now in question?
Vladimir Putin said that the appointment of Rodchenkov as the head of the Russian anti-doping agency "was a mistake."
It seems that this mistake is too expensive for Russia ...