"First channel":
You have issued a decree package, which are known as "may". Journalists talked about this a lot, the governors often shuddered. What mark you put for the execution of the May decrees.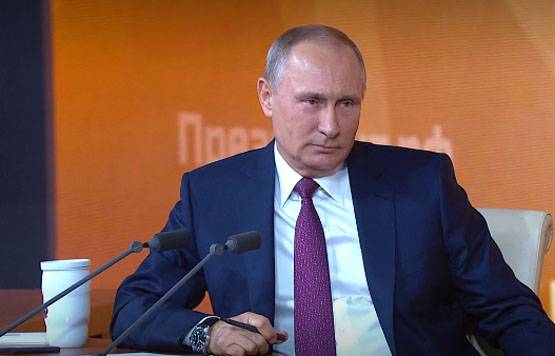 Putin:
Then many said that those decrees were impossible to implement, that their full execution would pull the economy down. Approximately 93-94% of the declared figures are executed. This also applies to the level of wages in the public sector. In the 2018 year, I think, all these figures contained in the decrees will be executed. Practically solved the problem of providing children with places in kindergartens. On the whole, May decrees are being fulfilled satisfactorily.
Sergey Brilyov (TV channel "Russia1"):
Until the current aggravation of international relations, the foundation began to crumble - the missile defense, the INF Treaty. Will a START 3 contract survive? If not, will it not be necessary to raise military spending in Russia in such a way that it will cause damage to citizens.
Vladimir Putin:
There is propaganda work on the US exit from the INF. They put the missile defense system in Romania. They removed the Aegis systems from the sea and set them on dry land. There, it is enough to replace anti-missiles with missiles (for attack). But we are not going to go anywhere. If the US withdraws from START-3, it will strike a blow to security. But we will act in such a way that we will ensure our security without an arms race.

Military spending is not related to social spending. At 2018, military spending is in the amount of 2,8 trillion rubles. This is up to 2,8% of GDP. The US has already signed a law on military spending on 700 billion dollars with our 46. Our country can afford such expenses?

There is a joke: Who does not want to feed his army, will feed someone else's. And there is a joke:
The father officer asks his son: son, and where is my dirk. Son: Dad, I traded him for a watch from a neighbor's boy. Father:
The gangsters will come to us, they will kill me, they will kill my mother, they will rape my older sister, and you will go out and say: "Good evening, Moscow time 18 hours 30 minutes".