13, the big press conference of Russian President Vladimir Putin, has begun. More than 1600 journalists are accredited to it, including journalists from foreign publications and TV channels. The event takes place in the World Trade Center.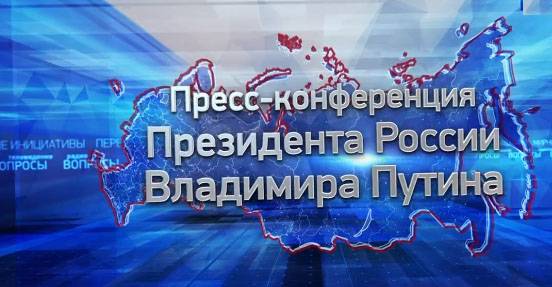 Before the event, press secretary Dmitry Peskov commented on the press conference:
The press conference is of interest, and huge interest. Despite the fact that Putin announced that he would run, most issues would be electoral.
According to Dmitry Peskov, journalists from such countries as Japan, China, the USA and Germany are the most active at press conferences.
Vladimir Putin:
I suggest not to speak to me with my great monologue, but to begin precisely with your questions.
The first question asks "Moscow says":
Vladimir Vladimirovich, why are you going to the polls? What are your goals, what will Russia be like at the end of your presidential term?
The president:
Russia must be modern, the economy must be flexible, and labor productivity must increase. The main thing is to focus the attention of the government and society - these are issues of infrastructure development, healthcare, and education. This should be aimed at increasing the income of citizens.
"Life News":
You yourself are not bored because you have no competitors in the elections? After all, other candidates have support at the level of statistical error.
Vladimir Putin:
And let's combine your question with the question of the girl, on the poster of which it is written: "Putin, bye-bye."
Then it turned out that the poster read "Putin Babay" - grandfather Putin (in Tatar), as the girl herself reported.
Putin:
It's not for me to educate competitors. But our political and economic environment must be competitive. Why the opposition does not compete with the authorities. We have a specificity over the past decade. Young people do not know what was before, there is nothing to compare what is now. Our GDP increased by 75% from 2000, industrial production - by 70%, processing industry - 60-70%. As a result of the crisis, real wages fell, but since 2000, real wages have increased 3,5 times, maternal mortality has decreased almost 4 times. There are many problems, but we have broken the main ones. Additional measures will be taken. The average lifespan of 65,3, now for 71. We lived almost 10 for years in a civil war. Look at the army we have now. Reserves of the country increased 30 times.
The opposition should not only make noise in the squares and talk about the anti-people regime, it is important to offer something.