In May of the following year, the two first production Su-5 fighter jets of the 57 generation should receive the 929 th Fighter State Flight Test Center (GLITZ), according to
News
.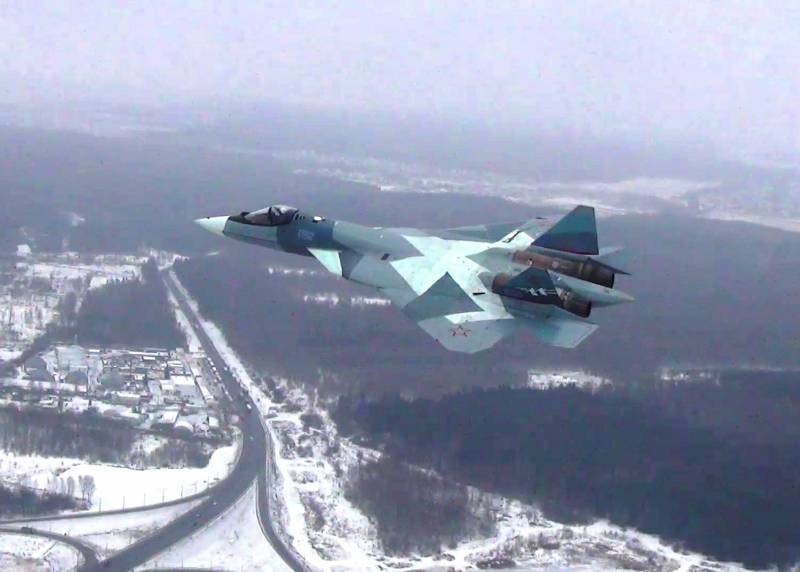 Testers center fly around new fighter jets will prepare a manual for their flight operation.
"A group of six pilots has already been prepared. Their task is to conduct research flights on new machines and prepare a manual for flight operations (RLE). This set of reference materials and instructions is called the "Bible of the aircraft," the newspaper writes, citing military sources.
Independent military expert Anton Lavrov:
Russia's Aerospace Forces have a clear system for adopting new aircraft. The first production copies always arrive in the 929 of the GLITS. Testers of the center conduct flights on critical modes. That is, it is determined when the aircraft can fall into a spin, with what maximum speed and overload it can perform maneuvers safely for the pilot and his design. Based on these studies prepare RLE. The pilot needs to know this document almost by heart and strictly observe it.
According to the expert, when the RLE is ready, pilot-instructors of the 4 Combat Training Center (PPI) begin to work with new aircraft, whose task is to "form a combat training program, develop tactical methods that make the most efficient use of flight characteristics, capabilities of onboard equipment and weapons new devices. Only after this begins the training of pilots of combat regiments and squadrons.
Su-57 - the first Russian fighter of the fifth generation. This is a complex machine, which is significantly different from Su-27, MiG-29, Su-30 and Su-35 in its design, piloting features and capabilities. Therefore, the Ministry of Defense prefers to do everything according to plan, maximally working through each stage. In the case of the Su-35 fighter, the work was done in parallel. The first production vehicles had already arrived in the regiments; at the same time, the GLITs pilots were developing the RLE, and the instructors at the 4 pulp and paper industry wrote the program. This allowed the fighter to be mastered as quickly as possible in the army. But with the Su-57 do not work,
told military historian Dmitry Boltenkov.