The press service of the Israeli Defense Forces reports that the Israeli Iron Dome missile defense system has worked. According to the military command, the missile defense system hit two rockets fired from Palestinian territories. The missiles were sent towards the city of Sderot.
One rocket fired from the Gaza Strip fell in the desert area of ​​Eshkol district without harming the population or causing damage to buildings and structures.
If you believe the reports of the Israeli military press service, then the fourth rocket was launched on Israel. She, as stated, she fell, without leaving the Gaza Strip, on the territory of an educational center owned by the United Nations Relief and Works Agency for Relief of Refugees (UNRWA). No injuries reported.
In the Gaza Strip, they claim that the territory of the UN school was shelled by the Israeli army.
Against this background, there are reports that the Israeli
aviation
inflicted another series of strikes against Gaza. The IDF press service reports that three targets of the Hamas movement were targeted, which was a response to rocket fire on Israeli territory.
RIA News
cites the statement of the Israeli military command:
On the night of Thursday, December 14, 2017, the Israel Defense Forces attacked three Hamas military facilities in various areas of the Gaza Strip, using air force platforms for this. Military facilities were used as training centers and weapons depots.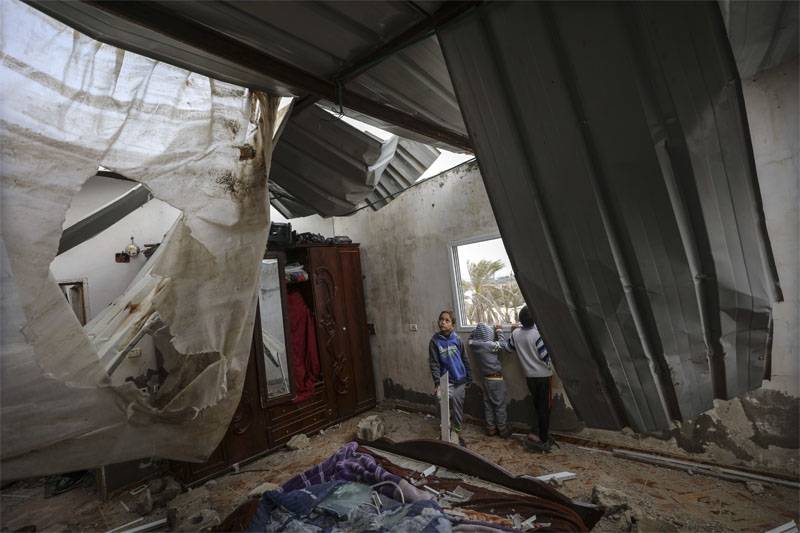 Palestinians publish photographs of the results of Israeli air strikes, reporting significant damage to a number of residential buildings in the Gaza Strip.