What do you think about the presidential term and the aggravation of external and internal war? It's simple. Many are not holding their breath, but they are waiting for some lists in the United States promised in February that are of direct relevance to Russia.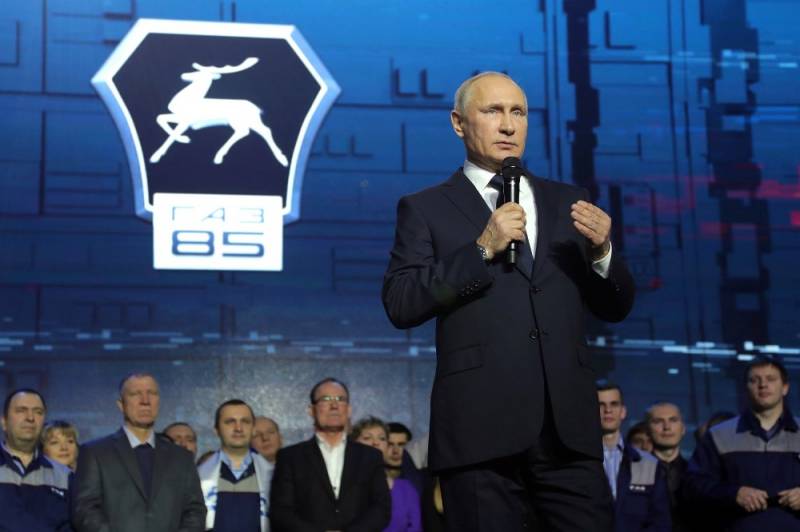 Lists of oligarchs, officials, in general, those who keep money abroad. Subtext: corrupt. And the imposition of personal sanctions on them.
What they are there, over the ocean, to our thieves? Well, store. Well, their capital works for the American economy. So what?
And the fact that the law "On counteracting the opponents of America through sanctions" signed by Donald Trump in August so demands. Opponents in the law called Russia, Iran and North Korea.
In the US, they believe that this list will primarily consist of people who are very close to Putin. Accordingly, the long-range sight is aimed just at him.
The idea of ​​Americans is simple, like a Coca-Cola bank: a threat to the capital of oligarchs-friends will make them (oligarchs) go, if not to a direct confrontation, then to something like a coup. According to the Ukrainian script.
And I must say, all this is not without reason. It is not necessary, after all, to keep for stupid a certain part of Americans who work in the respective services of three letters. They know how to work and calculate steps too.
Considering that friendship is friendship, and money apart, it's hard to say how people from Putin's entourage will behave in this situation.
In the US, they believe that Putin has placed loyal people everywhere, whose incomes and living standards depend on his desires. This is normal. As well as I will not doubt that there is a group of particularly close oligarchs who control national wealth thanks to their relations with Putin. Here, of course, the Americans are right.
Another question is that Putin inherited many of the oligarchs from Yeltsin, and they have not gone anywhere. Almost everyone lives and thrives, with a few exceptions. Indeed, Berezovsky, Khodorkovsky and Lebedev - rather, the exceptions that created problems for themselves, nothing more.
And, I must say, this US operation may agitate some part of Putin's entourage. Fact.
Here, by the way, it is not only about money in the matter of sanctions. Here and real estate, and, as an option, a ban and expulsion of students and students of colleges and universities in the West.
An interesting move. Of course, from whom children do not study abroad, so you should not worry.
How to properly organize the leak of the necessary information in the United States know perfectly. Nothing else than the possible prospects of future losses, it is impossible to explain the stirring that has arisen around foreign capital.
The calculation was based on the fact that anxiety for their future will push the Russian oligarchs to take action.
But here came out a little differently. For some reason, the proposal of the oligarchs to stimulate the return of their capital from abroad by issuing special currency bonds with high yields did not meet with understanding.
Representatives of the Ministry of Finance called this proposal nonsense. It would be very interesting to find out what our representatives from the Forbes lists think in light of this.
But it is quite normal and explainable. To pay from the budget for the return to Russia of capital earned in different ways and brought to the West by far not the purest ways - well, this is definitely a bust. Especially on the eve of the election.
It reminded us of the practice of the nineties, when the owner of the stolen property was offered to return it at half price. It seems, is not it?
So it is possible that February will bring many reasons for concern to our wealthy people.
But what about the majority of Russians to the problems of the oligarchs? Many will only be happy. Here the question is somewhat different.
Russian vertical of power. How closely is it connected (in that connection, there is no doubt) with oligarchs who may suffer losses? And to what extent will this vertical be vulnerable to oligarchs?
There is no doubt that the Russian oligarchy will put pressure on government officials with all its might to secure the most favorable conditions for the return of capital to Russia. And to what extent the government will agree to shift these costs on the shoulders of the Russians.
Of course, there is an option. Putin will soon have to thoroughly shake the existing structure in order to deprive it of its vulnerable elements. Let's just say, replace the henchmen of the oligarchs with patriots, who are also independent of the oligarchs.
Interesting, but doubtful. And not because Putin has not enough spirit, but the point is the complete absence of those persons in and around the government.
Meanwhile, under pressure from the masters, power may even come out of obedience to Putin. Again, we look at Ukraine.
And here the position of the United States is very peculiar and not without ambiguity.
On the one hand, there are quite serious financial problems in the USA. And there are no extra resources in the form of arrested and nationalized amounts (note, not small). It's one thing when other people's money is spinning through the banks in the economy, another thing is when this money suddenly became its own. Two big differences after all.
On the other hand, the pressure on the oligarchs through their wallets is the best way to put pressure on Putin. If he goes to the demands put forward by the oligarchs, this in turn will strike at the Russian economy. Amounts rather big ...
Well, the possibility of an oligarchic coup, too, should not be discounted. Moreover, the government has really done a lot to ensure that this situation exists.
In an amicable way, of course, no bonuses and special welfare regimes for oligarchs in Russia should be created. Moreover, in our opinion, it is also worth talking about measures of a repressive nature.
Let those who robbed the country and withdraw money abroad do not think that they should at least earn at least, returning money to Russia, but that otherwise they will be beaten from both sides at once.
And measures against those who are still hesitating will have to be taken quickly and firmly, immediately after publication.
Bargaining, as they say, is inappropriate here.
Americans are seriously counting on the effect of sanctions. And not without reason, of course. This once again proves that in fact Putin does not control the oligarchs. Least. And the fact that the Russian elites will be disappointed in Putin, if he does not play on their side, is quite possible. And it's normal if the elites start looking for alternatives already in 2018.
Of course, it would be nice, from the point of view of the Americans, to push elites to speak out against Putin. Ukrainian script, as mentioned above.
But there is a little aspect.
Unlike Yanukovych, Putin controls the power block. Probably, this is the only unit that he really controls on 100%, unlike other ministries and departments.
But this is more than enough at the first moment, because the second may not be.
Indeed, the most recent example is the case of Ulyukaev. Indicative for all involved and standing nearby.
But reliance on security forces is only half. The second half is the real support of the people. With the first, everything is in order, we hope, with the second ...
Just a lot will depend on how the power goes to the oligarchs.
We look, until February there is not so much time left. And there is March ...
Putin's deadline will be very difficult. We have already said that it will not be so easy to offer a successor. First and foremost, everything that Putin will do will be examined under a microscope. It is in light of the fact that in 2023 (or earlier), he will have to introduce who will continue his political line.
And for this much to be done.