Polish military began market analysis on possible modernization
tanks
PT-91, based on the licensed version of the Soviet T-72M1. It is reported by Jane's with reference to the statement of the Deputy Minister of Defense of Poland Bartosz Kownacki, made in an interview with Gazeta Polska Codziennie.
We want to upgrade PT-91
- said the deputy head of the defense department
We focus on the price of about 4 million zlotys for the modernization of one tank (about 1,1 million dollars - ed.). We have about 300 such combat vehicles, so the cost of the program as a whole will exceed 1 billion zł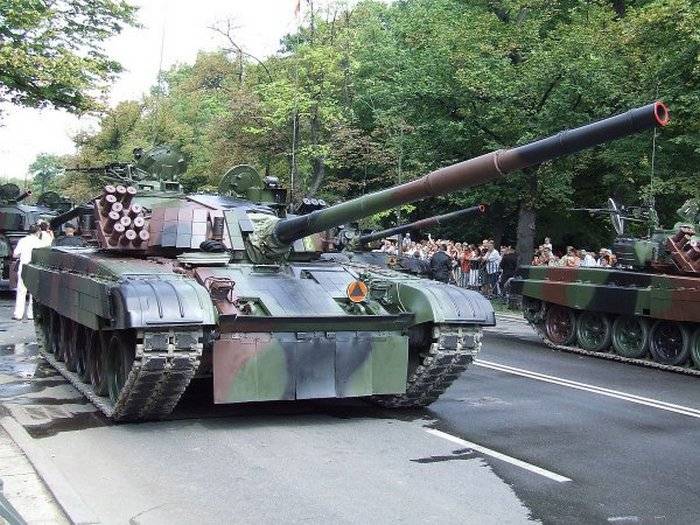 The procedure for analyzing and evaluating offers will last 18 months. Warsaw considers upgrading the PT-91 tanks as an interim solution, before a new generation of tanks will enter the troops. In particular, PT-91 should get new 125-mm ammunition, which will increase their anti-tank capabilities.
In September, at the largest defense exhibition in Poland MSPO, which was held in Kielce, Bumar-Łabędy, part of Polska Grupa Zbrojeniowa (PGZ), presented a possible upgrade package for PT-91.
The improved tank is proposed to equip with the active armor of the new generation ERAWA and equip it with a 2A46MS caliber 125 mm / L46 caliber made in Slovakia with an upgraded automatic loader and SAVAN-15 fire control system.
The driver's seat will be equipped with a PNK-72 Radomka night vision device and a KDN-1 Nyks round-the-clock camera. Additional equipment will include a TKN-3Z night-vision sight for the commander and a SOD circular viewing system.
Bumar-Łabędy also proposes to strengthen the PT-91 suspension, upgrade the manual gearbox and install the S-12U engine with HP 850 power.
In addition, Jane's learned about the plans of the Polish Ministry of Defense to modernize in Czechoslovakia self-propelled howitzers vz.2018 Dana with the wheel formula 2020х77 in 8-8. At the same time, the local military intend to keep the 152-mm gun and not to replace it with the standard NATO 155-mm howitzer. We intend to focus on improving the Tatra T-815 VT Kolos chassis, reports "Voennoe.RF"