In April-May, the Petersburg shipbuilding enterprise Pella 2018 of the year will transfer to the Russian Navy two newest patrol boats of the Raptor type, reports
press office
Ministry of Defense of the Russian Federation.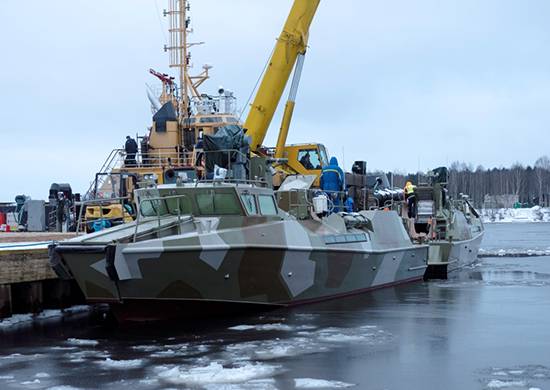 These boats will complete a series of 14 units built according to the Pella plant contract with the Russian military.
"The boat of the 03160 project is designed to perform tasks such as delivering a group of military personnel (marines) to at least 20 people in the daylight hours and at night with the highest possible efficiency when loading the group on board and disembarking at the designated place; carrying out patrols in designated areas of marine areas; interception and retention of small targets; participation in search and rescue operations in areas of duty ", - told the press service.
The navigation area of ​​the boat is the coastal zone of the seas, straits, estuaries in the ice-free navigation period in the daylight and at night with the distance from the basing point on 100 miles.
The length of the boat is 16,9 m, the width is 4,1 m, the draft is 0,9 m, the crew is 3 man, the speed is up to 50 nodes. It has armor class BR4 for bulletproofness, portholes with bulletproof glass 39 mm thick.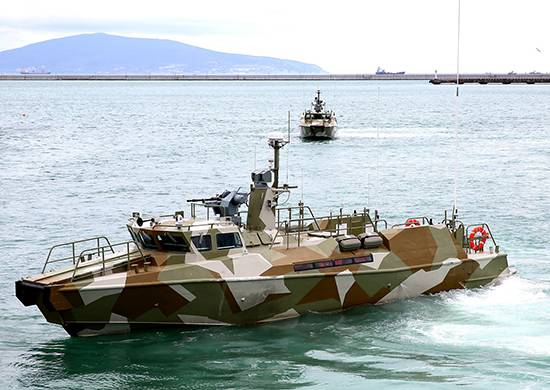 Armament: a remote-controlled complex with a gyro-stabilized opto-electronic module (GOEM), caliber 14,5 mm (target detection range - 3000 m; target shooting range - 2000 m); 2 machine gun 6P41 "Pecheneg" caliber 7,62 mm on swivel installations.