Aircraft MiG-29MT returned to Astrakhan region from Syria, where they successfully coped with their tasks, according to the Department of Information and Mass Communications of the Ministry of Defense of the Russian Federation.
Crews of fighters MiG-29SMT returned to the airfield of permanent basing in the Astrakhan region. The pilots performed the flight from Hmeimim airfield after successfully completing tasks on the territory of the Syrian Arab Republic
- said in a statement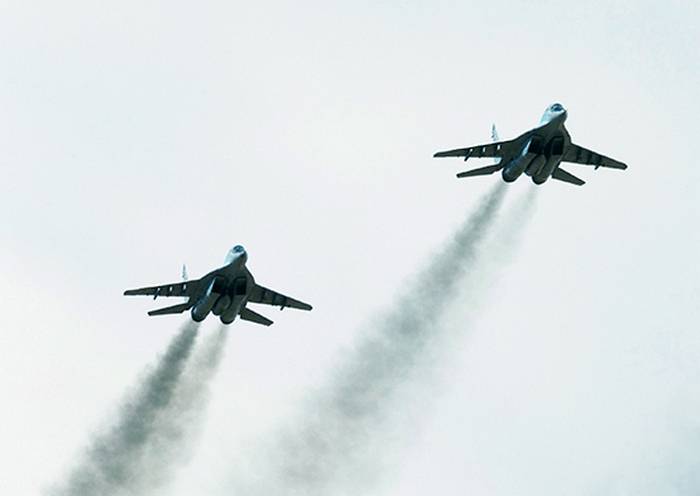 Lieutenant-General Sergei Dronov, deputy commander-in-chief of the Aerospace Forces, representatives of the Yunarmiya All-Russian Children's and Youth Military-Patriotic Social Movement, veterans' organizations, colleagues, relatives and members of the families of the arriving servicemen took part in the celebrations to mark the crew's arrival.
Today, pilots, engineering specialists returned to their native land
aviation
services completing the task of destroying the forces of international terrorism in the territory of the Syrian Arab Republic
- said lieutenant general Sergey Dronov
Our country in a short time created in Syria a small in number, but very effective grouping of aerospace forces, which provided a radical change in the current situation. The whole world was able to make sure that the Russian weapons and equipment are among the best in the world, and the professional skill and morale of the Russian military are at the height
Zamgolkoma VKS added that the experience of hostilities in Syria will be in demand with further training in all types of aviation.
December 11 The Supreme Commander-in-Chief of the Armed Forces of the Russian Federation, President of the Russian Federation Vladimir Putin, speaking to the military at the Khmeimim airbase, ordered the Minister of Defense of the Russian Federation, Army General Sergei Shoigu, to withdraw the Russian group from the Syrian Arab Republic.