In 1669, the nun Alyona left Nicholas Monastery near Arzamas. She joined the peasant uprising led by Stepan Razin. Since people loved and believed Alain, soon there were several hundred people in her unit. Commanding a runaway and serf peasants, she managed to capture the city Temnikov. But in a decisive battle with commander Yuri Dolgorukov suffered a crushing defeat.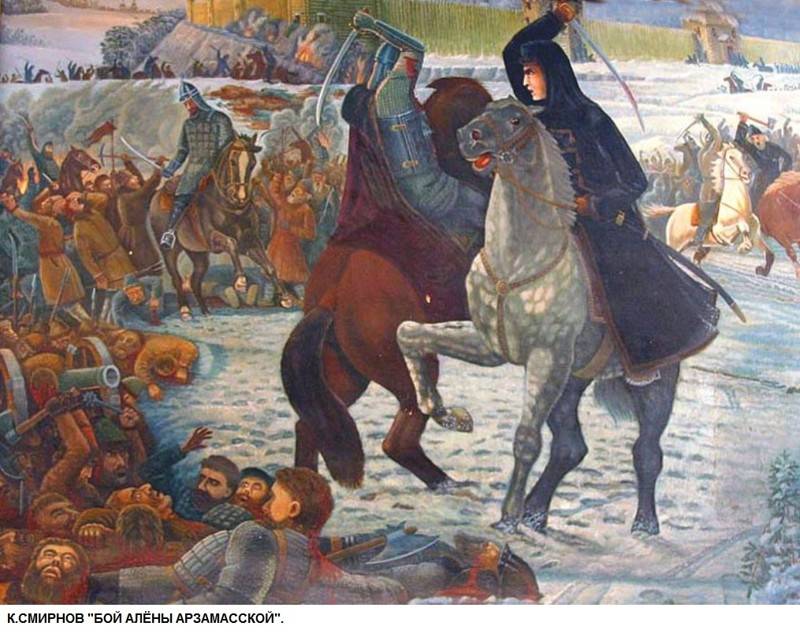 Cossack who became a nun
Alena's year of birth was lost in
stories
. It is only known that its small homeland is the Cossack village of Exit Sloboda, which is under Arzamas.
The lot of women of that time can not be called attractive. From an early age Alain was introduced to work. Together with adults, she went out into the field, and returned home at sunset. In addition, the girl was taught flax art. And although she was not afraid of hard physical labor, she, like any child, loved listening to fairy tales most of all. Especially about the military exploits of the Arzamas peasants and Cossacks.
Having matured, Alyona has become an enviable bride. She knew how to spin, weaved, mowed, handled with cattle. And although she had many suitors, she married a man much older than her years. Her affairs and responsibilities increased. Yes, that's bad luck: after a short time, her husband suddenly died. According to one of the versions, hard work in the field ruined him; on the other, he died simply because of his old age. But, anyway, Alain, being a young girl, remained a childless widow.
To cope alone with the bulk problems she could not. To save herself from starvation, she decided to go to the monastery. And soon she took the veil as a nun of the Nikolaev monastery near Arzamas. This ended the first stage of the difficult life of the Cossack girl.
Having become a nun, Alyona learned to read and learned the sacraments of folk herbal medicine. In those days, many novices and novices from the monastic cloisters collected and dried various plants, with the help of which they helped local peasants to cope with their diseases. A simple Russian man valued monks and nuns because he had no money for a professional doctor. Only rich people could use its services.
As for Alena, the local peasants literally idolized her and considered her a real sorceress (for them this did not go against the Christian faith). The nun of the Nicholas monastery treated the ailments with birch, poplar and pine buds, used oak bark, and used various tinctures. There was such an amazing medicine in her first-aid kit as a bath mold. With her help, Alyona healed purulent wounds. But not only sick people addressed her. It was believed that Alain knew and felt the animals, so she could cure any livestock from the attacking ailment.
A small digression. There is evidence that the Soviet microbiologist and epidemiologist Zinaida Vissarionovna Yermolyeva, starting from the life story of Alena, decided to experiment with mold. She managed to create a bacteriophage that was effective in cholera and diphtheria, as well as typhoid fever. The hard work of Zinaida Vissarionovna in 1939 helped save many lives during the outbreak of cholera in Afghanistan.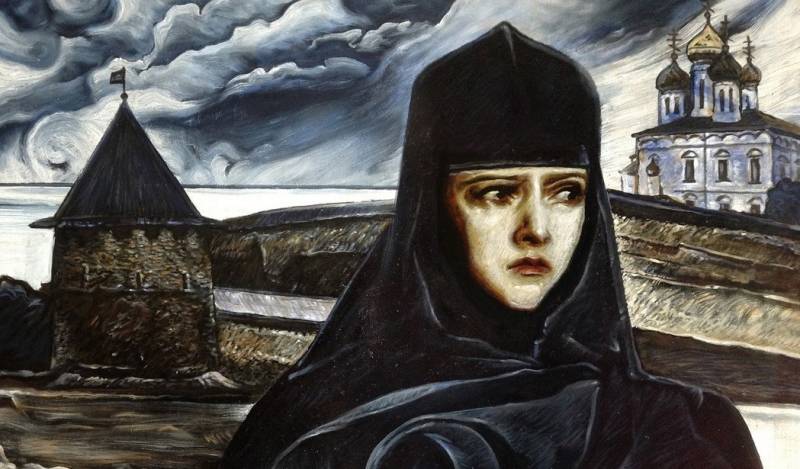 Unfair life
Alena met with local peasants every day. That they came to her for help or advice, she visited her "sponsored". And these visits left deep bleeding wounds on the heart of a heartfelt nun. She saw how life can be unfair. Some have money and power. And others - half-starved existence. Particularly strongly forced her to worry peasant children. She tried to shove bread with them and especially for them she sewed simple clothes. But, of course, she could not feed and clothe all Alena Arzamas. The nun prayed to God that he would show her a place where the magic root grows, capable of making the peasant's share not so bitter (later Leo Tolstoy would dream of a green stick with similar properties). But Alena's prayers remained unanswered. And the position of the peasantry in Russia under Alexey Mikhailovich Romanov was getting worse and worse. Discontent has long accumulated in the country.
Alena with all her heart was with the common people, but alone could not change the rooted order in the country. She, a bold and strong woman, needed an example. And such was found in the person of Stepan Timofeevich Razin.
In 1669, a peasant uprising began in Russia. As soon as Alain found out about the rebellion, she immediately left the monastery - she went to war with the boyars. The rioters accepted her with open arms. Of course, already during the life of the peasants, they began to make legends, respectfully naming Alena-old woman. In addition, it was in the hands of the rebels. After all, the nun everyone knew and believed her, which means that she could become an excellent "recruiter". So, in fact, happened.
Alena Arzamas visited villages and talked to people. Although her speeches were not special, they were pure and sincere. And the peasants followed her in order to "help the priest Stepan Timofeevich" in his right cause. After a short time in submission Alena-old women turned out to be two hundred enthusiastic men. Her plan was simple: she wanted to lead them to Oka, to Kasimov. But she soon refused this undertaking. Why? There is no exact answer to this question. Most likely, Alain did not dare at first to get involved in a confrontation with superior enemy forces. Therefore, I went to the city of Temnikov. According to rumors, the peasants who lived along the banks of the Moksha River decided to join the rebels. And in them, Alain saw good reinforcement of her squad. Rumors were true. The people met the nun as a liberator. Moreover, everyone was convinced that she was a messenger from Stepan Timofeevich himself. But here is bad luck - in fact, Razin and Arzamas have not met. Anyway, some researchers believe that he did not know about the existence of a certain nun-rebel.
Alyona's squad every day became more numerous. Not only Russian, but also Mordovian and Tatar peasants joined it. Prince Yuri Alekseevich Dolgorukov, who commanded the punitive army, reported to the sovereign that Alain "took with him to theft of many people ...". By the beginning of the peasant war, Dolgorukov was already an experienced commander. He had a Russian-Polish war (1654-1667 years), in which he showed himself to be a brilliant commander. And the most significant success was the victory in the battle of Verkah. When the uprising of Razin began, Dolgorukov led the troops operating in the area of ​​Arzamas and Nizhny Novgorod.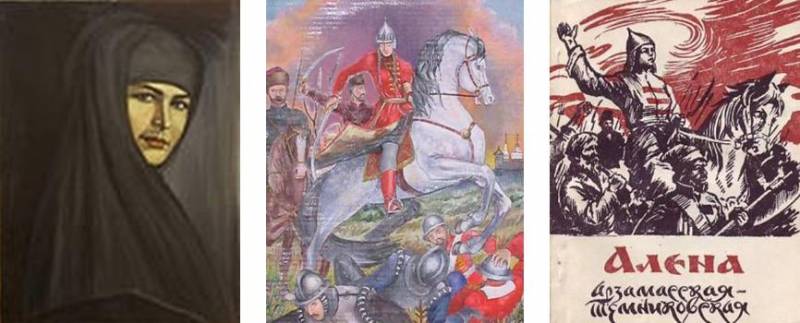 Once the people of the governor managed to capture one of the associates of the old woman. So Dolgorukov managed to find out that under the nun's head there are about six hundred people. The voivode also found out that she acted not alone, as was supposed at the beginning, but in alliance with other rebel groups. And they all advanced to Temnikov. Yuri Alekseevich tried to place as many of his soldiers as possible in the territory along which Alyona supposedly was supposed to move. But his plan didn't work. The locals, not being afraid of the death penalty for aiding the rebels, showed her wild trails in the forests, with the help of which she deftly avoided the trap set by the governor. Many peasants were not limited to help, but joined its ranks. Dolgorukov knew all this, but could not correct the situation.
He failed to prevent the defeat of the detachment of the governor of Arzamas Leonty Shaysukov. The combined army of Alena and Fyodor Sidorov dealt with him. After this victory, the old lady went to the main goal of his path. Under Temnikov, several rebel detachments joined, led by Sidorov. Under his leadership there were about five thousand (according to another version, the number was over seven thousand people) of well-armed people. This was already a real force capable of great things.
The death of the protectors of the peasants
In 1670, the city of Temnikov was dominated by rebel peasants. Dolgorukov, of course, was not going to surrender. In battles, his people succeeded in capturing first the rebel captain Andrei Osipov, and then the Temnik Murzu of Smail Isishev. The first one said: "Baba Vedunya, a widow, a peasant woman of Temnikovsky district of the Red Sloboda, goes to Shattsky dei ... And now she is with thieves in Shattsky district, and from Shattsky she wanted to go to Kasimov". So Dolgorukov learned some facts about marital status, place of residence and plans of his opponent. Isyashev during interrogation (read - under torture) confirmed Osipov's words, which was transferred to Yuri Alekseevich: "But he heard that the old woman gathered thieves to herself and went to theft in shatsky places. And what is the order that the old man in the world was, and from where, and what people gathered with her, and where she is now, she truly does not know about that. "
Meanwhile, the rebels kept Temnikov's defenses. The rebels decided that the most important and serious questions were "the whole world". Alena Arzamaskaya and Fedor Sidorov tried to be as close as possible to their people. But the old woman did not only participate in military and political battles. Since there were a lot of wounded, she practiced all her free time. She alone could not cope, of course. Therefore, she taught this craft to other women.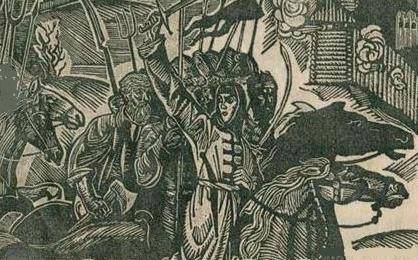 November 30 1670 of the year was a tragic date for Alena and her people. The rebels were attacked by the army Dolgorukov and defeated. They managed to capture about twenty people, including the old woman.
According to legend, it was an extremely difficult matter to capture Alain. After killing traitors from among those close to her, the nun attempted to escape from Dolgorukov's soldiers in the church. Once inside, she fell to her knees near the altar and hugged him. Not a single man from the tsarist army was able to disengage the hands of the old woman. Moreover, not a single warrior could pull the bowstring of her bow ... The woman was so different in physical strength. But still Alain was captured by Dolgorukov. He ordered to "torture and burn with fire" a nun. During the torture, according to legend, Alain did not utter a single sound, enduringly enduring all the torments. And the executioners told Yuri Alekseevich that she does not feel pain, because she is a witch. After being tortured, she was sentenced to death by burning in a wooden house. So cruelly in Russia executed heretics suspected of witchcraft. Alan's terrible sentence was taken calmly, even indifferently. On December 4, 1670, she unassisted stood at the edge of a wooden log house and, crossing herself, jumped down. According to legend, for all the time while the log house was burning, Alain did not make a single sound.
The execution of the nun did not pass by the foreigners. For example, the German Johann Fish in 1677 published a brochure with the long title "Instructive leisure of Johann Frish or remarkable and thoughtful conversations in which we talk about useful and instructive matters, as well as every time about the most important events of our time." In it, he described in detail the capture and execution of Alena: "A few days after the execution of Razin, a nun was burned, who, being with him, like the Amazon, was superior to men in her unusual bravery. When part of his troops were defeated by Dolgorukov, she, being their leader, took refuge in the church and continued to resist there so stubbornly that at first she shot all of her arrows, killing seven or eight more, and after seeing that further resistance was impossible , untied her saber, threw it away and rushed back to the altar with outstretched hands. In this position she was found and captured by those who had broken into. She had to have unprecedented power, since there was no one in Dolgorukov's army who could pull the bow that belonged to her to the end. Her courage also manifested itself during the execution, when she calmly climbed to the edge of the hut, built according to the Moscow custom of wood, straw and other combustible things, and, crossing herself and performing other rituals, boldly jumped into it, slammed the lid behind her and, when everything it was engulfed in flames, it made no sound. "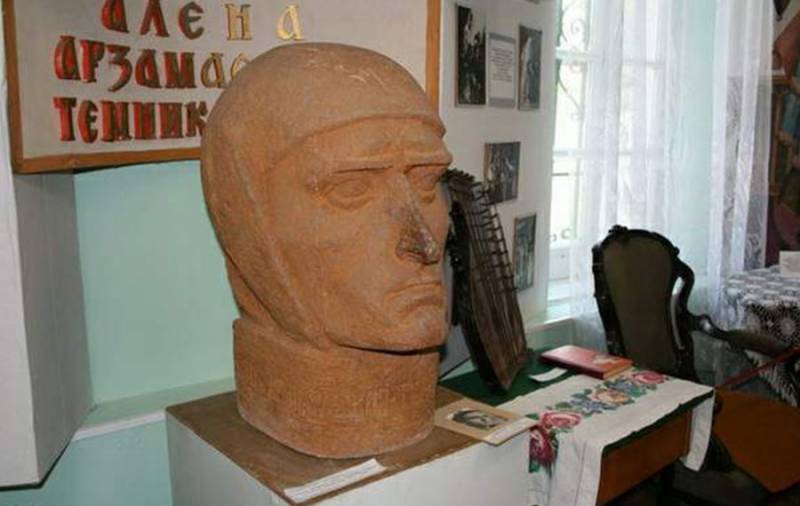 There is a discrepancy. According to Frish, Alain was executed after quartering Razin. But Stepan Timofeevich was on the scaffold on Bolotnaya Square 16 June 1671 of the year, that is, six months after the burning of the nuns.
Alena described the death of another foreigner whose name remained unknown: "She did not flinch and showed no fear when she heard the verdict: to be burned alive. Before she died, she wished that more people could be found, who would act as they should, and fight as bravely as she, then Prince Yuri would probably turn back. Before her death, she crossed herself ... calmly went to the fire and was burned to ashes. "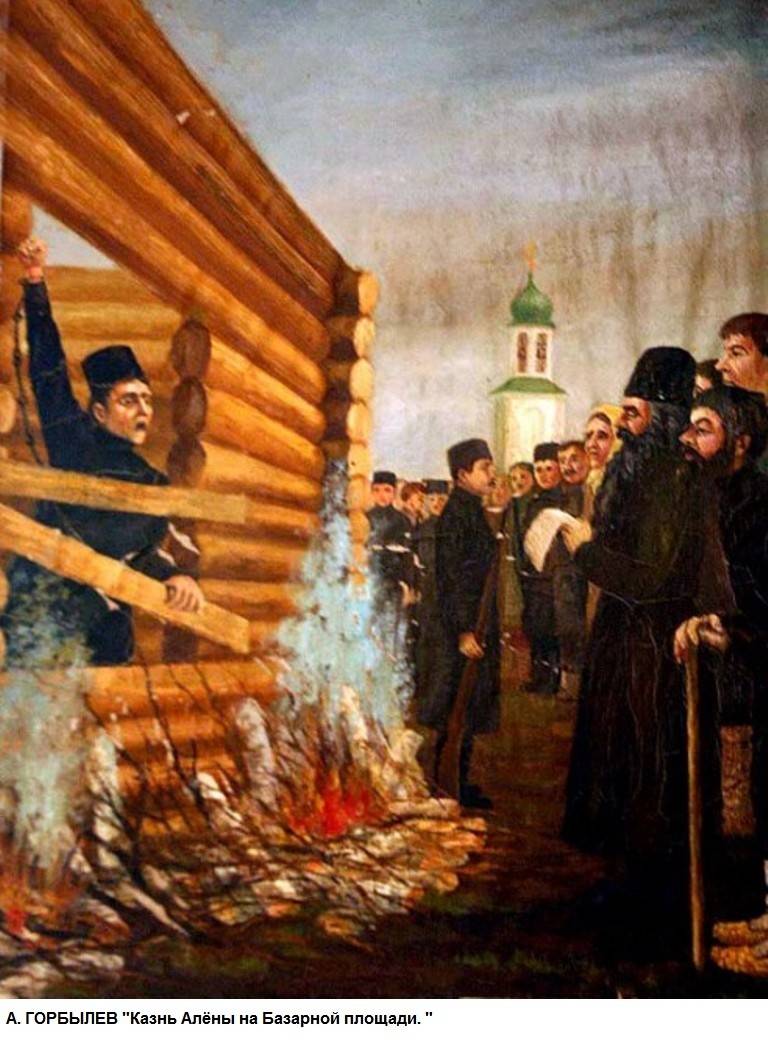 Officially, the church has renounced Alena-old women. But, nevertheless, in many churches and temples near Arzamas, for many more years, there were memorial services in honor of the protector of the oppressed peasantry.