In the summer of this year, a number of media outlets with reference to the report of Uralvagonzavod announced the preparation of an agreement to supply updated
tanks
T-90MS Kuwait. It was alleged that this country could acquire 146 cars, the newspaper writes.
News
.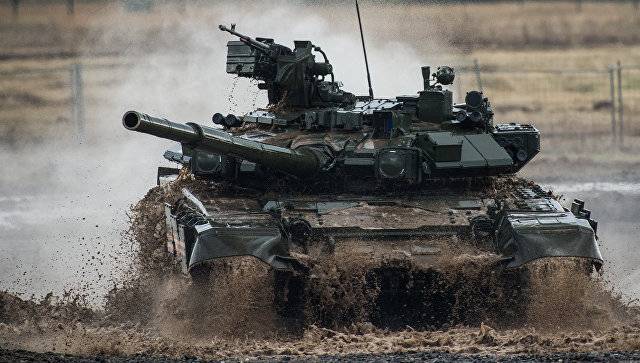 Kuwait does have an interest in T-90MS. And it is not by chance that in 2014 for the first time abroad, we tested this latest machine in exactly the climatic conditions of Kuwait. The Russian tank showed itself from the best side. And, of course, we would like to translate this interest into a practical plane. In Kuwait, Russian military products, which are already in service with the emirate's army, also proved successful. In particular, at this exhibition are presented today the MLRS Smerch, the Kornet-E ATGM and the BMP-3M,
The head of the Rosoboronexport delegation at the exhibition, the company's deputy general director Sergey Goreslavsky told the newspaper.
"T-90MS is a deeply upgraded version of the original T-90. The scope of improvements allows us to speak of it as an absolutely new tank with significantly improved performance, "the article says.
Machines of this class currently, except Russia, do not produce any country in the world,
Rosoboronexport specialists say.
Unconditional leaders in most of the world
armory
salons - Russian air defense systems. First of all, it is the Pantsir-S1 anti-aircraft missile-gun system, which is actively exported.
Meetings and negotiations conducted by Rosoboronexport and defense industry enterprises reflect the rapidly growing interest of the Middle East countries in the Pantsir-С1 air defense system,
said Goreslavsky.
The rising regional star can be called the Russian anti-aircraft system C-400, the buyers of which have already become Turkey and Saudi Arabia.
The characteristics and architecture of the C-400 system make it well adapted, among other things, to combat ballistic targets. "Given the growing number of tactical ballistic missiles that are in service with the armies of the third world countries, the further expansion of the geography of supplies of this complex is also likely," the newspaper writes.
In addition to interest in new systems, there is a growing demand for upgrading previously supplied equipment, which makes it possible to dramatically increase its capabilities.
Given the number of armored vehicles operating in the region, released in 1970's - 1990's, this need will not be fully closed soon, the company noted. In the case of Soviet tanks, Russia at many exhibitions offers a wide range of solutions for the modernization of T-72 type tanks and their licensed copies, which were delivered to the countries of the region in the last quarter of the 20th century.
According to experts, "an important feature of military-technical cooperation between Russia and foreign countries is the growing pressure from Western countries on domestic manufacturers and intermediary companies." At the same time, many Russian suppliers of military equipment and until the aggravation caused by the Ukrainian crisis of 2014, were on various sanction lists. So "in recent years, the situation with sanctions for them has changed quantitatively, but not qualitatively," analysts say.