I personally had an interest in Aztec culture a long time ago, as early as 1977, while working as a teacher in the Berezovsk school in the Kondolsky district of the Penza region. There were many ducks of bright decorative coloring, from the feathers of which I adapted to make beautiful wall panels. To do this, take feathers from the wings with bright green "eyes", which are placed on the fabric left to left, and then on them - right to right, so that they all overlap each other like tiles. Outside, there was one solid emerald green background, shimmering in the sun with all the colors of the rainbow like the feathers of the quetzal bird ...
V.Shpakovsky
Today we will discuss one interesting feature of the inhabitants of ancient Mexico, or Mesoamerica, who really puzzled the Spanish conquistadors who arrived there. They were surprised to note that for some reason the main wealth of the country here was ... feathers! The Indians had enough gold and silver and precious stones. But they didn't consider these metals to be the most valuable, but delightful in their beauty, unusually bright, fascinating eyes ... the feathers of tropical birds.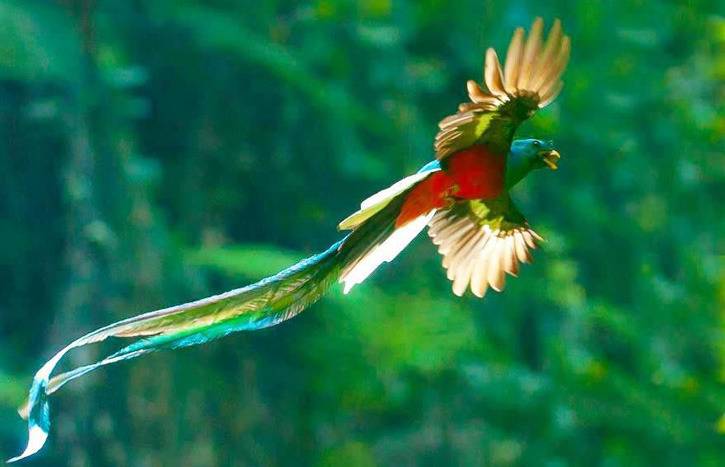 Legendary quetzal!
Birds inhabited the entire territory of Mesoamerica at that time, and their number was not only very large, but also diverse. On the territory of the Aztec state there were all sorts of herons, northern eagles and many waterfowl dwellers of alpine lakes. As well as especially revered quetzals and, more like bright flowers, inhabitants of the tropics, tiny hummingbird birds.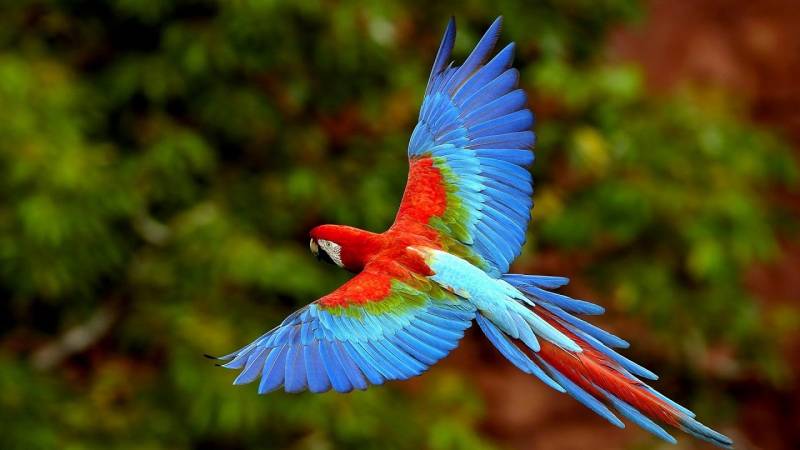 Ara parrot.
In any ancient city were artisans who were engaged in tailoring. Of course, there were such in urban settlements of Mesoamerica. The clothes were then sewn mainly from agave fibers, cotton was used for the nobility. But clothing made from feathers was considered especially valuable.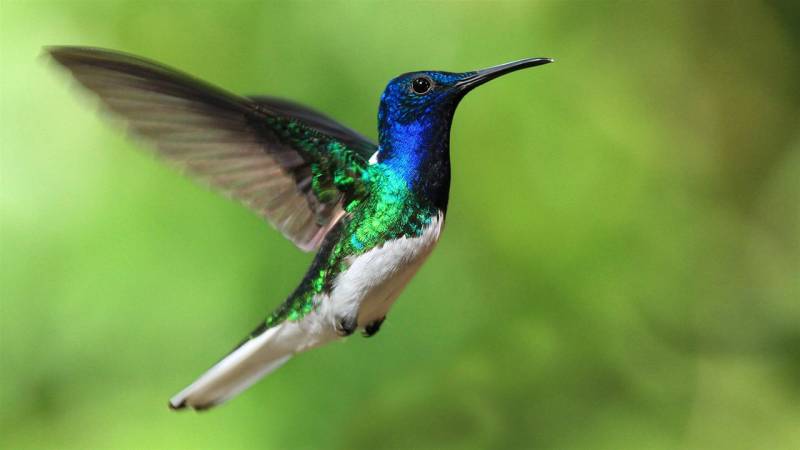 A tiny hummingbird birdie.
Most often, the Aztecs used goose and duck feathers (both wild and domestic birds). The bright feathers of tropical birds were considered expensive and very valuable material. The feather was delivered as a trophy or it came as a tribute from the conquered peoples. More feathers were delivered by traders from the southern regions of present-day Central America (mainly from areas of present-day Chiapas and Guatemala). The green feathers of the bird ketsal, multi-colored macaw parrots, as well as pink and gray herons were considered the most valuable, and therefore the most expensive.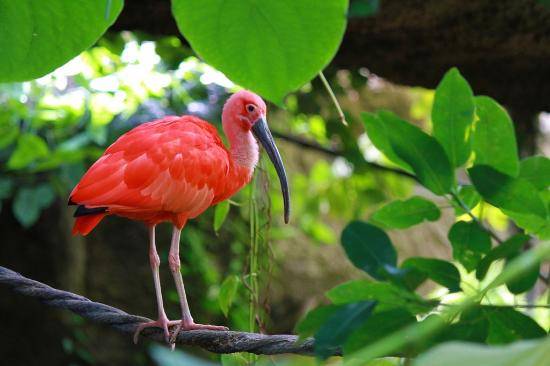 Spoonbill.
The process of preparing feathers for use was fairly simple. First of all, they were cleaned with clay. Clay was dissolved in water and feathers were thrown into this solution. The feather thus treated was made soft and workable.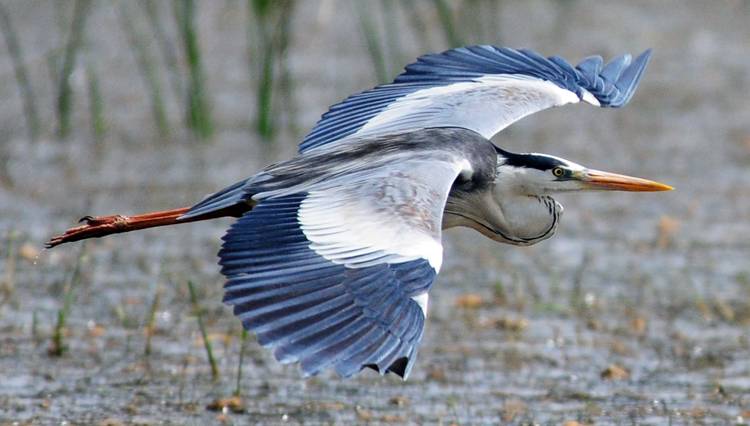 Gray Heron
Craftsmen worked, as a rule, in isolation, as a community, contacting only the merchants who lived next door. Such cooperation was beneficial to both parties, as artisans needed regular supply of feathers, and merchants needed a stable market for the goods they supplied from tropical areas. This was especially true of the emerald-green feathers of the quetzal bird, which was not found in the valley. In small numbers for their own use, these birds were kept in the imperial henhouse and from time to time they plucked out the most beautiful feathers in order to provide the material and work of court craftsmen. Masters sheathed the entire imperial court, created ceremonial costumes, clothing for dancing, festive capes. The emperor handed over amazingly beautiful products as a gift to commanders and high officials as a sign of his special favor.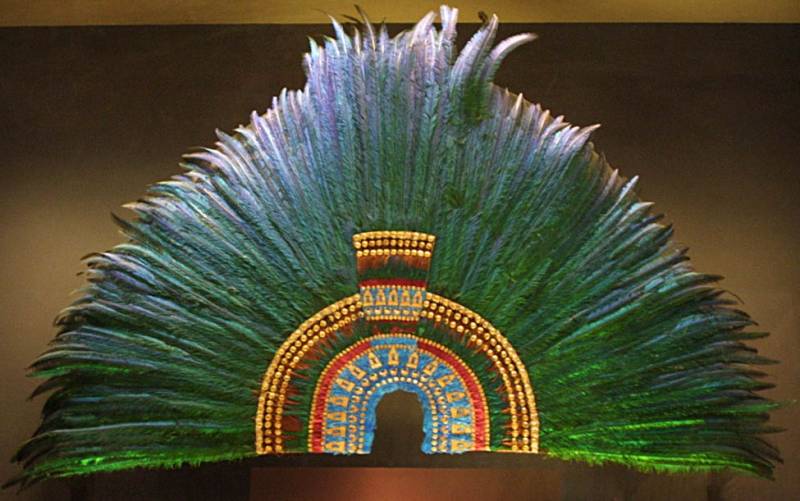 The headdress of quetzal feathers, presented to the Spanish king Karl V. The Emperor Montezuma presented this precious headdress to 1519 in the year to Hernán Cortes. Today, Mexico is suing the court in The Hague for his return. (Vienna Museum of Ethnology)
Urban artisans worked more to meet the "daily demand", made shields, flags, capes. Along the way, all sorts of "trifles" were made: sultans, bracelets, belts, and plows.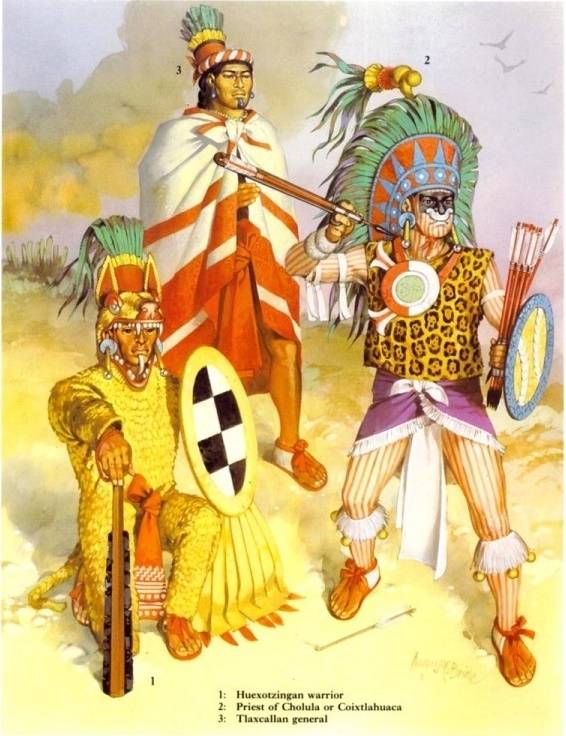 Warriors in the feathers of the quetzal bird: 1 - Warrior Weschozing with a spearman, 2 –placed from Cholula, 3 - tip (general) from Tlashkali. Fig. Angus McBride
Craft tailoring of feathers was considered an honorable work among artisans because it required incredible assiduity, patience and artistic taste (as well as a sense of proportion!). In addition, feathers adorned the shields and military uniforms of especially distinguished soldiers. The chief leaders carried huge feather structures on their backs. Shields were considered a significant element of festive attire, there were up to seven types of traditional ornaments.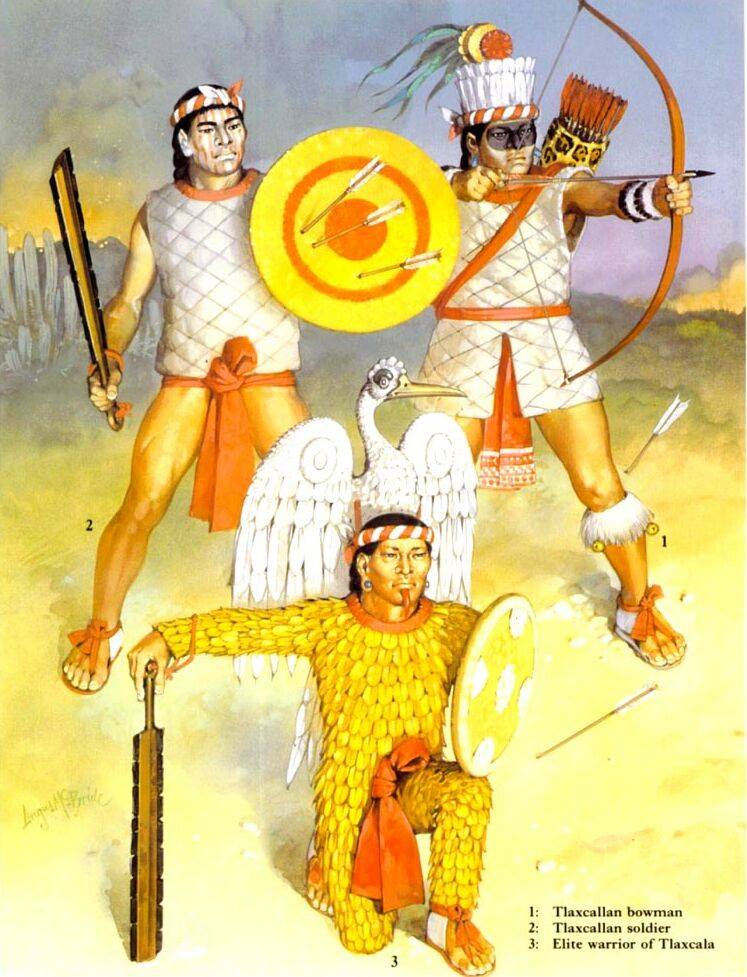 Tlashkalan warriors: 1 is an archer in a headdress made of quetzal feathers and a white heron, 2 is a simple swordsman who was not supposed to wear feathering, 3 is a warrior of an elite unit of warrior herons. Fig. Angus McBride
The process of creating a mosaic of feathers was very time consuming and required constant attention. Initially, the scribe put the intended pattern on a piece of paper from the bast of ficus. Then cut out the stencil pattern. The stencil was used to transfer the pattern to a cotton canvas, and then the master fixed the first, "draft" layer of feathers. In the finished product, this layer was not visible, so for its application the cheapest material was always used, which was then simply painted in the desired color. The feathers were trimmed with a copper knife, fastened, and the resulting picture was immediately compared with the original. Well, the top, final layer of the picture was made from the best material. Here were the green feathers of the bird ketsal, and piercing blue feathers, coats, and scarlet herons, and bright yellow parrots and unusually deep turquoise-colored hummingbirds.
Mexican warriors in lush feather garments corresponding to their rank. Codex Mendoza, Bodleian Library, Oxford, F / 67r.
The whole family of an artisan was sometimes involved in the labor process. Men prepared stencils, children mixed glue from bat excrement, or rubbed special roots for glue. Women selected and then painted feathers.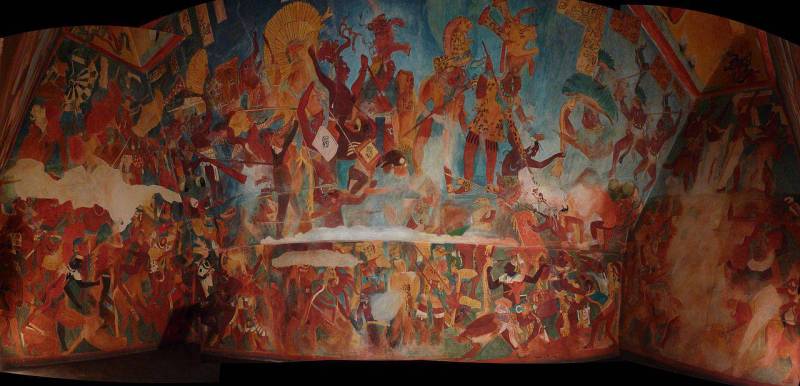 The painting in the Bonampak temple with the image of fighting soldiers in feather decorations.
In the manufacture of capes, as well as hats, no glue was used at all. Such things were sewn. Feathers were either tied to the wrong side of the fabric, or tightly tied one by one. By the way, the headdress of feathers, which Montezuma granted to Hernan Cortes, was also made by hand.
Images of animals were also made of feathers. Skeletons of large animals were carved from wood. A skeleton of reptiles and insects was cut from maize stalks or paper strips. On top of it was covered with a special paste, which consisted of pounded dried stalks of maize, mixed with glue. So the body was formed. Then it was polished with a volcanic stone and covered with a cloth. The required image was applied to it, which was then "filled" with multi-colored feathers.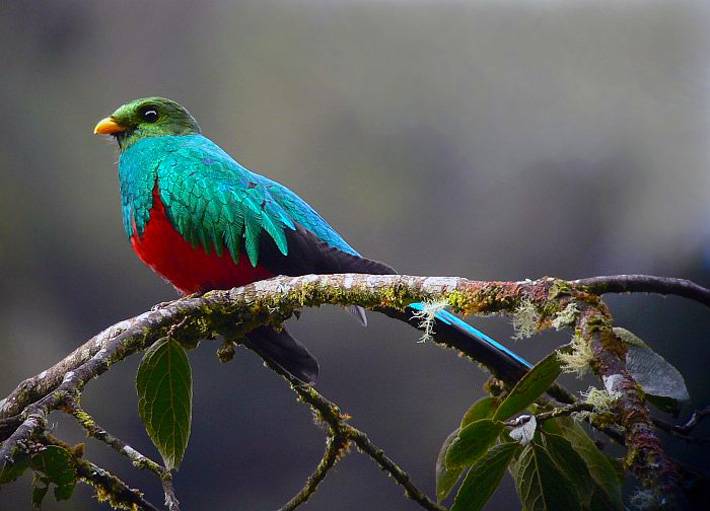 Interestingly, in order to get the quetzal feathers, he was never killed, and after catching a bird, feathers were pulled out of the tail, and released again.
In Mesoamerica, where the life of the ancient Aztecs was based mostly on rituals and rites, special clothing was used in great numbers. It had its own clothes for special occasions. It was decorated, of course, with feathers of rare species of birds. Some of the robes had their own names, for example, "divine costume", "costume of quetzal feathers", "costume of blue feathers". Such clothes, as a rule, were intended for vestments of statues of gods. One of the ancient authors, describing the ritual clothes worn on the statue of the goddess of water, reported that she also used a special headdress made from feathers of a white heron. For brave warriors, headgear was sewn from the feathers of an eagle, because the eagle symbolized the sun.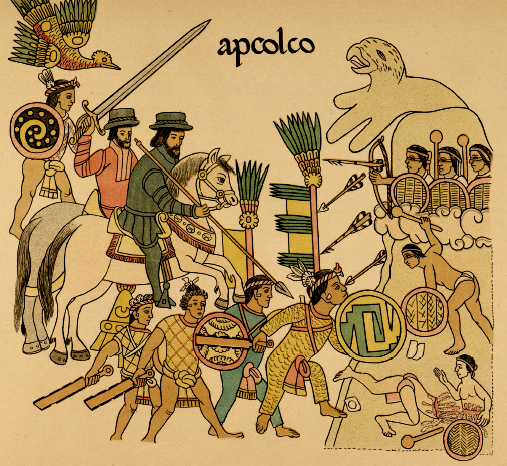 The Tlashkalan warriors, allies of Cortez, attack their opponents. "
History
Tlashkaly. (Glasgow University Library)
In addition to iconic robes, feather clothing was also made for ambassadors. For example, white feathers, symbolizing peace, were used in cases where ambassadors went on a peaceful mission to an enemy camp.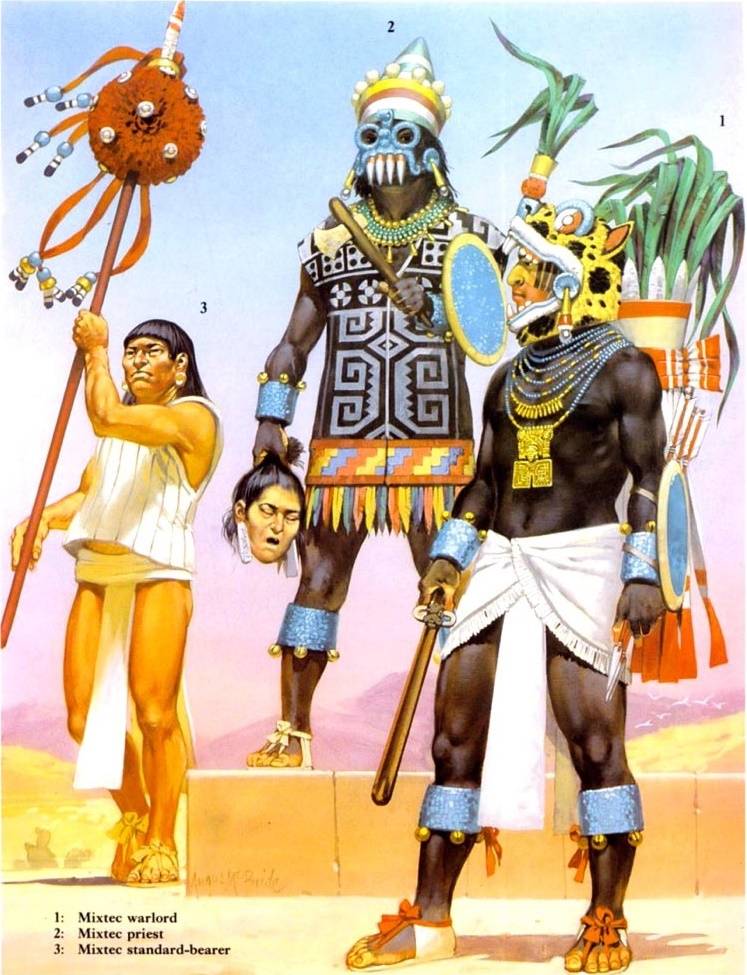 Mitztek warriors: 3 - standard-bearer, 2 - priest, 1 - warrior-jaguar in a garment of quetzal feathers. Fig. Angus McBride
At the Aztec ruler of Montezuma, a magnificent canopy was woven from hundreds of emerald feathers of a rare quetzal bird (its numerous retinue wore mantles decorated with bundles of feathers of other, less valuable birds).
For warriors and priests there were many feather vestments, which sometimes, because of a sufficiently large number of feathers, were very heavy. If necessary, they are attached to the back or shoulders. These clothes were attached and special hats. There were twelve kinds of similar hats. Some were made in the "image and likeness" of real, and sometimes mythical creatures. For example, helmets are known in the form of an eagle's head and a heron.
Clothing and military equipment was a major part of the use of feathers. But besides this, feathers served for more practical purposes, for example, in the manufacture of arrows. Used feathers and as ingredients for medicinal drugs. Rare feathers were staked in gambling. Society's need for feathers was heterogeneous. For example, some feathers were required in huge quantities constantly, others - exclusively for special occasions, as a rule, ritual, therefore, required seasonally. Others are generally needed only occasionally. Even feathers were used unequally. Some after the rituals were allowed to apply again. Some were used only once, after which the feather product was destroyed. It is clear that such an expense required replenishment, which means that the need for feathers was constant.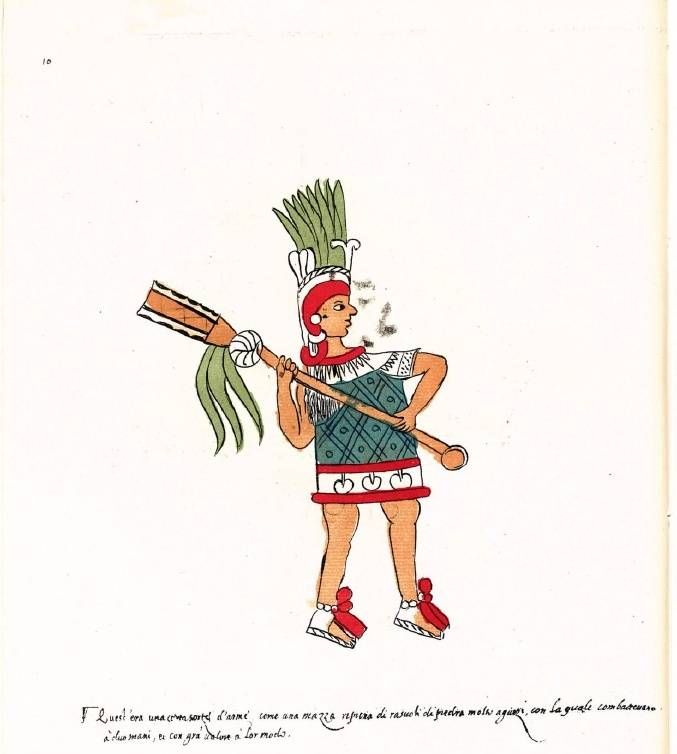 Warrior with makauavitl, decorated with feathers and in a feather headdress. Codex Rios, pp. 301. (Vatican Apostolic Library)
As already mentioned here, the Aztecs valued the quetzal feathers very highly (like jewels) (the bird itself was considered a symbol of freedom by the Aztecs, because according to legends, it could not live in captivity. And if it fell into a cage, it would die from a heart break). No less valuable were the feathers of the red macaw, as well as the pink spoonbill, the green parakeet, beautiful coats, the yellow-headed Amazon, the heron, and the eagle.
With feathers of rare birds, it was easy to pay tribute. Thus, the conquered provinces once every three months, sometimes every six months, brought tribute to the Aztecs in the form of feathers. Live birds were also delivered as tributes.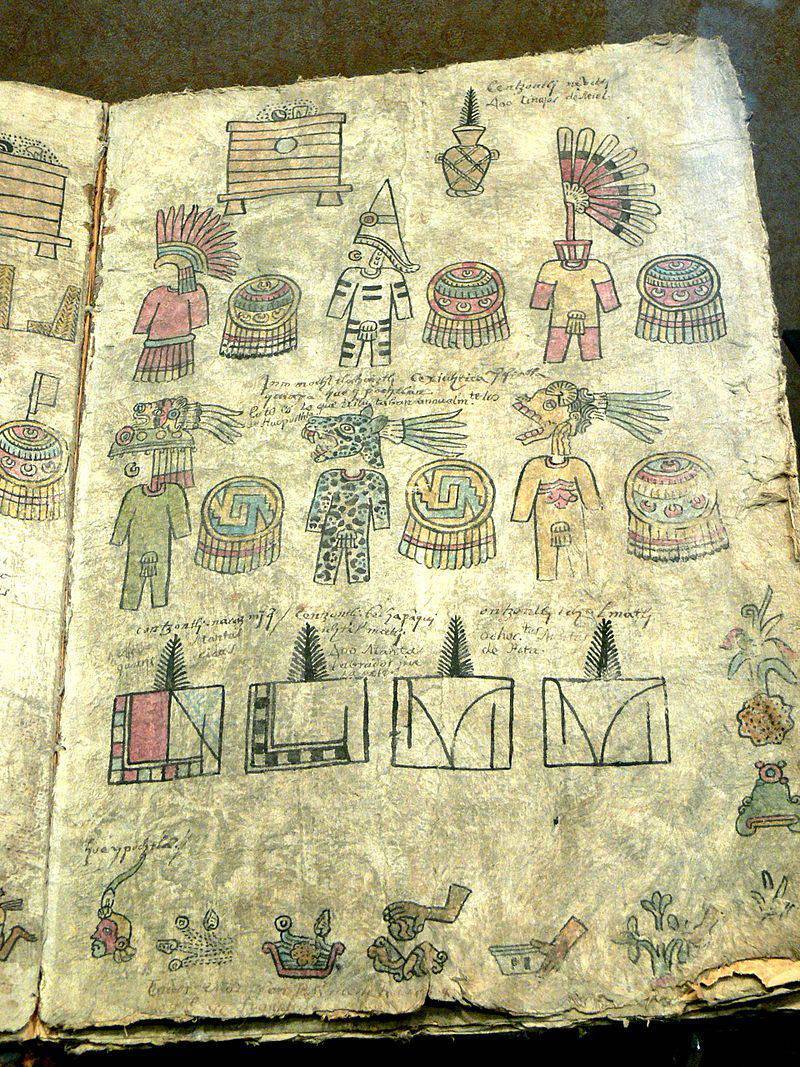 Samples of tribute that the Aztec paid conquered tribes. Among them are products from feathers. Original of the Codex Mendoza. (Bodleian Library, Oxford)
Feathers were part of a special, in their own way very complex identification system adopted among the Aztecs and replacing them with European heraldry. This system determined which feathers to use for rituals, which - for feathering arrows, and which for some other purposes.