CAA reinforcements arrived in the east of the province of Hama. Troops of the terrorist coalition have lost the city of Zahra and more 50 militants in the south-east of Idlib. Reports about it
FAN
with reference to Syrian sources.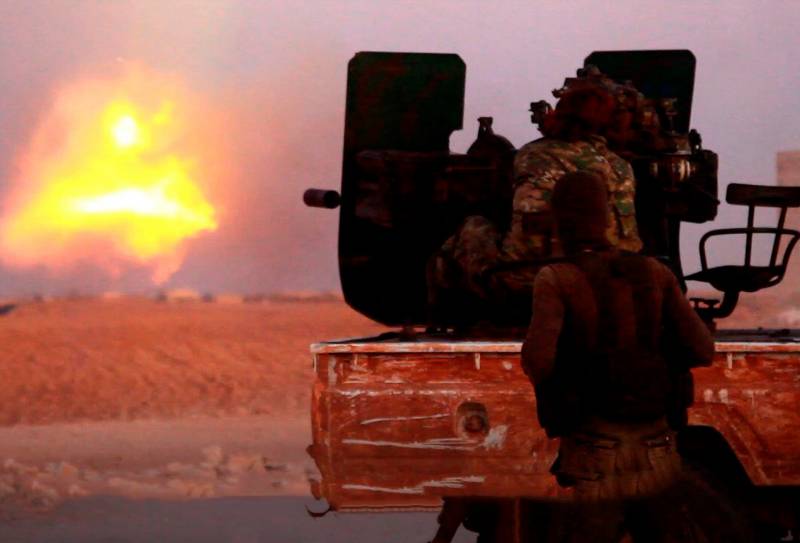 Units of the Syrian army and the National Defense Forces (NDF) continued to attack the fortified areas of the Dzhebhat Al-Nusrah (banned in the Russian Federation) in the province of Damascus. Fighting was conducted on the outskirts of the city of Mugr Al-Mir in the south-western part of the region. The primary task of the Syrian troops is to block the Mugr Al-Mir - Beit Saber highway, which is one of the supply lines of the Islamists in the area. Support for the CAA and its allies provided the Syrian Air Force. During the clashes, at least 17 of Islamists were destroyed.
On the demarcation line between the Kurds and the Free Syrian Army (FSA) in the province of Aleppo, armed clashes did not cease for 24 hours: the SSA fighters, who were supporting the Turkish forces, fired at in the territory of the Kurdish canton Afrin. At the same time, the Kurdish media claimed that the SSN fighters had joined the ranks of the SDF around the ex-SSA militants who were not satisfied with the excessive authority of the Turkish side.
In the province of Deir-ez-Zor, small detachments of igilovtsy (the IS grouping is banned in the Russian Federation) still maintain hotbeds of resistance in the Syrian desert, as well as on the left bank of the Euphrates, where Syrian Democratic Forces (SDF) operate. According to sources, the IG detachment, based not far from the territories controlled by the Kurds, crossed the river and attacked the positions of the SAR forces on the east coast of the Euphrates, but was defeated. Almost all the attackers were destroyed, some of them fled back.
In the afternoon, parts of the SAR army continued to develop the offensive in the south-eastern part of Idlib. As a result of the fierce confrontation and with the support of the Russian Aerospace Forces, the servicemen managed to repel the Zahra settlement and Tal Zahra altitude from the terrorists of al-Nusra. During the fighting, at least 50 Islamists were destroyed.
Last day it became known that as a result of a counterattack by the armed opposition, the settlement of Mousherif (to the north-east of the capital of the province of Hama) again came under the control of the militants. According to the agency
News
Al Masdar News, SAR troops conducted a tactical retreat to regroup. In the afternoon, additional parts of the SAA arrived in the region, after which the fighting resumed near the villages of Um-Turakiya, Al-Musherif and Al-Zaferei. No loss information has yet been reported.