Reports of military confrontation between the Israeli army and Palestinians are becoming systematic after the decision of US President Donald Trump to recognize Jerusalem as the capital of Israel. Thus, on the eve of the Hamas leaders announced the start of the third intifada (an active movement for the liberation of Palestine). Recall that the first intifada began in the 1987 year, the second in the 2000.
Following a statement by Hamas leader Ismail Haniyeh, an unguided rocket was fired from the Gaza Strip into Israel. Israel responded. The command of the Israeli army reports that the Israelis attacked southern Gaza, where, as stated, there was a Hamas training camp.
TASS
quotes the press service of the Israel Defense Forces:
In response to a missile launched from the Gaza Strip at Israel earlier today, the Israeli Air Force attacked the Hamas military camp in the southern Gaza Strip.
Gaza casualties and destruction are not reported. It is known that the missile fired by the Palestinians among the Israelis did not lead.
On the eve of the Gaza Strip reported the death of two young people as a result of an Israeli drone strike. The Israeli military command stated that Israeli UAVs over the Palestinian territories were not used.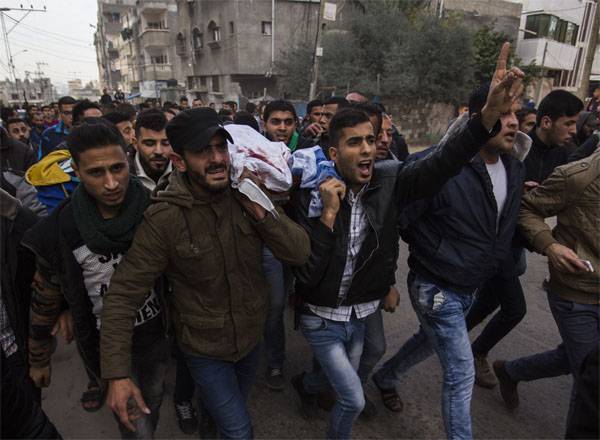 Against this background, there are reports that tourists from various countries are refusing to take New Year's tours to Israel due to the sharply exacerbated situation in the region.