On the eve of Moscow, a memorial plaque to the writer Alexander Solzhenitsyn was opened. It is located at the end of the 12 house on Tverskaya Street - in the very center of the capital. At one time Solzhenitsyn lived in this house. Now the apartment is preparing to create a museum.
The plaque was created by sculptor Andrei Kovalchuk, who chairs the Union of Artists of Russia.
The opening ceremony of the tablet was attended not only by the widow of the writer Natalya Solzhenitsyna, but also by representatives of the authorities.
In particular, we are talking about Deputy Prime Minister of the Government of Russia Sergey Prikhodko, Deputy Moscow Mayor Leonid Pechatnikov, Senator Vladimir Lukine, and others.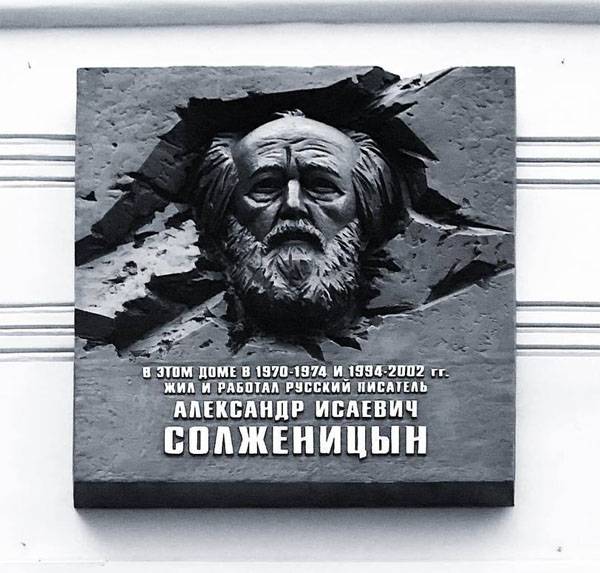 Sergey Prikhodko is currently heading the whole organizing committee involved in preparing for the celebration of the writer's 100 anniversary (Solzhenitsyn was born on December 11 of 1918 of the year). Apparently, the celebrations are going to make large-scale - if not done without creating a separate organizing committee with the entry of major government officials.
From the statement of the writer's widow (quotes
Interfax
):
With our return home, a charitable foundation has been housed in the apartment, which helps GULAG prisoners. Now the government of Moscow has provided the foundation with a new room, and a memorial apartment of Alexander Isaevich will open in the apartment a year later.
On Solzhenitsyn Street, into which the Big Communist was renamed, it is planned to open a monument to the writer, not far from the House of Russian Abroad.