US military analysts were alarmed by the new Russian sniper rifle T-5000. According to Western experts, thanks to the range and accuracy of shooting, it can change the concept of "safe distance" and all the usual tactics of battle.
The famous American portal Popular Mechanics mentions a report on Russian
weapons
new generation prepared for the US Army. The document, in particular, states that Russian snipers were more "advanced" than American ones. It is already impossible to resist them on the battlefield using conventional tactics, which means that Russian snipers can simply drive the enemy out of position.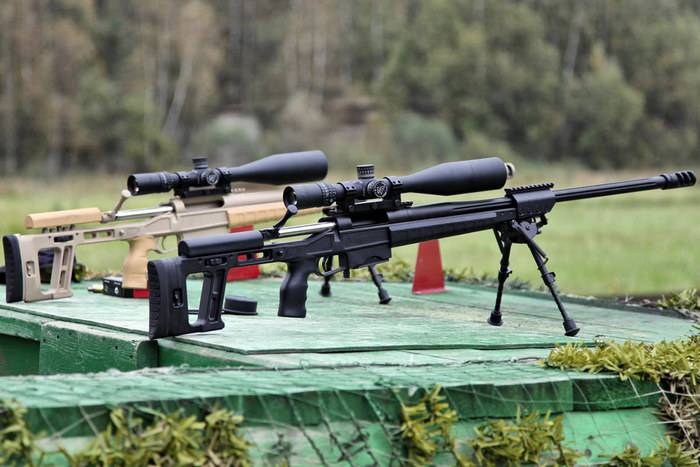 Popular Mechanics notes that the Dragunov rifle was previously used in the Russian army. It is described as a good weapon, but with poor optics. Because of this, SVD was effective over a relatively short distance. Meanwhile, the T-5000 is deadly accurate even at a distance of 2000 yards. These figures are superior, for example, to the high-precision American "sniper" McMillian TAC-338, which can hit a target at a distance of 1700 yards. As a result, now the Russian T-5000 is called a likely favorite in international shooting competitions.
For the production of a new rifle using the best materials and unique equipment. Coupled with good ammunition and excellent optics, the T-5000 allows, for example, an arrow to fall into an inch circle with 200 yards. It is also reported that some army units and law enforcement agencies are already arming with new rifles, although deliveries were planned to begin only in 2020.
Military experts in their report recommend that American soldiers threatened by snipers with T-5000, resort to a simple solution to the problem: immediately break contact with the enemy. Apparently, analysts are delicately hinting at the need to quickly leave the battlefield. It is noted that any doubts and fluctuations at the same time can lead to a large number of the dead. According to experts, one sniper who has taken a position is at least two victims without any negative consequences for the shooter.
The document also states the need to develop new tactics to combat this threat. We can talk about the use of smoke grenades, UAVs to search for snipers and attacks on them, as well as other special weapons.
However, the publication emphasizes that the T-5000 is only the beginning. For example, another Russian sniper rifle "Dusk" hit the target at a distance of 3720 yards. She also took a record in range 4600 yards. When firing at such distances, it is required to take into account not only the direction of the wind, but also the rotation of the Earth. As writes the edition, the similar weapon becomes the new owner of a battlefield, transfers "RG-Force"