American portals are actively commenting on footage captured by video cameras located in the cockpits of US Air Force aircraft - in the skies over Syria. We are talking about the comments of the actions of the Russian pilots, which cause mixed feelings among Americans: from full-fledged anger to real respect for professionalism. Actively commented on the video in which the Russian fighter flies literally a few meters from the American plane, literally knocking down the American pilot.
This event in the sky SAR occurred at the end of November. Later, in the American segment of the Internet, there were reports that Su-35 acted "cheekily", driving away a US Air Force aircraft from Russian bombers that attacked ISIS positions (* banned in the Russian Federation) on the west coast of the Euphrates. The American fighter released heat traps and carried out dangerous maneuvers, trying to make it difficult to strike at igilovskim positions.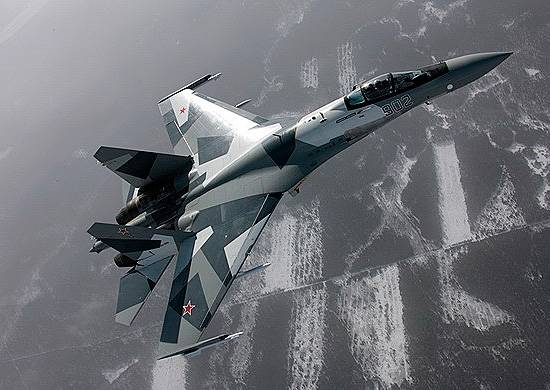 It is precisely those attempts of the American aircraft to resist the anti-terrorist actions of the Russian Aerospace Force of the Russian Federation and have become a relevant reason for the Russian Defense Ministry to accuse the United States of de facto complicity in terrorism and the desire to preserve the core of ISIL (*) in the SAR for its own purposes. Attempts to impede the fight against ISIS (*) and there is support for international terrorism in fact at the state level.
After a more than impressive maneuver of the Russian Su-35C fighter, the American plane was forced to go into the airspace of Iraq, neighboring Syria.
On the portal
The Drive
for American users, the ending video was published - without showing how the American plane interfered with the aircraft of the Russian Aerospace Forces to bomb ISIS positions (*). At the same time, the portal in enthusiastic replicas explains the actions of the Russian pilot, who had to apply "special measures of suggestion" to the American pilot.
From the commentary on the indicated western portal:
It looks like madness, but it looks amazing. It seems that Russian is a pleasure.