After the defeat of ISIL (* banned in the Russian Federation) in Syria, numerous gangs affiliated with this terrorist organization in the literal sense of the word are trying to flee the UAR or negotiate with Syrian troops to cease resistance. One of such groupings is the so-called "East Turkestan Islamic Movement" (recognized as terrorist by the UN).
Syrian journalist Riyadh Farid Hijab reports that the leaders of the Uygur militants who controlled the territory in the eastern Guta suburb of Damascus, came to the Syrian military command with a proposal for negotiations.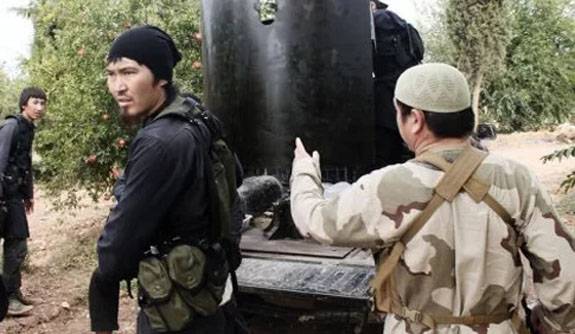 Why this group has not yet been knocked out from their positions? According to Farid, this was hampered by the fact that the terrorists were hostages of tens of thousands of civilians, and under the control of the militants were warehouses filled with ammunition attacking chemical compounds. Any blow to this territory could have disastrous consequences for the population.
It is noteworthy that Western "friends of Syria" also made their bets on Uighur militants, trying to use those to break into the center of Damascus and to overthrow Assad.
However, after the defeat of ISIL (*), the militants who were in the suburbs of Damascus, there is a ghostly little chance, and in any case they would have suffered a defeat. That is why the leaders of the group decided to go to the command of the CAA and report their intentions to leave their positions "peacefully."
The material of the Syrian journalist says that the withdrawal of militants from Eastern Guta is about to begin. At the same time, there is no information as to where the Uyghur terrorists are going, who previously declared that their main goal is "the Islamization of China".