The Bolshoi Theater hosted the premiere of the ballet Nureyev, directed by Kirill Serebrennikov. The director himself was not present, he is still under house arrest on charges of embezzlement.
Presidential spokesman Dmitry Peskov and Tatiana Navka, Minister of Culture Vladimir Medinsky, ex-Minister of Finance Alexey Kudrin, head of Rostec Sergei Chemezov, Minister of Transport Maxim Sokolov, deputy foreign minister Grigory Karaler, head of Gazprom Alexey Miller, attended the premiere. Shamil Tarpishchev, Ksenia Sobchak, Sergey Minaev, a member of the Russian Olympic Committee (Matilda), and many other high faces. Deputies of the State Duma, the oligarchs headed by Abramovich and so on ...
Many then, on their accounts, simply screamed with delight and congratulated the Bolshoi Theater on such a production. A lot of delight and champagne splashes. And, of course, Serebrennikov's support, if not with a word, then with a ruble. More precisely, ten thousand.
One of the near-theatrical newspapers, bogging down with emotions, painted how everything was warm and lamp-like. All his, so to speak, gathered.
No, what, strangers, or what? For personalized tickets? His, his ...
And now "their" Serebrennikov will definitely be released. Dramatized on the play. Well, how not to let go, he's his own. Talent ...
But in general, what was the performance about and what, actually, did I cling to it?
It's just that we finally began to show the true ideals of our elites. Once admired, it means that it is.
The fact that Rudolf Nureyev was a really great dancer will only be contested by a fool. And, perhaps, his name had to be perpetuated somehow. That, in fact, was the place to be. The name of Nureyev is the choreographic college and dance festival in Ufa and Kazan, respectively.
This concerns his skill, and nothing more.
But what is the story itself about? Perhaps a kind of medley, an attempt to dance the roles that Nureyev danced so well?
By no means.
Danced and theatrically staged life Nureyev. Well, let's go through the biography. For the part that is most interesting.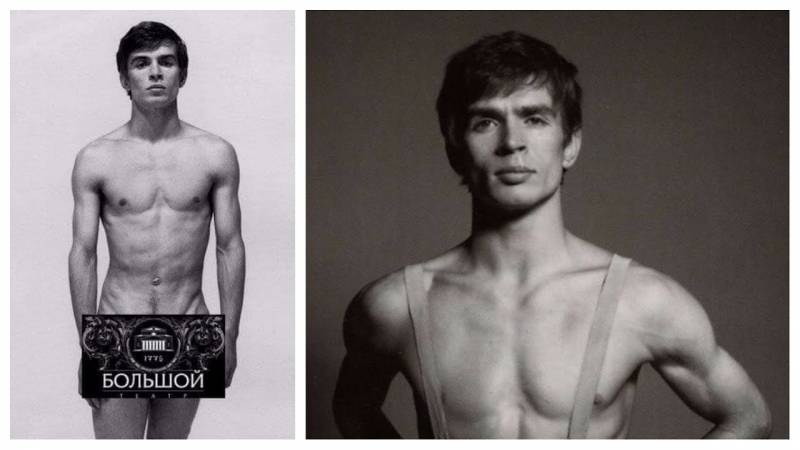 Yes, Nureyev was a recognized star. Awards, foreign tours in Bulgaria, GDR and Egypt. Without any problems, Nureyev was sent to perform at the Paris Opera. And then there was a breakdown. "Zalet", in modern terms.
After several speeches, the KGB demanded that Nureyev be removed from all performances and sent back to the USSR.
According to the official version, Nureyev "violated the regime of being abroad." Some members of the troupe believe that the KGB learned about the unconventional orientation of Rudolf Nureyev. I wonder how?
In fact, everything is simple. The free air of Paris struck Nureyev in the head, and he simply "lit up" his orientation. For which, I recall, in the USSR there was a very specific article of the Criminal Code.
It is clear that the prospect of an early return to their homeland, followed by sending to places very remote from the theatrical stage, Nureyev was not impressed.
And he just ran away. Almost immediately he sought political asylum in France and became one of the most famous "defectors" in
stories
Soviet Union. So no politics, just fear to sit down for homosexuality.
In France, in 1961, there were few fools, so Nureyev was refused asylum. As well as citizenship. The same thing happened in Denmark and after Denmark - in the UK.
That is, dance dance, but with citizenship is not worth it. To quarrel with Khrushchev over a defector, even a cool dancer, was a bust at that time.
Rescued Austria in 1975 year. Before that, the great dancer was in fact Euroblom.
It should be noted that the policy Nureyev never touched. He was a ballet star, he was interested in ballet and rest in the form of homo-and transgender covens in the Bois de Boulogne, about which all Paris spoke. Outrageous, but absolutely apolitical.
According to Western media, at various times Nureyev had love relationships with such stars as rock musician Freddie Mercury, fashion designer Yves Saint Laurent and singer Elton John. But the main love in Nureyev's personal life was Danish dancer Erik Brun almost all his life.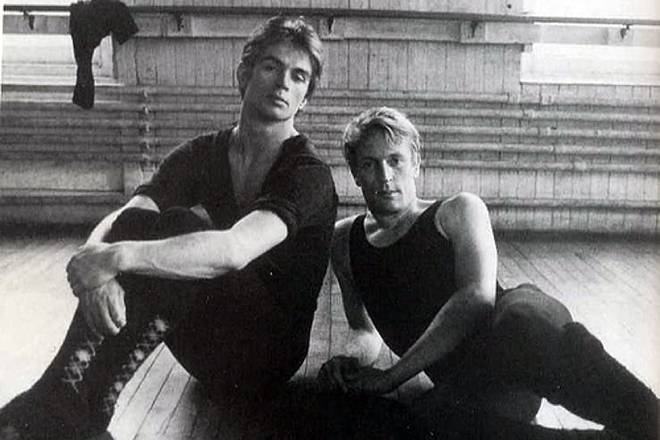 Brun and Nureyev were together for 25 years, until Eric died in 1986. Then there was the American Wallace Potts, and in the last decade of Rudolph's life, Robert Tracy.
Well, the final point in career and life put AIDS. Perhaps the most honorable death for a Bohemian representative.
In general, nothing special, but the ability to dance beautifully. Well, ran away. Did you run away a little? Well, the homosexual was Nureyev. Few have we had such? And even brilliant? The same Peter Ilyich Tchaikovsky.
In general, no claims to Nureyev. The man lived his life the way he wanted. Above all high ideals such as the Motherland, but at least he did not spit in the direction of his former Motherland.
Let's go back to ours. To ballet, to his estimates.
In general, pornography, both externally and internally. And spitting up all that the "ingenious" Serebrennikov and Demutsky could reach.
Internal pornography is me about music. The pseudo-composer Demutsky (have you ever heard of him before?) Is proud to have created a parody of the song "You don't choose your homeland". Words of Margarita Aliger. Let me bring these words.
Homeland itself does not choose.
Starting to see and breathe,
Homeland in the world receive
Immutable as a father and mother.
The days were gray, slanting ...
Bad weather Chalk Street ...
I was born in autumn in Russia,
And Russia accepted me.
Motherland! And joy and sorrow
They were indissolubly fused in it.
Motherland! In love. In battle and dispute
You were my ally.
Motherland! Tender than the first caress
Taught you to take care of me
Golden Pushkin's fairy tales.
Gogol's captivating speech,
Clear, spacious nature,
Thinking for hundreds of miles,
True liberty and freedom
A caring hand is a welcome gesture.
Drink restless blood
By the waters of a living spring,
Like frost, burned with love
Russian crazy man.
I love the rolling thunderstorms,
Crisp and knurled frost,
Sticky Vivifying Tears
The morning shining birches,
Nameless rivers izluki.
Quiet evening fields;
I stretch my arms to you
Motherland is one my.
And these words Demutskiy just crap. He made a parody, he said, and used all this as musical accompaniment to the scene of Nureyev's flight from the dungeons of Soviet reality.
And Demutsky's fame began with a laureate at a foreign composers' competition, where he presented the words put to music by the last speech in court by Alekhina, one of "Pussy Wright".
More, sure, strokes to the portrait is not necessary? Enough?
Well, the main thing in the play for Serebrennikov was precisely the escape and gentle homosexual relations, there is nothing to be said about. More precisely, you will not dance.
Oh, how the press applauds! "How gently, platonically, without touching each other, the actors acting as Bruna and Nureyev convey emotions!"
For sure. There, platonicity, judging by the finale, straight rose blossom. Blue Chrysanthemum.
Do you know what surprised you the most? A surprised full zero reaction. "Matilda" remember everything connected with it? Stormy calls, appeals, even vandalism. Why, they spit in the king-father ...
Although really, in the Minayevsky brew from Nikolai Romanov there was nothing that would have been at least a little like the truth. Therefore, the living Romanovs were not particularly offended. They did not see Nikolai Alexandrovich there.
They are wise, the Romanovs. As royally wise ...
And when they spit in the whole country, it turns out that nothing is possible. Even it is necessary, considering that this country is the Soviet Union. Well, in those who lived in it, at the same time. Who did not choose their homeland.
Mr. Peskov said that he did not see anything provocative of this in the Nureyev Sabbath.
Strange, here I saw, but there is no Sand. Well, we are with him from different countries unequivocally. I am from a country where, apart from Nureyev, there were great ballet dancers, about which you can and should make films and put on ballets.
The whole problem is probably that Anna Pavlova, Galina Ulanova, Ekaterina Maximova and Maya Plisetskaya were not feminists and lesbians. And Maris Liepa, Mikhail Baryshnikov and Vladimir Vasilyev were not homosexuals.
Apparently, unworthy.
In order to become a guiding star for modern ballet directors and connoisseurs, you must betray your country, flee to the West, 25 cohabit with the same dancing pederast and bend over from AIDS. Both eternal memory and applause are provided.
This begs the question: who is next? Well, in the "movie masterpieces" we already spat on everyone, in bulk, so to speak. Warriors of the Red Army, cosmonauts, workers. All
Apparently, the time has come to praise by name. To clearly dot the letters.
Who will be the next hero of the "miracle setting"? If you look at it like that, then probably Solzhenitsyn. Or Vlasov.
If so the question is put, why not? Both fighters against the hated Soviet regime. Both made for a bright future for us. One, however, was awarded a rope, but another five years - and there will be quite a victim. Decent performance.
Well, as they continue to persistently shove a bearded, clever traitor today with some "Solzhenitsyn readings," I just keep quiet. Even a monument in Moscow now concoct.
I would recommend anyone who disagrees with me to read one cycle of his creations. The Internet is, actively published during the Cold War in the United States. Prussian Nights. Read, read. Much to discover. And, if you do not agree with me, that rarely anyone shits on our grandfathers and great-grandfathers, then I don't even know what else to advise.
I understand that this couple is somewhere on the way. We are waiting ...
I looked, okay, honestly, I flipped through the homoplay (I already have the torrents), gladly read the reviews of those who will teach us tomorrow how to properly love our Homeland and govern us. No kidding, there the State Duma was almost at full strength.
Much has become clearer. Thank.
I understand, by the way, what caused the delay in the premiere. Apparently, they quickly reworked the scenery, retouched Nureyev's front and back from his candid photos. Normally retouched, do not undermine.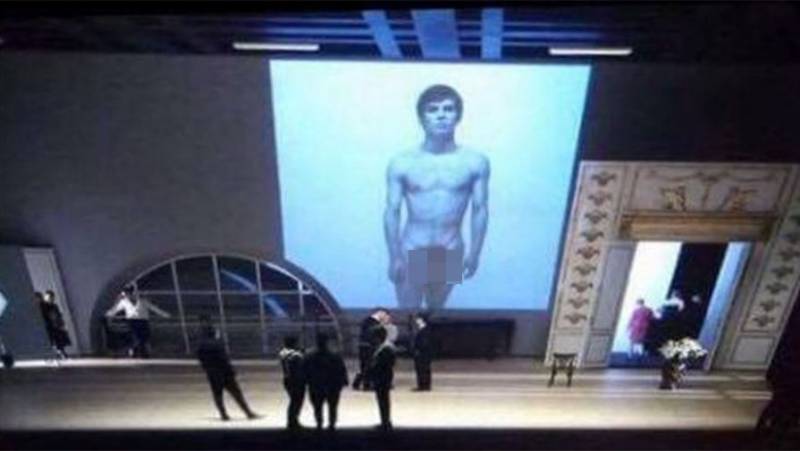 And the artists, who went out for a bow in T-shirts, where, along with a portrait of Serebrennikov, he was demanded, were very impressed.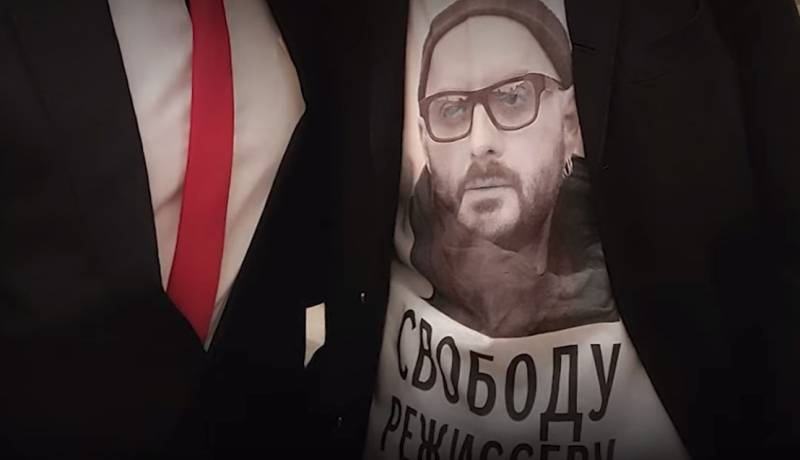 Right way we go, gentlemen! In a unanimous rush, our masters of minds and wallets showed us their true values ​​by attending the premiere and applause in the hall and the Internet.
The main thing is to love the Motherland, as Nureyev did. Honestly and disinterestedly, to the depths of the soul. Or something lower.
To be an example for the younger generations, how they make pederast Nureyev.
In general, as Serebrennikov planned, as an backdrop on the stage, show the full height apron of naked Nureyev. Even the right to display this photo bought from the Foundation Richard Avedon. Thank God, forbidden so to demonstrate. And thanks for that.
In general, the usual anti-Soviet Sabbath. Right in the spirit of the nineties. Only with bare backs and in front of as a tribute to freedom and emancipation. Another "Citadel" and "Matilda", and again at our expense. Thanks to Mr. Medinsky.
Yes, they also say that "Nureyev" was financed by the famous jewelry brand Van Cleef & Arpels, and "from personal savings" money was thrown onto the ballet by VTB CEO Andrey Kostin. Apparently, out of a special love for a special art: the art of spitting on history and distorting the past.
Humiliation of the very idea that you can love the motherland. No need to love her. You have to live the way you want, taking everything from life, like Nureyev took.
Gentlemen ministers, deputies, oligarchs, politicians, your message is quite clear and understandable.