Greetings to you, dear friends and readers! I'll start today with
news
which continues to excite the minds of Ukrainians and all our neighbors. Well, do not take away from us the ability to get into this shit, so that not only was it disgusting, but everyone around it stinks. As you guessed, it will probably be a question of the law "On Education". And not about the law as a whole, about one specific article - the seventh. It is about the article where it says about the language.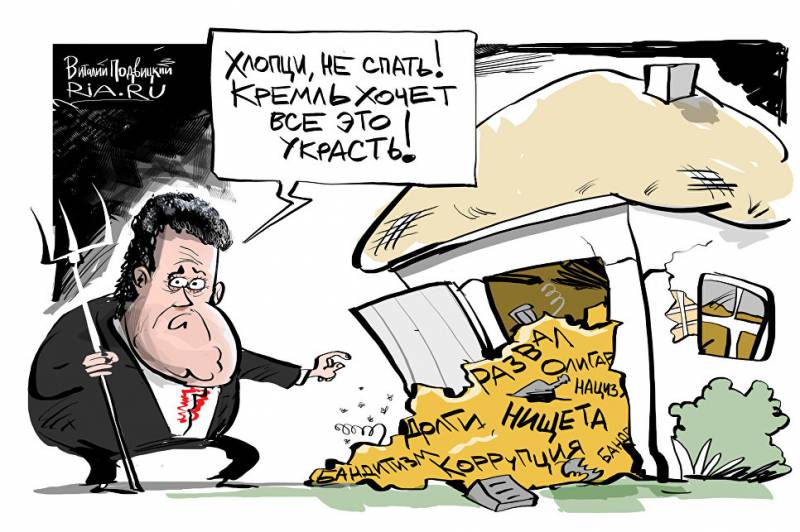 We won once again. The Venice Commission recognized the law to comply with European standards. Like this! And you say - Europe ... Any of our actions there endorse and support. Even if these actions are directed not only against Russia, but also against the Europeans themselves. After all, we are this very frontier ... But what of that?
By the way, you know, I look at our government and all those who are sitting next to them with power, and I come to the conclusion that it turns out that not everything that comes to mind and is voiced on our television screens has thoughts. Strange, yes? And how do you look at the situation with our popular clown-humorist Zelensky?
Remember the recent scandal with the TV series "Matchmakers"? Well, the one in which your artist plays? Who was banned from entering Ukraine? Good this series for housewives. About life. With humor and all sorts of comic situations. So, the main there is our Zelensky. His series, and he gets the main money. And besides this series, we have one more. With a political smell. Called the "servant of the people."
About a man who, due to circumstances, accidentally became the president of Ukraine. You know, such a joke about our officials and the president in a grotesque manner is told. And now that came to mind instead of thoughts. We have registered a new political party called ... "Servant of the People"! And he was headed by lawyer "Quarter 95" (led by Zelensky) Ivan Bakanov. How do you like a trick?
How political activity is influenced by the thickness of the wallet. It is terrible when the comfortable existence changes to the richer. Although, judging by the active touring activities of the 95 Quarter, they do not get hungry days. On a piece of bread with a large piece of fat earn.
Someone earns on the series, and someone earns the hryvnia in the old way. Quietly steal and go - called "found." Do you remember with what pomp we opened solar-powered benches and interactive ballot-boxes in a square in Kontraktovaya Square in our park? With Wi-Fi and USB ports. Sit down and charge the phone for free. So what? This is Ukraine, baby. Break all these benches. But in a European way. Carefully opened, removed all the equipment and ... found. That's all.
Here in my head now appeared, in my opinion, the thought. If in the garbage put a huge crystal vase? This nanotech. How is your Skolkovo? How much will it cost?
Considering that angry, hungry people roam around? And is it any wonder that in a day or two it will either be smashed or stolen? It would be better for this money on Podol new asphalt laid. To differ from Russia. Washes it constantly. Not a road, but a bone crusher and a pendant.
On the other hand, and what to count them, these same hryvnias or dollars? We decided to live is not rich, but free? Well, we live. Ukraine has no flaws. We have features! Look, we have received a tranche of 1 billion for the year from the IMF. Lot? And we paid this very IMF 858,7 million. $. If we translate these same borrowing rights into normal dollars, it turns out that we paid 1,268 billion dollars this year.
I remembered the old old joke.
- Abram, give me a hundred rubles loan.
- Dam, if you give two hundred in a year. And what will you leave as security?
- I will leave the ax, I bought it for three hundred.
- Hand, give the ax and keep the steward. Wait, don't go. After all, in a year to you it will be hard to give two hundred?
- Yes, hard.
- So come on, you now give a hundred, and a year later you will give another hundred. It will be easier for you.
- Come on.
A man goes home and thinks: "Neither money, nor an ax, and everything is right."
Now about the sad. Really sad and even tragic. Remember the recent events in the Donbass? When our APU "bloodless" took a couple of villages. I read your comments about these events. And now you read mine. So that the rhetoric has changed a little. I'll just give you one post on Facebook. It was written by the volunteer of the Main Military Hospital Natalya Yusupova.
"In Kiev hospital again the flow of ambulances, a new board flew in with wounded and very heavy, extremely heavy warriors, exactly as in 14 ... Every time we expect that the war will end soon, but it starts with a new force. I will not write much just shock .. ". "We ask the people of Kiev to help, who can do what we need. We need disposable diapers, coffee, tea, sugar, cheese, sausage, water, juices, napkins, towels, clothes from sports suits, T-shirts, underwear, jackets."
I will not joke about this. Posted simply because the war continues. And if such losses in the Armed Forces of Ukraine, then something similar happens from the other side. The war continues to devour the Ukrainians. And the end of it, alas, is not visible. But the best die. At both sides...
Many people now say and write that we do not have modern industry. Oh. How do you like Daimler? Our television has convinced us that you do not know such a company. So, educate the Russians. These are the same Germans that produce "Mercedes". And now these same "Mercedes" will be completed with Ukrainian products. Not in the sense of fat there will be invested. Accessories! Checkmate of Russia.
Our enterprise "Electrical Systems" (included in "Ukroboronprom") has become the official supplier of "Mercedes"! SUHS three times. Now you will think when buying these German cars. We twisted the wires! But we can also make caps for nipples on wheels. And battery terminals. "Ukraineaa has not yet died" ...
Here I have a question for you. If Ukraine is the official supplier of "Mercedes", then it is somehow scary to think who was the official supplier of your "Kalin" or "Samar". Burkina Faso? And the second question. And now what will be called "Mercedes"? "Mercerozhets"? And what a beautiful. Original even.
We have one brotherly people that Saakashvili leased to us. Brotherly, he is brotherly, but here we have a pig. More precisely, not a pig, here we would be delighted with the whole country, but a camel! And not planted, and left to feed. And not the people, but the Georgian circus.
Imagine, in the Ternopil region performed a Georgian circus. Khorostkov, this is a city like that, rejoiced circus performers. But everything comes to an end. Chapito gathered manatki and left. And in the morning ... Employees come to the local stadium. And there ... a camel is grazing. Georgians liked Ukraine so much that they left a camel and a llama to a local entrepreneur for the winter. And he grabbed his weed to the stadium.
This is ours. In short, this camel stands in the middle of a football field knee-deep in mud. What kind of weed? Hay bring him. But most importantly, it is impossible to pick it up now. Now all the work has increased. We must prepare the laws. Deputy inquiries. Ask anyone and punish who will turn up.
You are already accustomed to the fact that at the end of the notes I am writing about the next intrigues of Russia against Ukraine. And today I think finish exactly the opposite. But first, let me remind you, dear readers, yours, the Russian Constitution. A person convicted of a crime cannot be the president of Russia. So get ready.
Remember Putin's humane act against the two leaders of the Crimean Tatar Majlis Akhtem Chiygoz and Ilmi Umerov? When, at the request of the President of Turkey, did your President sign a decree to pardon them and expel them to Turkey? So, now for this Putin is sued.
Represent, Chiygoz and Umerov did not receive any documents about clemency. Only help with the number of the decree of the President of the Russian Federation (No. 515). And the decree itself, it turns out, chipboard. And not to be disclosed. But how can they now return to the Crimea? What sent the Tatars? They were happy to be in a Russian prison. And their ... Oh, you!
Nothing, the Moscow court will figure it out. And punish the president of Russia in full. As previously written, to the fullest extent of the law. Let pardoned back in prison! Give the arrest of the worthy sons of the people!
Well, the machinations. How without them? About the "Cyborgs" heard? Well, these are the ones that won at the Donetsk airport. Poroshenko said that "cyborg" will be included in textbooks
stories
Of Ukraine. Well, who enters, who will contribute, it does not matter in principle. And Goskino promised money for a cyborg drama.
The picture is triumphantly marching across Ukraine, and all of a sudden ... Two cinemas in Chernivtsi, named after Olga Kobylyanskaya and Kinopalats, refused to rent the movie Cyborgs. The film's producer complains that they have written, called, and there they simply do not take the phone and do not write letters to ground. Or put the bolt.
We must now unequivocally take action. There, apparently, something is wrong. Either the Kremlin agents worked, or the program got stuck in their heads. First, of course, more possible, because the Kremlin - he is so ... He doesn't sleep at night, he thinks how to make a mess.
Madhouse? Of course. But I want to finish today completely different. We have one of the channels conducted a survey on what Ukraine citizens want. The result stunned me even. Approximately 40 000 people took part in the vote. And for the fact that Yanukovych returned to power ... 92%! These are the results. Of course, this is not an indicator for the whole of Ukraine. This is an indicator of the recovery of society. Maybe the truth is still not lost?
In the meantime, goodbye. Pre-New Year efforts, you know. As an organism that is intelligent and genetically charged for survival, I really like healthy food for the holidays. Well, you know, if a piece of bacon, then healthy. If a sandwich, then also a little more. And for this you need more to bring home all sorts of goodies. What do you wish with all my heart. Let's eat healthy food together!