Information confirmed earlier in the media about the military equipment and units that were the first to leave the territory of the Syrian Arab Republic was confirmed. Information about the technique of the troops was clarified on the basis of the statement of the General Sergey Surovikin, Commander-in-Chief of the All-Union Military Space Force of the Russian Federation:
Received the task and proceeded to the withdrawal of troops as part of 25 aircraft, including 23 aircraft of various modifications, X-NUMX Ka-2 helicopter, as well as military contingent in the composition of the military police of the Russian Federation, special purpose detachment, military clearance center .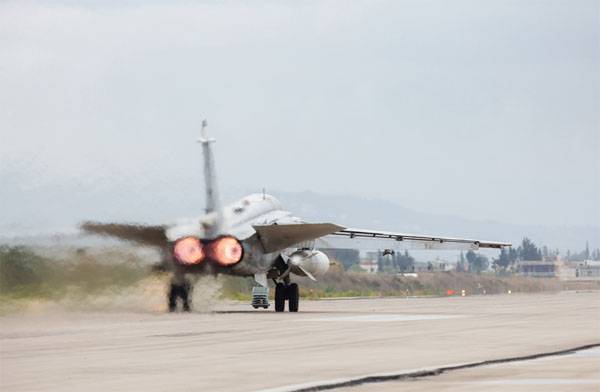 In the most active phase of the counter-terrorism operation in Syria, the Russian
aviation
the group consisted of up to 70 aircraft and helicopters.
Recall that on a permanent basis in Syria remain a military airbase in Lattakia (Hamim), as well as a logistics point in Tartus.
Today, the order to withdraw most of the Russian troops from Syria was personally given by the Supreme Commander-in-Chief of the Russian Armed Forces (President) Vladimir Putin. He arrived on a short working visit to the UAR, where he thanked the Russian military and held a personal meeting with the head of Syria, Bashar Assad.