The Kremlin press service reported on the nuances of the withdrawal of Russian troops from Syria. Recall that today the order for the withdrawal of the main contingent of servicemen of the Armed Forces of the Russian Federation from the Syrian Arab Republic was given personally by the Supreme Commander Vladimir Putin at the Hmeimim airbase in Latakia.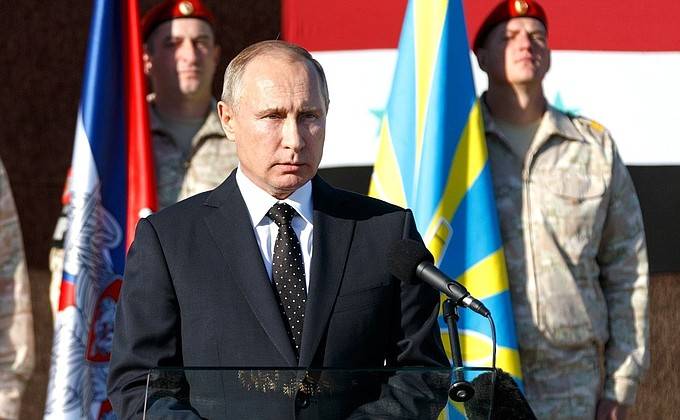 According to the press secretary of the President of the Russian Federation, the withdrawal of troops will take "more than one day." Peskov was not able to answer the question whether the withdrawal of the main Russian continent would take place already this year or whether 2018 would be transferred to the year. Reports about it
RIA News
.
From Dmitry Peskov's comment:
The President himself noted that Hamier would remain and the base would remain in Tartus.
Recall that we are talking about Hmeimim airbase and the logistics point in the port of Tartus.
And this
statement
the highest commander in chief, made in front of the military at the airfield in Syrian Latakia:
Two basing points will be created here and on a permanent basis: in Tartus and Hmeymim. And if the terrorists again raise their heads, we will inflict such blows to them, which they have not yet seen. For more than two years, the Armed Forces of Russia, together with the Syrian army, defeated the most efficient group of international terrorists. In this regard, I made a decision: a significant part of the Russian military contingent located in the Syrian Arab Republic is returning home to Russia.