The 2 Cavalry Regiment of the US Army stationed in Germany and regularly rolling around the Russian borders received the first Stryker XMNNXX Stryker ICV Dragoon (ICVD) armored vehicle, equipped with a combat module with an 1296-mm automatic gun, reports
bmpd
.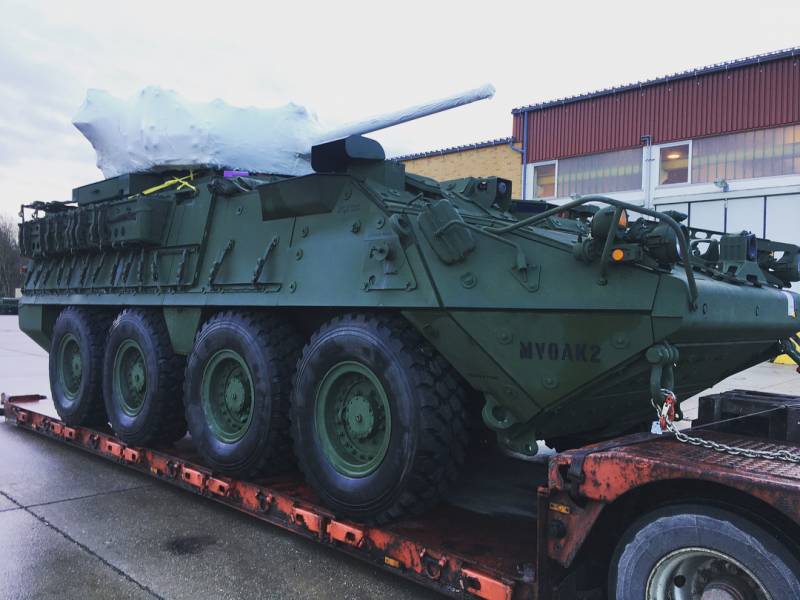 The Stryker machine in the version with the 30-mm gun was developed by General Dynamics Corporation in the interests of the 2 Cavalry Regiment in accordance with the contract issued in April 2015.
Delivery of ordered armored vehicles in the number of 81 units should begin next year. 8 prototypes are now in the test. The contract value is about $ 329 million.
"The demand from the 2 Cavalry Regiment to equip Stryker 30-mm cannons is directly motivated by the need to withstand numerous main Russian armored vehicles equipped with 30-mm cannons (BMP-2, BMP-3, BTR-82). So far, the Bryvka APC has been regularly equipped with remotely controlled Kongsberg M151 Protector combat modules with an 12,7-mm M2 machine gun or an 40-mm Mk 19 automatic grenade launcher, "the article says.
30-mm automatic gun Orbital ATK XM813 Bushmaster paired 7,62-mm machine gun. The gun has dual power and ammunition in the module in 150 shells, can use remote undermining shots.
The machine has a body with enhanced mine protection (Double V-Hull ", its nominal capacity is 9 paratroopers.