The President of Russia, who arrived on a visit to the Hmeimim airbase in Syria, commented on the events in this country. According to Vladimir Putin, Syria is preserved as a single and sovereign state. This was achieved in connection with the successes of the Syrian government army, actively supported by the Armed Forces of the Russian Federation.
From the statement of the Russian president:
Syria's unity and sovereignty should be the basis for a transition to a political settlement in this country under the auspices of the UN.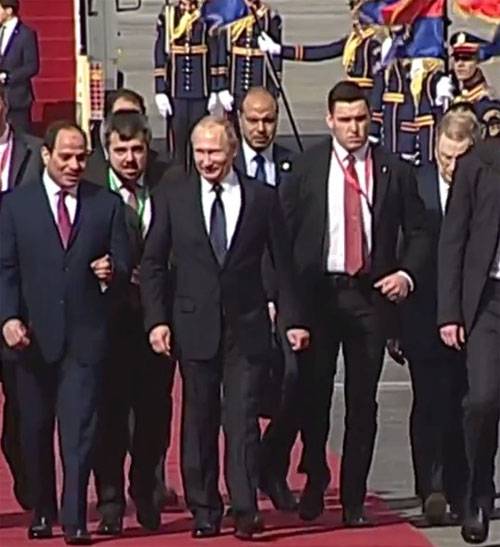 Thus, the Russian leader unequivocally makes it clear that the UN cannot and should not distance itself from what is happening and will occur on Syrian soil after the defeat of the Islamic State terrorist group (* banned in the Russian Federation).
Immediately after a short-term visit to the UAR, Vladimir Putin set off for Egypt, where the Russian side of aircraft No. XXUMX had already landed.
From the message
Kremlin press services
:
At the airport, the head of the Russian state was met by the President of the Arab Republic of Egypt Abdelfattah al-Sisi.
The leaders of the two countries will hold talks on the further development of Russian-Egyptian relations in the political, trade, economic and humanitarian fields. There will also be an exchange of views on key aspects of the international agenda, primarily on issues of ensuring stability and security in the region of the Middle East and North Africa.
In the Western media, they continue to discuss the visit of Vladimir Putin to Syria, noting that the new move of the Russian president will force political analysts to once again seriously discuss the topic: "What else has Putin prepared?"