The Russian Foreign Minister spoke on the situation on the Korean Peninsula. According to Sergey Lavrov, this situation has reached a degree of extreme tension. Sergey Lavrov notes that the parties are using unacceptable rhetoric and are not ready to take the path of political compromise. At the same time, the Russian Foreign Ministry recalls that earlier Moscow and Beijing proposed a joint option to de-escalate tensions on the Korean Peninsula. A proposal is made in Pyongyang's simultaneous freezing of nuclear missile tests and the refusal of Washington and Seoul to conduct joint exercises on the peninsula and at its maritime borders. The United States immediately rejected the proposal (more than a month ago). During this time, Pyongyang conducted missile tests and announced the completion of the formation of nuclear missile forces.
Sergey Lavrov quotes
RIA News
:
The situation on the Korean Peninsula can only be resolved through diplomacy.
Against this background, the United States announced that it would continue sanctions pressure measures against North Korea. One of the measures is the sea blockade of the peninsula.
In the DPRK itself, we recall, the United States calls such a move a frank declaration of war.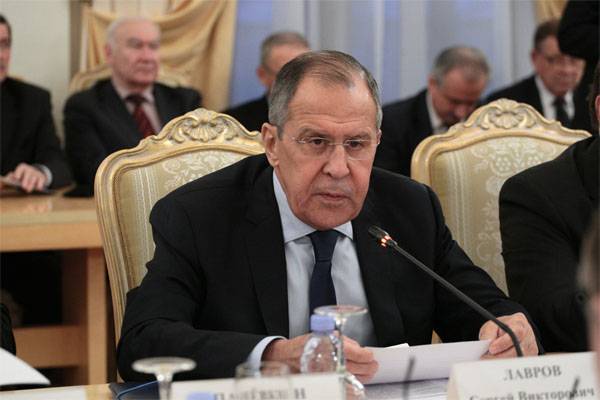 The main Russian Foreign Ministry notes that the sanctions pressure against the DPRK can only lead to a negative security effect. "Stuck into a corner" North Korea can decide on an open military conflict, also taking into account the fact that at its borders there is a build-up of a group of troops whose command does not hide its intentions.
Recall that in February 2018 of the year in South Korea is scheduled for the Olympic Games.