According to the press service of the Western Military District, on December 9, 2017, from the airfield of the Irkutsk aircraft plant, a link of Su-30SM fighters began to relocate to
aviation
Regiment of the Western Military District (ZVO), stationed in the Kursk region, for manning the first combat air squadron.
The aircraft were taken at the factory by the engineering and technical personnel of the military unit and prepared for a long flight.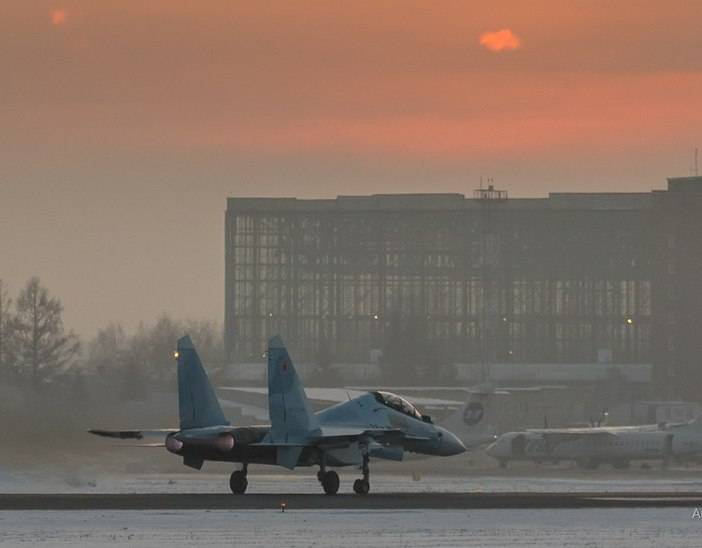 According to reports spotters, 9 December at Tolmachevo Airport (Novosibirsk) made a short stop, three new Su-30SM, distilled from Irkutsk in the 14-th Guards Fighter Aviation Regiment 105-th Composite Air Division 6-th Leningrad of the Red Army Air Force and Air Defense Western Military District on the airfield Halino (Kursk).
The aircraft have red side numbers "78", "81" and "82" (corresponding serial numbers 10МКХNUMX 5, 1502МК10 5 and 1505МК10 5) and were built by the Irkutsk Aviation Plant (IAZ) by the Irkutsk Aviation Plant (IAZ), by the Irkutsk Aviation Plant (IAZ), by the Irkutsk Aviation Plant (IAZ), by the Irkutsk Aviation Plant (IAZ), by the Irkutsk Aviation Plant (IAZ), by the Irkutsk Aviation Plant (IAZ), by the "Irkutsk Aviation Plant" (IAZ), by the program, by the same time, the Aviation Plant (IAZ), by the same time, the Irkutsk Aviation Plant (IAZ), by the "IKZ", by the program, by the program, by the program;
With the arrival of three armed fighters, the total number of Su-30CMs in the 14 Guards Fighter Aviation Regiment will be 12 units, which will fully equip one squadron of this regiment, re-armed with MiG-29MT fighters, transmits a blog
bmpd