Demonstrators broke down the security fence and perimeter gates in front of the United States embassy in Aukar on the northern outskirts of Beirut, reports
RIA News
the message of a member of the political department of the Communist Party of Lebanon Omar Dib.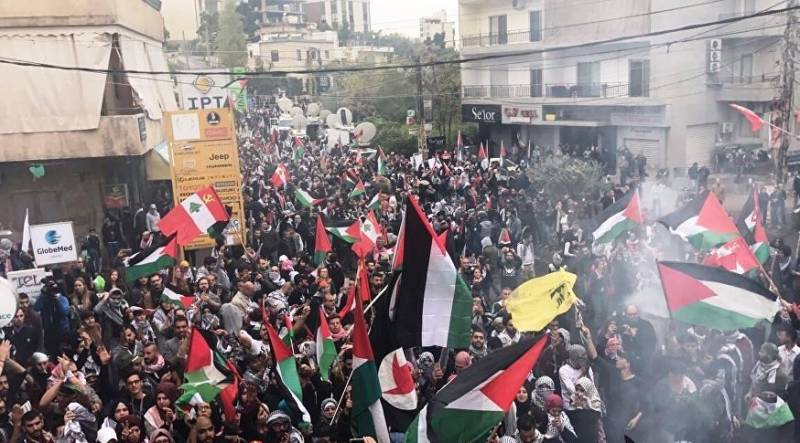 Several demonstrators broke down the security fence and the security gate in front of the embassy. To be precise, this is not the embassy gate, this is the cordon gate of security. The embassy is far away. The guys were detained. But many guys are trying to break through,
told Omar Deeb.
Several thousand people took part in a demonstration at the US embassy in Aukara, speaking out against the decision of Donald Trump on Jerusalem. Demonstrators burned an Israeli flag and a scarecrow with a photo of Trump and continue to chant anti-American slogans.
The President of the United States previously announced the recognition of Jerusalem as the capital of Israel and signed a document on the transfer of the American Embassy from Tel Aviv to this city.
According to Diba, among the protesters there are victims of tear gas.
There are a lot of people affected by gas, mostly gasps. We do not yet have exact numbers of victims. Several guys are detained by law enforcement officers. The guys come into collision and depart, and go again. This is a demonstration of our position against Trump's decision and not only, as well as against all US policies loyal to Israel,
he said.
People continue to arrive to the US embassy - representatives of the left movement and religious communities. The police and army units are trying to block all roads leading to the embassy, ​​and continue to use special equipment in clashes with demonstrators, attempting to push them away from the security perimeter.