The recording of the conversation of the ex-President of Georgia, Mikhail Saakashvili, who was detained in the framework of the case on assistance to criminal organizations, and businessman Sergey Kurchenko, should be sent for examination to the UK or the United States, reports
RIA News
The statement of the supporter of the disgraced politician David Sakvarelidze.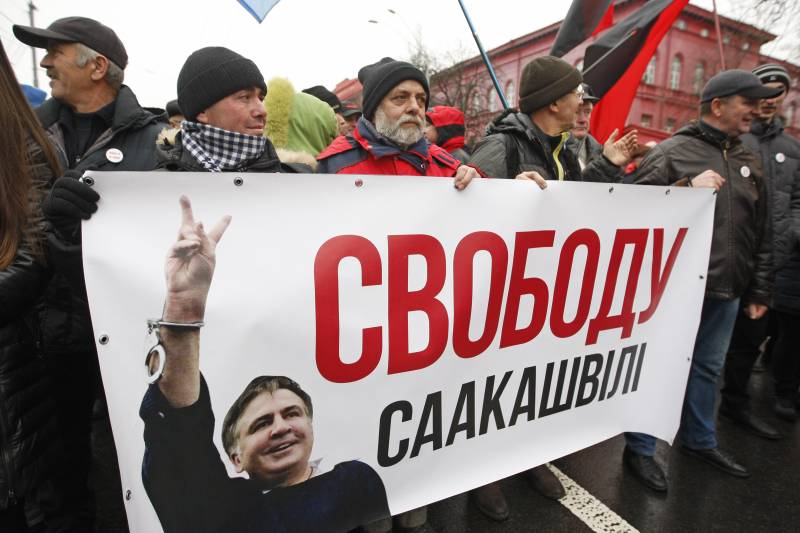 Earlier, the Prosecutor General's Office of Ukraine published an audio recording of the alleged conversation between Kurchenko and Saakashvili, in which they agree on criminal cooperation. Prosecutor General Yury Lutsenko said that the actions organized by Saakashvili in Kiev were financed by Viktor Yanukovych's entourage, in particular, by the businessman Kurchenko, and aimed at overthrowing power in Ukraine.
Let's assign an expertise, but not here in the Ministry of Internal Affairs or other sales agencies, but internationally in Britain and America. Let's wait and see. She will tell about the published films that this is a montage. Believe me, they were preparing for it so carefully that if they had something, then Lutsenko would have turned 24 an hour a day,
said Sakvarelidze.
According to him, the authorities are trying to tie Saakashvili to the organization of Yanukovych, without evidence of it.
Imagine the scale of Saakashvili, and who is Kurchenko. The fugitive oligarch is the man who was a symbol of the power of Yanukovych. What power is trying to tie Saakashvili. There is a big deal about the criminal group of Yanukovych, but it is so poorly done that after a while it will fall apart in the courts. It turns out that in this case, Saakashvili entered into a criminal conspiracy with the organization in order to overthrow the power in Ukraine. Here is the logic of this case,
added Sakvarelidze.
Recall, Saakashvili was detained by Ukrainian law enforcement officers on Friday evening, after which he was taken to the detention center. He is suspected of assisting members of criminal organizations and concealing their criminal activities. The Prosecutor General's Office intends to petition for the house arrest of the politician.
Currently, around the detention center in Kiev are on duty around 20-ti Saakashvili supporters.
"Several dozens of people have gathered here, not more than two dozen people in fact ... There are no conflicts between law enforcement officers and Saakashvili's supporters yet," the Ukrainian television channel NewsOne reported.