The crew of the large landing ship (BDK) "Ivan Gren", built at the Yantar Baltic Shipyard in Kaliningrad for the Ministry of Defense of the Russian Federation, began testing the main power plant and communications systems, the press service of the Baltic
fleet
.
The crew of the BDK, together with representatives of the factory acceptance team, tests the main power plant, communication complexes, the operation of the bow and stern landing craft. As part of the state tests, the crew of the BDK "Ivan Gren" together with the marines of the Baltic Fleet began to conduct tests on the loading and unloading of military equipment
- the report says.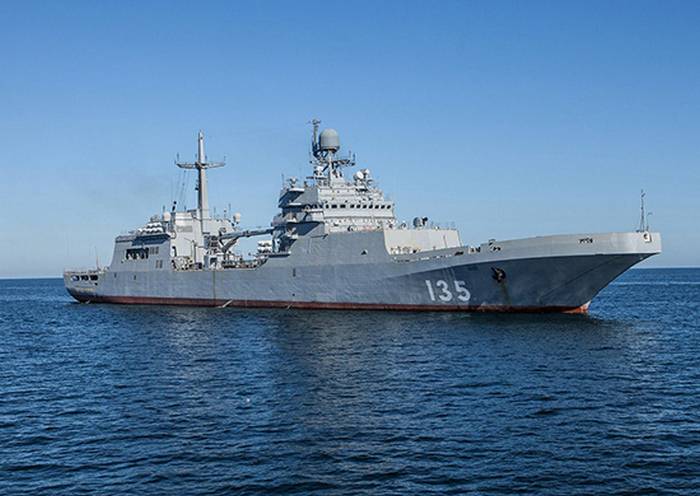 It is noted that in the coming days, the crew of "Ivan Gren" will have to execute firing at sea and air targets and make mine settings. According to the Yantar plant, it is planned to complete state tests in December, after which the ship will be handed over to the customer.
"Ivan Gren" - the lead ship of the project 11711, developed in PJSC "Nevskoye Design Bureau". It was laid down at the Yantar plant in December 2004, launched in May 2012. Factory running trials began in June 2016 of the year. 30 November 2017 of the year "Ivan Gren" went to the Baltic Sea, where he began performing a program of state tests, which are scheduled to be completed in December, after which the ship will be handed over to the customer.
BDK holds 13 main
tanks
, 36 armored personnel carriers or infantry fighting vehicles, or 300 paratroopers. It is possible to deliver to the destination a reinforced company of marine corps with standard equipment and land them on pontoons brought with them. The armament of the ship consists of six-barreled automatic guns with a caliber of 30 millimeters, two transport and combat helicopters Ka-29 are based in deck hangars.