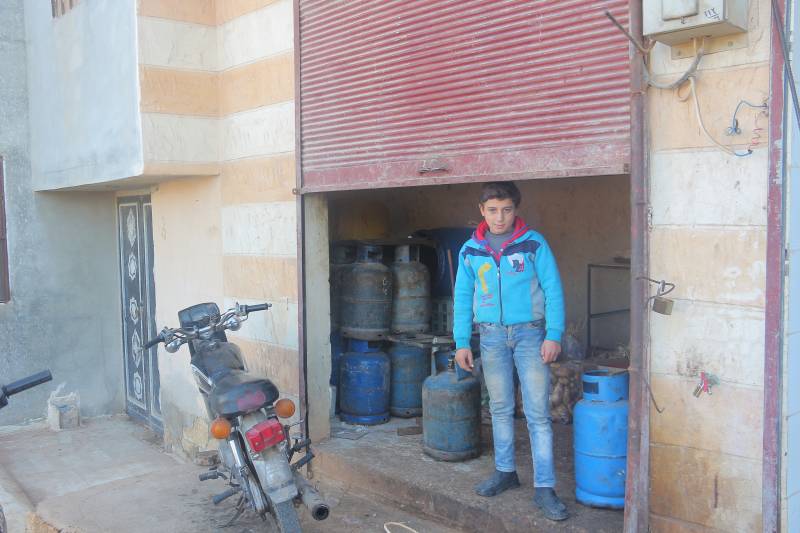 Today, your humble servant was able to communicate with a young witness to the war in Syria. The boy Alya lives a few kilometers from Aleppo. Not so long ago, he turned the whole 12 years, during which time he learned how to skillfully bake cakes, make coffee, shawarma and pour lemonade. Also in confidence, this tomboy told how you can snatch a lira by selling tangerines: it is enough to remove one fruit from each two-kilogram box and by the end of the day you can earn up to a thousand lira!
However, this article would be absolutely uninteresting if it were not for some of the details of the biography of Alya. In some ways, this little boy is unique, because for the entire time of his still short life he never left his native province of Aleppo, managed to live with the fighters DAISH (*), shoot an An-Nusra machine gun (*), and then shower all these nonhumans with stones and rotten tomatoes when they leave his hometown.
So, since 2013, the area where the boy will live with his family has been occupied by militants of various factions, most of whom today belong to Hayat Tahrir ash-Sham. At the same time, the school where Alya studied was destroyed, and at the same time most of the teachers left the city. And this meant, as my interlocutor put it, "I had a holiday - I didn't have to learn lessons, however, how wrong I was then ..."
The fruit trade, which is being carried out by several generations of relatives of my interlocutor, has stopped, the militants killed their mother, first the father drank arak first, and then tried to find a way to earn money to feed herself and her young son, Alla's numerous relatives left for Latakia and Damascus .
Thus, an eight year old boy could manage his time as he pleases. "Once with older boys, we tried to find a still live cat to satisfy hunger. I must say that in this case I succeeded. The rest of the guys for a long time awkwardly jump and rush for animals, not always achieving success, but in a matter of seconds I was guessing about the next movement of the cat, which allowed me to catch them very quickly and deftly. During one of these trips "at dinner" some non-local man with a gun approached me and offered to eat real chicken. How could I refuse such a fantastic offer ?! "the boy began his story. The next half hour, according to my interlocutor, went into some kind of fairy tale: he was asked to wash himself, and then he sat like a sheikh on a carpet and ate a whole chicken leg. After a snack, he was offered to taste fruit and strong coffee, as well as watch an interesting film.
"On a large flat-screen TV, they showed me my peers, who told me why they want to become ingimasi and fight in the name of Allah. It must have been an interesting film, but I wanted to sleep so much that I didn't really remember anything. After watching the movie, my bearded breadwinner asked: do I also want to become an ingimasi? "Ala continued his story. The juvenile fruit dealer didn't really realize what he was offered, but the promise to live in greenhouse conditions and the opportunity to eat chicken every day did their job.
Fortunately for Alya, he never got to ISIS training camp (*). The first days under the care of the militants for the little boy were relatively calm: he was constantly eating grenades, drinking juices and watching some "boring films". Then the ISIS terrorists (*) did not share something with their brothers due to the lack of reason from Dzhebhat an-Nusra (*), a firefight occurred and the newly-made teachers of my interlocutor were shot.
On that day, a nine-year-old boy first acquired his own machine gun, managed to escape from all the terrorists and get to the basement of his own house. There was a drunken father waiting for him, who did not notice his son's weekly absence ...
A few days passed, and Alya went to get food. Seeing his comrades from a distance trying to catch a cat, my interlocutor decided to scare all those gathered and shoot the animal from a machine gun. However, for some reason Kalashnikov flatly refused to shoot.
"Then I couldn't understand what was going on for a long time ... I'm experienced now and I know about the fuse. And at that moment I was very sad, I even wanted to throw the machine away. However, from this reckless step, a peasant stopped me, "Alya told me.
As it turned out, it was the militant "Dzhebhat an-Nusra" (*). He selected the machine gun from my interlocutor, showed how to shoot and offered to go on the "hunt".
"Not understanding what they want from me, I went for this uncle. We stopped a few meters from my home near a neighboring house, from which two older women came out, one of whom worked at my school, though not a teacher ... The hunt was that after this gunman shot one of her grandmothers, the second should I was killed. But it seemed to me something awful, moreover, I behaved very strange. With a gun handed to me, I rushed to the women, trying to revive the just-killed aunt with her friend. The angry terrorist approached us, kicked me in the ribs, grabbed the machine gun and went back home, "Alja continued his story.
The next three years of my interlocutor's life were much less interesting for you, my readers, I can only say that during this period the personality of the young hero of my article was formed. After three years already, he, along with many of his peers, threw stones and tomatoes at the militants who left surrounded Aleppo, carefully looking out for the very terrorist who called him at one time to go hunting.
Now he and his father peacefully sells vegetables and fruits. By the way, Alla's dad quit drinking immediately after he heard his son's story about walking with the "Al-Nusra" terrorist and is now actively trying to teach him literacy and arithmetic. My interlocutor never started going to school, which is a pity, because there are more than enough opportunities these days. True, the young mandarin seller has long learned to count in his favor ...
* Dzhebhat an-Nusra, ISIS, DAISH - terrorist groups banned in the Russian Federation.