In Sukhum, a monument was erected to Russian peacekeepers who died during the Georgian-Abkhaz conflict, reports Sputnik Abkhazia. President of Abkhazia Raul Khadzhimba declared that the monument will become a symbol of relations between Abkhazia and Russia.
Today a monument is opened in honor of these events, about people who were closely connected with the formation of our state, laid their heads on our land. 117 kills peacekeepers
Said the president.
The monument was erected at the initiative of the interregional public organization Council of Veterans of the Peacemaker Forces of Local Wars and Armed Conflicts "Peacemaker". The project is produced and installed by the national artist of Russia Vladimir Surovtsev.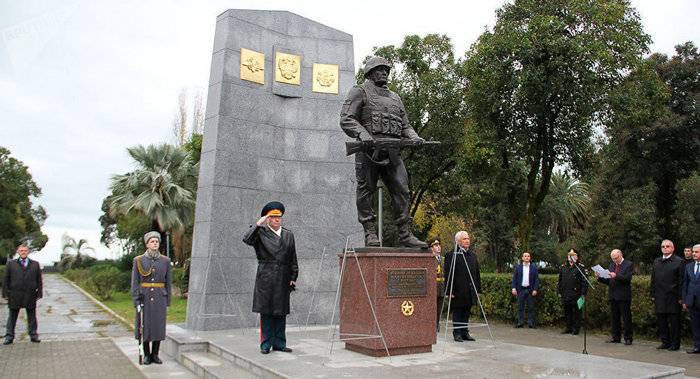 The right to open the monument was granted to the Hero of Abkhazia, Lieutenant-General Vyacheslav Eshba and Chairman of the Council of the public veteran organization Peacemaker Lieutenant-General Alexander Evteev.
The Deputy Prime Minister of the Russian Federation, Alexander Khloponin, thanked the leadership and the people of Abkhazia for the memory of the peacekeepers.
Today's event is significant in every sense. The fact that the monument to the peacemaker stands next to the monument to the soldiers who defended our homeland in the Great Patriotic War, where our fathers and grandfathers fought shoulder to shoulder with the fascist yoke, is certainly a very important and significant event. These soldiers, the Heroes of Russia, are truly a symbol of peace and a guarantee of peace on earth. Low bow to the inhabitants of Abkhazia for this memory
- said Khloponin.
The servicemen of the Armed Forces of the Russian Federation carried out a peacekeeping mission in the Republic of Abkhazia from 1994 to 2008 for the year as part of the Collective Peacekeeping Force.