During the ceremony held on Wednesday at the Airbus Helicopters' facility in Marignane, the Mexican Navy took the last two Panther AS-565MBe sea-going multi-purpose helicopters, reports
TSAMTO
.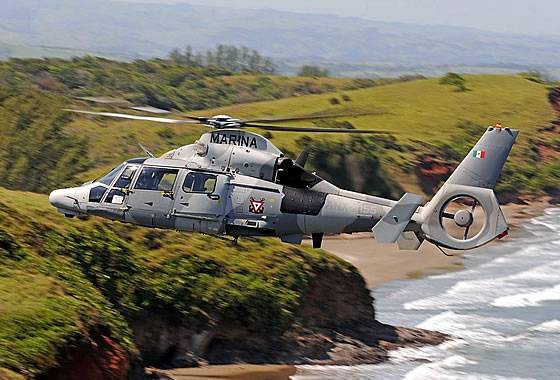 The contract for the supply of AS-10MBe Panther 565 helicopters was signed in 2014 year.
Initially, deliveries were supposed to start in 2017 and complete on 2018, but at the request of the Mexican command, Airbus Helicopters accelerated production to complete the transfer of the ordered vehicles before the end of the year.
The AS-565MBe helicopters are designed to carry out search and rescue operations, combat drug trafficking, protect the coastal zone, evacuate victims of natural disasters at sea, the publication said.
It is reported that the S-565MBe is the most modern version of the Panther line: "It is equipped with a four-axis autopilot, a tail rotor, two Safran Arriel 2N hp 1129 hp engines, adapted for operation in hot conditions at high altitudes, its maximum speed is to 278 km / h, maximum take-off weight - 4500 kg, flight range - up to 781 km. " The machine is designed to carry up to 10 passengers (crew - 2 person).
Along with the helicopters, related equipment has been supplied, such as cargo hooks, rescue winches, IR front-vision systems (FLIR) for night rescue operations, etc.
Depending on the equipment, the machine can be airborne for up to 4 hours.