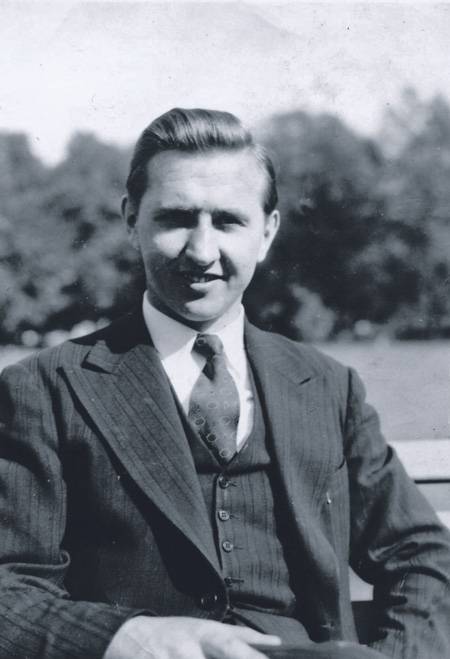 Alexander Semenovich Feklisov. Photos from the family archive of the Feklis family
As an adult, I first learned that my father was engaged in intelligence, worked with people like Julius Rosenberg and Klaus Fuchs.
I was stunned. At school, we were told about the cruelty and bias of the American court that sent the young spouses Rosenberg to the electric chair. I could not even imagine that my father had met with them and even considered Julius Rosenberg to be his friend! There was never a word or hint about this house. My sister and I clearly knew one thing: my father was an employee of the Ministry of Foreign Affairs.
He loved the film "Seventeen Moments of Spring". When he was shown, he always called me and my sister, he wanted us to look together. We thought: this is how dad likes the picture. Only many years later, I began to realize that his life, work in New York, London and Washington was the material for several such films.
IN CELEBRATION ITS GREAT HAPPINESS CASE
As his father said, he became a scout by chance. And in childhood he dreamed of becoming an assistant driver or even a driver. But when he graduated from the Institute of Communication Engineers, he was offered to continue his studies at the SHON - Special Purpose School. A year later, in 1941, they began to prepare him for a business trip to the United States.
My father always wondered: how could he be sent to America for such a responsible job? He was then only 27 years old, his language was poorly owned. Also did not have time to get a family. Finally, deaf. In his youth, when the house where the Feklisov family lived, caught fire, he saved people all night and fell to sleep on the cold boards in the barn in the morning. When I woke up, I did not immediately realize that one ear could not hear.
But, apparently, the management of the Shona saw something more important in it: Alexander Feklisov was able to work for days and always achieved his goal. As his father recalled, the first task assigned to him, as a beginning intelligence officer, was to establish two-way radio communication with Moscow. How? This he had to decide himself, on the spot.
Trainee general consulate of the USSR in New York, Alexander Fomin, as he was called by legend, was given a room in a low house surrounded by high-rise buildings. A guy from Rogozhskaya Zastava finds and buys several bamboo poles (these are used by athletes), fastens them with clutches and puts the resulting antenna on stretch marks. As a result, New York and Moscow were connected by a permanent radio channel.
Pretty soon, Alexander corrects and the column on marital status in his questionnaire, where the record was "not married." This happened when he met our future mother.
In that fateful year in New York, ten girls who graduated from Moscow to work in Amtorg were sent to work in Amtorg. His father said that among them was Zinaida Osipova, who immediately charmed him with her cornflower-blue eyes. Zinulya - so the father called mother, became not only the wife, but also the good assistant. Fluent in English, she could speak and take aside any American wife so that the men could discuss their problems in private.
My father knew how to win over almost any person. During our work, as my mother and I learned much later, 17 foreign agents were in touch with him. Some of them he called his friends. Already many years later, my father arranged in his Moscow apartment in Bolshaya Gruzinskaya a "cache of expensive items." So he loved to call him. One day, he got out of it and showed my sister and me an old, battered wallet. "A gift from my American friend," the father explained. But who, exactly, didn't tell then.
CRISIS, barely failing catastrophic
Working with foreign friends more than once brought him to the center of important, truly
historical
events.
A special place in the fate of his father played events around the Caribbean crisis, in the successful resolution of which he took the most direct part. Foreign intelligence colonel Alexander Feklisov is one of the very few people who managed to prevent a catastrophe.
However, his father was silent for many years about his participation in the events of the Caribbean crisis. Only once, as I understand it now, there was something like a hint, but then I didn't understand anything from my youth. He gave me two tickets to the Satire Theater for the play "The Burden of Decisions" by Fyodor Burlatsky's play. He said: "It may be interesting for you - there is about American affairs. President Kennedy plays Andrei Mironov. I can't go. " My friend and I ran only because of Mironov. The play spoke of the Caribbean crisis, there it was a question of a Soviet intelligence officer named Fomin. And I, in fact, since I was born in New York, I bore the same last name as a child! It might have seemed to think about something ... But, to be honest, my friend and I didn't like the play very much and it was not interesting to watch it.
About how events developed at that time, we, the members of Alexander Semyonovich's family, learned much later, after appearing publications in the media, from books, documentaries and feature films.
According to the materials that became known to the world community, including thanks to the declassified archival documents of Soviet intelligence, the situation was as follows.
October 22 Alexander Fomin, 1962, an adviser to the Soviet embassy, ​​invites John Scali, a well-known political television commentator, to breakfast at the Occidental restaurant. By that time, the Soviet intelligence officer had known him for a year and a half.
Scali looks worried. Without prefaces, he begins to accuse Khrushchev of an aggressive policy: "Has your Secretary General gone wrong?" Feklisov angrily objected: "The arms race was initiated by the United States!"
Both interlocutors part, dissatisfied with each other. Meanwhile, the situation is becoming more and more explosive with every passing hour. An 40-thousandth contingent of Soviet troops has already been deployed to Cuba, the installation of 42 missiles with nuclear warheads aimed at the US is almost complete.
The residency received secret information: the US army will be ready for landing on Cuba on October 29. The world is on the verge of a third world war. And at the same time, no important instructions come from Moscow ...
On the morning of October 26, Alexander Fomin decides to invite Scali to lunch at the same restaurant in the hope of receiving fresh information from him. In the book "Danger and Survival", McGeorge Bundy (adviser on US national security issues) will write later that Scaly had a report on the upcoming meeting with the Soviet intelligence officer to the president. Kennedy told me to tell Fomin: "Time does not tolerate. The Kremlin must urgently make a statement of its consent to withdraw its missiles from Cuba without any conditions. "
The memory of the scout kept this meeting in all details. Alexander Semenovich talked about it in the book "Confession of a Scout" (the first edition was published in 1999, the second edition, prepared for publication by me and his daughter, was released in 2016 year):
"Rubbing his hands and looking at me with a smile, John Scully declared:
- Khrushchev, apparently, considers Kennedy a young, inexperienced statesman. He is deeply mistaken in what will soon be convinced. The Pentagon assures the president that in forty-eight hours he will be able to end Fidel Castro's regime and Soviet missiles.
To this I replied to a TV reporter:
- The invasion of Cuba is tantamount to giving Khrushchev free rein. The Soviet Union may strike back at a place vulnerable to Washington.
Scali apparently did not expect such a response. He looked into my eyes for a long time, then asked:
"Do you think, Alexander, will it be West Berlin?"
- As a response, it's quite possible ... You know, John, when the thousandth Soviet avalanche goes into battle
tanks
and from the air on low-level flights attack aircraft attack ... They will sweep away everything in its path ...
This is where our controversy with Scali ended ... Here I must say that no one authorized me to talk to Scali about the possible seizure of West Berlin. It was a rush of my soul ... I acted at my own risk. "
PARTIES GOING FOR COMPROMISE
The scout Feklisov could not have imagined the further course of events. His words were promptly communicated to the owner of the White House, and within three hours Kennedy passed through compromising proposals for resolving the crisis through an American journalist.
It happened like this. Scali summoned Fomin to a new meeting and, without wasting time, stated that on behalf of the "highest authority" he passed the following conditions for solving the Caribbean crisis: "The USSR dismantles and removes missile installations under UN control from Cuba; The United States lifts the island's blockade and publicly commits itself not to invade Cuba. "
Fomin asked to clarify what the term "highest authority" means. Coking each word, the source said: "John Fitzgerald Kennedy - President of the United States of America."
Fomin assured Scali that he would immediately report on the proposal of the American side to his ambassador. But one thing to promise, and another - to do. Ambassador Dobrynin spent exactly three hours studying a stunning text, then invited Feklisov. With an apologetic voice, he said: "I cannot send such a telegram, because the Foreign Ministry did not authorize our embassy for such negotiations."
"Surprised by the ambassador's indecisiveness," recalled Alexander Feklisov, "I, as a resident, put my signature under a telegram and handed over to the cipher clerk for sending to the Center to my KGB chief."
Khrushchev's positive response came on Sunday, October 28, at ten in the morning. The USSR brought its missiles from Cuba. The United States lifted the blockade from the Freedom Island, and after six months removed their missiles from Turkey. Earthlings breathed a sigh of relief.
MEMORY
Doctor of Philosophy Hakob Nazaretyan, Head of the Euro-Asian Center for Megastory and System Forecasting at the Institute of Oriental Studies of the Russian Academy of Sciences, claims: these two people - Alexander Feklisov and John Scali - saved not just millions of lives, but the civilization of planet Earth. "These were the days and hours of world history, very modestly captured in Russia by ungrateful descendants," he emphasizes.
American scientist James Blythe, author of the book On the Brink ("On the Edge"), in 1989 in Moscow, presented his father with a dedication "Alexander Feklisov - the person I always wanted to meet - the person who played a key role in the greatest event our time".
According to the book "Thirteen Days" by Robert Kennedy, then Minister of Justice, a feature film of the same name was shot, where one of the characters was displayed under the name of Alexander Fomin. When in the course of events it became clear to Americans that the possibilities of official diplomacy were exhausted, the political adviser to the American president (played by Kevin Costner) had the happy thought of connecting his acquaintance to a television journalist who was friends with a certain Alexander Fomin. "His real name is Alexander Feklisov," the adviser states, "this is a super spy! KGB chief intelligence officer! "
The film was released in 2000 year, and his father managed to watch it. He liked the film in principle. The only thing that annoyed us was how they dressed "Alexander Fomin" - from his jacket he was peeking at the gate of his sweater. He explained: "Only farmers walked in sweaters, and I always wore a shirt and a tie!" As a praise, he noted that the film as a whole accurately reflects the events of those fateful days for our planet and unforgettable for him personally.
In the Washington restaurant "Occidental" a bronze plaque hangs over one of the tables. Its text reads: "In the tense period of the Caribbean crisis (October 1962 of the year), the mysterious Russian Mr." X "conveyed an offer on the withdrawal of missiles from Cuba to the correspondent of ABC John Scali. This meeting served to eliminate a possible nuclear war. "
The key role of the Fomin-Scali channel in resolving the crisis was recognized long ago and immediately. This happened late in 50 years. Recognition of the merits and decisive actions of Alexander Feklisov during the days of the crisis of a planetary scale was silenced for a long time.