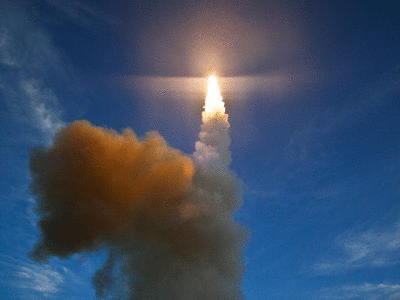 Newsru.com
Japan has completed the process of deploying a missile defense system in its southern prefecture of Okinawa, preparing for the upcoming launch next week of the DPRK carrier rocket, equipped with an artificial earth satellite. This was stated by the Ministry of Defense.
In total, according to ITAR-TASS, four Patriot PAC-3 anti-missile defense complexes are installed in the largest local city of Naha, at the military base in the city of Nanjo, as well as on the islands of Miyako and Ishigaki, which are located south-west of Okinawa. It is over them that the trajectory of the flight of the North Korean missile is supposed to pass.
In addition to the ground-based missile defense system, Japan will use three destroyers - Kirisima, Möko, and Chokai, equipped with the Aegis multi-purpose tracking and guidance system and SM-3 long-range anti-aircraft missiles. They will be deployed in the Sea of ​​Japan and East China.
SM-3 missiles are capable of knocking down a North Korean missile outside the atmosphere if it loses speed or deviates from the course.
Pyongyang announced that its launch will take place from 12 to 16 in April in honor of the 100 anniversary of the birth of North Korea's founder Kim Il Sung.
The first stage of the rocket disconnect over the Yellow Sea, and it will fall off the west coast of South Korea. Next, the rocket will fly over the Japanese islands, and its second stage should fall in the open sea to the east of the main Philippine island of Luzon.
Japanese Defense Minister Naoki Tanaka has already ordered the armed forces to shoot down a North Korean missile if she or her fragments pose a threat to the country's territory.
Patriot installations will be involved if ships miss. PAC-3 are designed to destroy the rocket or its fragments directly on the ground. Three similar Patriot complexes will also cover the Tokyo area.