Until the end of 2017, another batch of Russian T-80s will be sent for modernization. Adaptation of the Soviet
tanks
breakthrough "to the realities of modern war is planned to be completed next year.
The Russian army has about 3200 T-80 tanks, according to a report from the International Institute for Strategic Studies. Of these, 200 machines are in service, the rest are on conservation. The main operator of the "flying tanks" - Guards Tank Kantemirovskaya division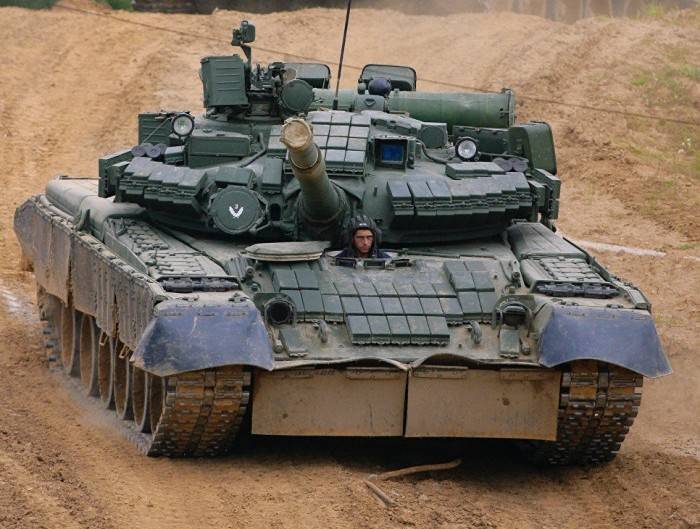 The key object of modernization was the fire control system, writes
RIA News
with reference to the specialists of "Uralvagonzavod". The standard sight of the T-80 will be replaced with the all-weather "Pine": a thermal imager, a laser rangefinder and a target tracking machine ensure accurate shooting at any visibility at the maximum distance. A duplicate device will appear in case of failure or damage to the Pine, and an improved automatic loader will allow tank crews to use modern ammunition.
The 1100 gas turbine engine with horsepower will be significantly improved and, by analogy with the fighters, will have the opportunity of a short-term afterburner operation. The unique engine starts up on 40-degree frost without any problems, it easily accelerates the 46-ton tank to cruising 70 km / h and works steadily on any fuel: from diesel to aviation kerosene. By the way, the tank is hardly audible from the front: its design is such that the whistle of turbines and other noises remain behind.
In addition to the basic modernization, there is also an "improved package" - it assumes the replacement of the standard dynamic protection of the "Contact" with the modern "Relic". In addition, in both cases, comprehensive maintenance, thorough diagnostics and replacement of parts that have developed a resource are carried out. Tanks are upgraded in batches of several cars, depending on the needs and financial capabilities of the Ministry of Defense.
We remind you that just the other day several refreshed T-80BVs replenished the park of the Kamchatka Pacific Marine Corps compound
fleet