For the first time in 65 years, the Turkish president went on a visit to Greece. Recall that between these countries within the NATO bloc, for decades there have been mutual territorial claims, which, by the way, does not prevent them from being in the North Atlantic military bloc. Questions exist on a number of small islands, as well as on the status of Northern Cyprus, which Greece is not ready to recognize as independent or Turkish territory.
As soon as Recep Tayyip Erdogan arrived in Athens, very harsh statements began from both his side and the Greek President Prokopis Pavlopoulos. Erdogan once again reiterated that the Lausanne Peace Treaty of 1923, which established the borders between Turkey and Greece, is unfair and must be reconsidered.
In turn, Pavlopoulos said that Greece rejected the very possibility of revising the Treaty of Lausanne, as this would lead to negative consequences in the Mediterranean region.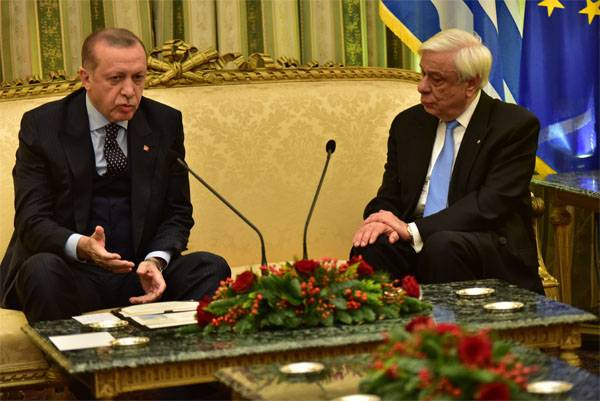 In addition to territorial claims, Erdogan in Athens said that Ankara is worried about "the violation of the rights of Muslims in the territory of Greece." According to Erdogan, Athens prohibits Muslims in the north of Greece from choosing their own muftis, and they are engaged in their centralized appointment.
Erdogan also expressed his displeasure with Pavlopoulos that Greece does not give out eight Turkish soldiers who fled after a failed attempt at a coup in the country.
Erdogan's numerous claims caused a significantly negative reaction in the camp of the Greek authorities and the public. The Greek press appealed to the president of the country with a proposal to close the entrance to Greece for Erdogan.