In the Belgian (and concurrently - pan-European) capital, there is a multi-thousandth rally, which gathered supporters of the idea of ​​the independence of Catalonia. According to representatives of the Brussels police, they haven't seen anything like this in Brussels for a long time, if we talk about public actions. According to the most modest estimates, about 50 thousands of supporters of Catalan sovereignty gathered in the center of Brussels.
It is reported that the action is supported by two Catalan organizations advocating independence from the Spanish crown.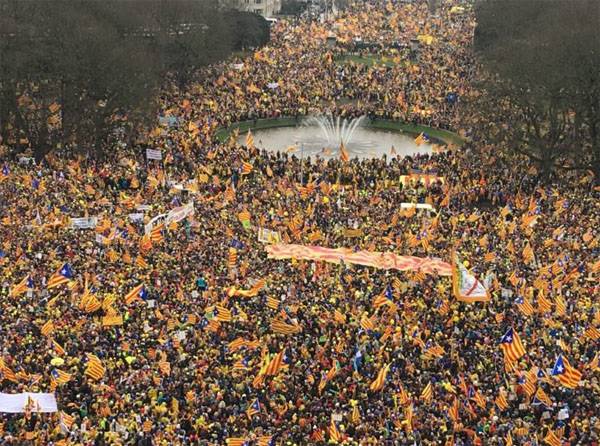 The situation was commented by representatives of the European Commission. In particular, from the office of European bureaucrats they hear the words that all the protesters should clearly understand that the main thing is respect for the rule of law.
Early in the morning, supporters of the independence of Catalonia arrived in Brussels on various means of transport, including trains and buses. On the streets of Brussels, you can see hundreds of Catalan flags. Locals say that the capital of Belgium has become more like Barcelona.
One of the protagonists of the rally of many thousands is Carles Puchdemon, to whom there are many questions from the Spanish Themis. Earlier, the Belgian authorities decided not to extradite Pucdemona of Spain before the elections to the Council of Catalonia.