The Russian MiG-29CMT fighter, which the Russian Federation Air Force has successfully used in Syria in the fight against terrorists, will be the basis for testing new and advanced aircraft weapon systems, said Sergei Korotkov, general designer of the United Aircraft Corporation (UAC).
The program for the development of the MiG-29SMT will be continued, including with the aim of testing the effectiveness of destruction by new and promising weapons systems. The experience gained in Syria will be taken into account in the operation of these aircraft, as well as implemented in the development of new
aviation
complexes of the "MiG" brand, including the MiG-35
- he said.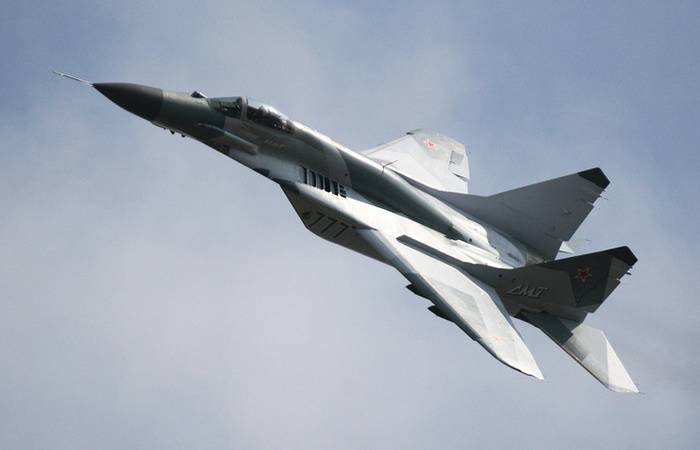 The general designer of the KLA specified that in September the party of the MiG-29SMT aviation complexes was sent to Hamime Air Base for testing. Korotkov at the head of the UAC delegation at the airbase analyzes the results of the use of air complexes in the operation of the Russian Armed Forces in Syria.
Participation in the combat missions of new aviation complexes allows you to confirm their reliability and efficiency, as well as evaluate the performance of the onboard radio electronics and weapons complex
- noted the general designer.
Korotkov added that during the two and a half months of operation, the aircraft made more than 140 sorties, fulfilling the task of destroying the infrastructure of terrorists. According to him, in Syria, the MiG-29SMT "carried out combat missions to defeat the bases of terrorists autonomously, as well as jointly with the Su-34 and Su-35 aircraft." He added that the MiG-29CMT also completed the task of escorting Tu-22М3 bombers.
MiG-29MT showed mobility and ease of operation with high levels of combat effectiveness. The verification of the combat capabilities of the upgraded front-line fighter, the MiG-29SMT, confirmed the operational efficiency of the regimes of use of air bombs, corrected air bombs and guided air-to-surface missiles with accuracy that corresponds to the TTZ on the complex, as well as their superior
- leads TASS words Korotkova