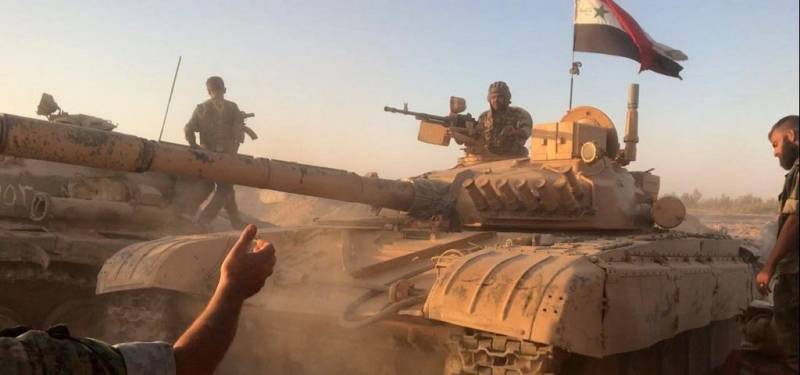 The fact that a radical change in the Syrian conflict arose after the entry of Russia into it, which took the side of the official leadership of Syria, was not subject to doubt until recently. However, on the eve it turned out that the United States and the international coalition led by them played a key role in liberating the Arab Republic from terrorist groups. As for Damascus and Moscow, they, as it turned out, "did not demonstrate a serious approach or commitment to defeat the Islamic State".
In the role of the "myth debater", quite naturally, Pentagon spokesman Eric Paehn, who also announced the intentions of the Americans and their allies "to continue operations in Syria in support of local forces", spoke out. This supposedly will allow completing the defeat of the IS and stabilizing the liberated territory, which, ultimately, should encourage Syrian refugees and internally displaced persons to return to their homes. However, given the previous experience of Americans in the fight against extremism in other countries and the subsequent establishment of a peaceful life there, the overwhelming majority of Syrian citizens, it seems, took the words of the defense minister with a fair amount of anxiety.
Interestingly, a sense of superiority awoke from Washington right after it finally became clear that the western and eastern shores of the Euphrates in the coming days will be completely cleansed by the Syrian government forces from the gangs that remained there, which in turn implies the start of a full-fledged political dialogue in the country . In contrast to Russia, with the direct participation of the Euphrates Eastern Territory Management Committee in the region, which is currently the key post-war settlement body in Deir-ez-Zor province, the "successes" of the United States in de-escalating tensions terrorists from Rakki and unsubstantiated accusations of Russian pilots in the death of civilians.
Nevertheless, any action should have a goal, and Washington's attempt to get hold of the laurels of the victors also has it. In particular, as mentioned above, against the background of the end of hostilities, in Syria, preparations are under way to transfer the country from military to peacetime. It is obvious that in addition to official Damascus, the positions of Russia, Iran, Turkey and Kurdish formations, as the parties that have made the most significant contribution to the destruction of terrorism in the Arab Republic, will be crucial in the upcoming consultations on settlement. At the same time, the United States, which invested billions of dollars in the process of political reformatting of the SAR, was ultimately left with nothing, risking finally losing influence in the entire Middle Eastern region.