Beijing will not support the DPRK as long as the dialogue continues between the leaders of the PRC and the US on resolving the nuclear crisis on the Korean Peninsula, reports
TASS
statement by the US permanent representative to the UN Nikki Haley.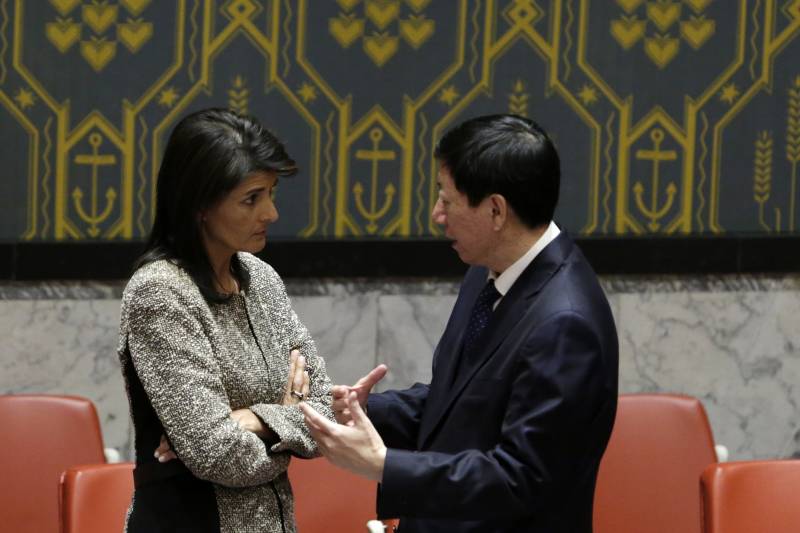 Journalists asked her if the calls of the Chinese Ministry of Foreign Affairs to the United States about the need to refrain from provocations against Pyongyang mean that Beijing will defend it if Washington decides to move to military actions against the DPRK.
All telephone conversations between President Xi (PRC Chairman Xi Jinping) and President Trump were conducted exclusively in a positive manner. President Trump asked Chairman Xi to cut off oil supplies (Pyongyang), because the last time this happened, North Korea came to the negotiating table. China followed the course of sanctions, and we see significant progress along the way, however they (China) did not go as far (as the US would like),
said haley
The US and China are trying to interact and act together, because this issue affects the situation in the region,
she added.
The permanent representative was asked again whether Washington could assume that Beijing is on its side in the matter of solving the North Korean problem.
As long as we keep communication channels open, we continue to carry on a dialogue and share one goal - the denuclearization of North Korea,
replied Haley.
On Monday, Beijing called on all interested parties to take steps to improve the situation in the Korean Peninsula area and avoid mutual provocations. First of all, we mean the joint exercises of the USA and South Korea.