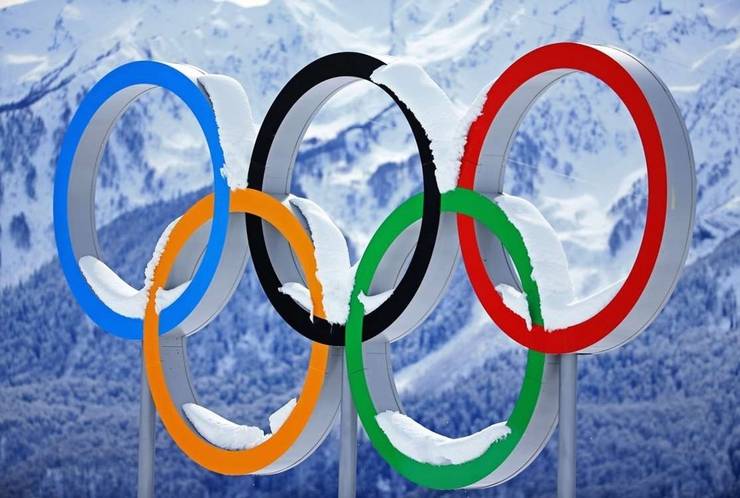 Everyone says that now WADA is deciding who to become an Olympic champion. And who is allowed to take doping on "medical prescriptions", and who should be removed for a scratch on a test tube, which was suddenly discovered after 2 of the year!
I am not writing about what dishonest Americans are there.
It's about the helplessness of our sports officials.
Here is a simple example. Elena Isinbayeva gave an interview about the IOC. Have you ever seen this interview? It's about our sports officials who, all 2 of the year, hoped for "honesty and decency" of the IOC leaders.
What 2 did a year ago, it was not clear that the ban under any pretexts would be at every subsequent Olympiad! What essentially the Olympic Games are American. They are masters there!
We need to think, and do we need such an Olympiad?
And what is interesting is that it is not interesting for the citizens of Russia to know the opinion of the 2-s multiple Olympic champion? Or vice versa ... I do not want to hear the truth, and how do leaders teach? Or maybe it is our television that the Americans give instructions? Not? Then why complain about the hard pressure of Americans, if we are afraid to speak and ignore the problem? Isinbayeva is not an ordinary citizen unknown to anyone, an opinion that is of no interest to anyone!
That 2 years ago said that they would take all measures. So what? What did you do? And what did you do? Complaints to sports arbitration, where Americans are also in charge of everything?
Everyone understood, but no shit did nothing! Here we are told by American lawyers that we cannot file a lawsuit in a criminal court because they provided that athletes who have signed an agreement with the IOC have the right to file only with sports arbitration. But it is impossible in the criminal. So spelled out in the contract. Only the case has long gone beyond just sports. It smells like politics, not sports!
Sorry, but for example, Paralympians who were not allowed and who could not sign anything at all? And even if they signed, then the refusal of one party to admit automatically this agreement would not be valid? Finally, a lawsuit could be just about defamation! To McLaren or Rodchenkov. That is purely criminal.
And this must be done by one of our discharged athletes. Best of Paralympic.
Sue for libel! On the same McLaren. And that Rodchenkov testified under oath in a US court! If it then turns out that he lied to him, then a criminal article is threatened. It seems to me that Rodchenkov will be removed altogether, as soon as it is no longer necessary. And they say it the Russian FSB did.
Even if we do not win the court, the hype around it is not on the hands of the Americans! We must resist, and not chew snot!
But why in the 2 year did not do anything, but just hung noodles on the ears? After all, it was proposed 2 years ago? But Mutko dismissed it.
Some say, but on whose money will the athlete file an American court? The question is certainly interesting.
There is such a long-known reception. If the question seems to be normal, but something in it is in doubt, then you need to turn it to this question on 180 c.
That is to ask. But the Americans organized all this on their personal funds of employees? Bribery and threats, company in the media. Doing Rodchenkova, when he should open his mouth to a certain date. And against this car means the personal funds of our athletes?
But if professional sport is such a cruel business, then maybe you shouldn't invest in it? And then the money is invested, and the state is then removed from protection. That is, it is, but only in words!
There is also the unofficial motto "The main thing is not victory, but participation", authorship, which is mistakenly attributed to de Coubertin.
Doesn't it seem funny to you today? In the 21 century, when dope is accepted for the victory, they eliminate competitors by dishonest methods! And when the price wins only money! Glory there in the back seat!
Where there is a lot of money, it is already difficult to call it sport. Rather, as in ancient Rome, bloody gladiatorial battles. Alas. Modern sport of high achievements is a vulgar show business.
And the race of pharmacology in this business is already coming to its limit.
The future "sport" of show business is due to gene mutations and cyborginization of the participants' organisms. For more entertainment.
The next step will be gladiator fights.
An example of this is a genetic freak American swimmer Michael Phelps.
And what is there to watch? How do asthmatics and patients with scattered attention syndrome compete, who more of them gobble up authorized doping?
Do we need professional sports in such quantities? To the detriment of amateur?
Time rushes forward! And the sport is also changing! He's not the one in 80's. Now everyone acknowledges that now sport is a competition of pharmacological companies. Who will create something new in doping, and of course who will have a roof in the leadership of the federations!
The one and the first.
Here, some very clever people quite rightly notice that if people pay for watching money, then of course this is just a show! I understand that these people did not catch the time when it was not quite so!
But for the slow-witted, I explain that the essence of the article and the raised question is about who should pay the salaries of the showmen! Helping the young to play sports is understandable. And pay fees to the stars?
Why are our oligarchs in no hurry to take on the maintenance of our athletes?
In short. We need to think globally so to speak, but what do we ultimately want? Finally decide, not trail at the end of events.
Otherwise it will be a bitter joke.
All subsequent Olympiads should take place in the same scenario ...
1. The opening of the Olympiad.
2. Presentation of all (!) Medals to representatives of the United States.
3. Closing of the Olympiad.
That is, we make our monetary contribution to the Olympic movement of one million dollars, and each time half of the athletes will go? It will be constantly! American pressure! So can do as in the pace? Defer payment in the coming year? Or for a million dollars to hire another independent lab. Million dollars should be enough for a couple of months of work once a year in 2? In short, you need to do something yourself, and not ask the crooks for justice! They are just fun and happy.
And you can break it only with active resistance, and not with your cheeks each time substituted for beating!
Someone says, there are world competitions, and there will be parochial, Russian, and everyone who wants to let us join. Sorry, but who needs them? Now in athletics, even the records set at the national championship of the Russian Federation will not be registered.
We have "open" competitions, and foreign athletes can come to them, but why? For bonuses? He will come to Russia today, and tomorrow he will not be invited to participate in the stage of the Diamond League. It's like that. Then you need both in professional boxing. You are on your own and your manager beats as a private person in a professional ring. And it is not funny, there is more honest than at the Olympics. It turns out that with our participation, we would shade the legitimacy and "impartiality" of the IOC.
Where big-big money is hard to call sports. Rather, as in ancient Rome, gladiator fights. And now no one doubts that the Olympic Games in this and degenerated! The only question is, is it worth participating in these dirty games and competing with athletes with permitted doping or not?
Do we need this? Can money be invested in a sport that is used to improve the nation, and not professional?
After all, everything had once been. You need only think ..
But the example has already been! With chess. They organized their world championship. And somehow everyone understood right away that discord is not conducive to business and income. And these revenues plummeted. Or maybe it is worth repeating?
Pancake. At least start scaring! And do not be silent. Something to start doing!
Nonprofit Olympiad ... Without doping. Because there is no big money, then do not need and dope. And let asthmatics from Norway with allowed doping compete with each other. The main thing to raise the question of the Olympics, that this is a commercial project and unfair competition in business. It is necessary to attack, not mumble!
Once again, time is rushing forward rapidly! And we, and our leaders still live by the old stereotypes! We need an analyst of what is happening now, new ideas, accurate calculation in the figures of the projects that we want to create in the end and an understanding of the direction in which we are moving. For now we will sail by the will of the waves. That is to say, by the will of Washington.
PS
Sands said that we do not think to boycott the Olympic Games! And if you think about it, if it goes like this, then you still have to boycott. Only the following. Because the reason to find a matter of technology. In the USSR, it was Afghanistan. And in 2, they will find something. So why pull and shame your country?
Remember Zadornov said - When you can't do anything, all that remains is to laugh! And I suggest to use the term American Olympic Games everywhere in the Russian media! Instead of international. Because you have to be honest, at least in front of yourself. What are we going to the American Games. On their terms and under their complete control everywhere. And to say, not in a whisper somewhere in the kitchen, but to the whole country. I understand that even just to laugh and not be afraid of the wrath of Washington, you need to have the political will and courage. Well, at least 1% of Kim.