The CAA, with the support of the Russian Aerospace Forces of the Russian Federation, liberated Deir-ez-Zor from the IG (a group is prohibited in the Russian Federation), four people were killed during the explosions of IG mines in Rakka. Reports about it
FAN
with reference to Syrian sources.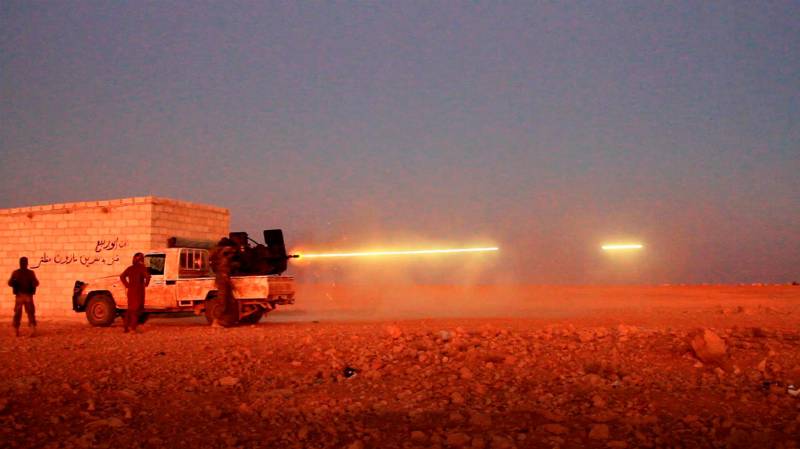 In the south-west of the province of Damascus continued clashes with the Syrian army anti-government groups. According to a local source, government troops launched rocket attacks on the strongholds of terrorists "Dzhebhat al-Nusra" (banned in the Russian Federation) in the areas of Mgarr al-Mir and not far from Beit Jinn. Also, hostilities were recorded in the strategic height of Tel Bardaya.
In the southern part of the province of Aleppo, skirmishes continued between the Syrian Arab Army (CAA) and the militants of the terrorist coalition led by Al-Nusra. The Syrian Air Force, together with the Russian Aerospace Forces, attacked the zones of deployment of radical Islamists in the areas of Hamidia, Tal Ahmar, Abu Duhur, Siyala, Ramla and Ar-Rashidiya. Brigades of the Turkish army continued shelling the positions of the Kurdish Popular Self-Defense Detachments (YPG) in the vicinity of the city of Afrin. YPG, for its part, attacked the positions of the Turkish Armed Forces in the area of ​​Bulbul village, located near the Syrian-Turkish border.
Yesterday morning it became known that the Syrian army, under the cover of the Russian Aerospace Forces, liberated several settlements on the western bank of the Euphrates River in the province of Deir ez-Zor from ISIS terrorists. The elite unit of the Syrian government forces "Tiger Forces" with the support of the Russian Air Force, overcame IS resistance and reached Abu Kemal. In the strategic city, the teams of General Suheil joined with the units of the Syrian Arab Army (SAA) deployed there. At the end of the day, information appeared that the SAA was under the guise of a Russian
aviation
completely freed from terrorists the west coast of the Euphrates. As stated in the Ministry of Defense of the Russian Federation, the forces of the IG group are completely defeated on the eastern and western banks of the Euphrates River.
The Russian Aerospace Forces conducted a series of strikes against the deployment zones of the terrorists of the "Nusre" controlled coalition in the east of Idlib province. Russian aviation attacked Islamist strongholds in the Abu Dali, Al-Shteib and Al-Balil areas.
In the morning in the city of Rakka an explosion thundered. Mina, abandoned by the militants during the retreat, detonated on one of the squares in the heart of the administrative center of the region. The incident killed three civilians. Another device exploded in the area of ​​the city power station, where one person died.
The Russian Space Forces together with the Syrian Air Force attacked the fortifications of al-Nusra in the vicinity of the settlements of Al-Balil, Umm Turekei, Umm Hazim and Abu Dali in the north-east of Hama province. Fighting between the CAA and terrorist groups also continued in the province. Government forces drove terrorists from the southeastern slope of Tel-Rahyan hill. Also, the Syrian military is moving to a strategic height from the village of Rahadzhan.