According to the head of Hermitage Capital Management, William Browder, Putin is "kleptokrat" and wants to "corrupt international organizations." Putin wants the West to evil, to respect him can not, and put up with him, too, can not. This businessman told CNN.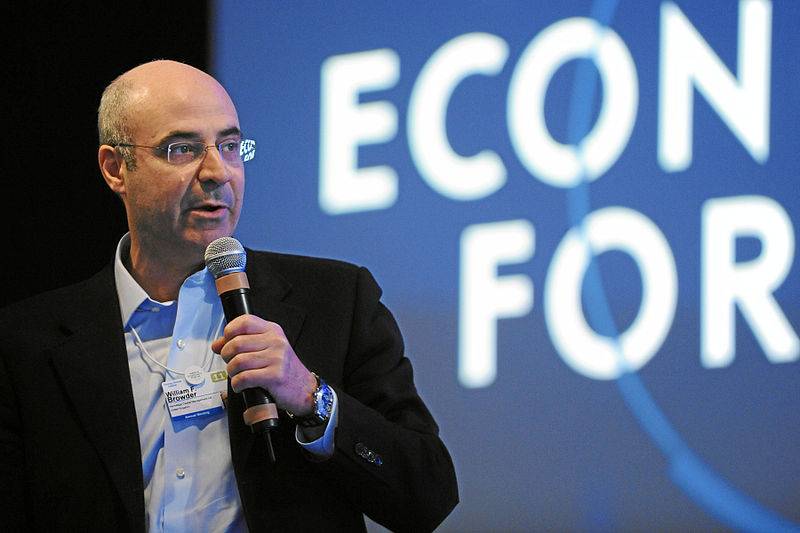 W. Browder. Photo: World Economic Forum.
Source
Giving an interview to a CNN journalist, William Browder said that it's impossible to reconcile with the Russian president. Interview quotes site
"InoTV"
.
According to Browder, Russia cheated at the Sochi Olympics, and this "led to the IOC's decision to remove it." But this is "just one of so many areas where Russia is cheating." She also creates her fraudulent affairs in international politics: she interferes in the American and British elections, she cheats "in the field of international finance", etc.
As for the International Olympic Committee, Putin "can't do anything with him". "And this is one of the reasons," explains Browder, "why, on the one hand, he most wants to corrupt international organizations, and on the other hand, he feels most helpless when they act against him."
William Browder did not hesitate to describe V. V. Putin:
"I know Vladimir Putin better than many others. He is a cold-blooded killer, a criminal, a kleptocrat, and he is not the person we must respect. "
The White House today takes an extremely tough stance towards Russia, ruled by Putin: "Listen to the speech of Rex Tillerson, with which he spoke last week, he spoke very harshly about Russia. Nikki Haley takes a very tough position in Russia. General Mattis takes a very tough stance on Russia. "
At the end of the interview, Mr. Browder allowed himself to give some advice to President Trump. Also about Putin. "But if Trump would have listened to me on Putin's question and was unbiased, I would say that Vladimir Putin is a person who wishes us harm," Browder said. - He [Putin] is not our friend. And most importantly: we can not reconcile with him. Vladimir Putin can not reason. This person must be restrained. And if Trump is the kind of person for whom he pretends to be, then he should be extremely tough with respect to Putin, restrain him and not allow him to tamper with Ukraine, not let him fuss in Syria, do not allow him to crack our elections and cheat at the Olympics…"
Strange things, we note, Mr. Browder said on the White House and the "hard" position of the Trump team in relation to Putin. If all Trump's appointees are "extremely tough" against Putin, then why is Trump himself so "biased"? This is said simply because CNN is a channel that sympathizes not with the Republicans, but with the Democrats, and likes to invite the politicians to the appropriate editorial staff. There would be happy to win the election-2016 Hillary Clinton, not Donald Trump. Therefore, Mr. Trump, who in the slightest sense is not and cannot be a partner of Russia at least in some way, is still being scammed at the suggestion of the local journalists. It does not matter what or who is being discussed in the interview: if Putin is portrayed as a world villain, then Trump will be put in front of him as a beginner bad guy.
Observed and commented on Oleg Chuvakin
- especially for topwar.ru