Atomflot can build two more universal nuclear-powered icebreakers (UAL, 22220 series) LK-60 at Baltic Plant - Shipbuilding LLC, reports
Kommersant
with reference to its sources.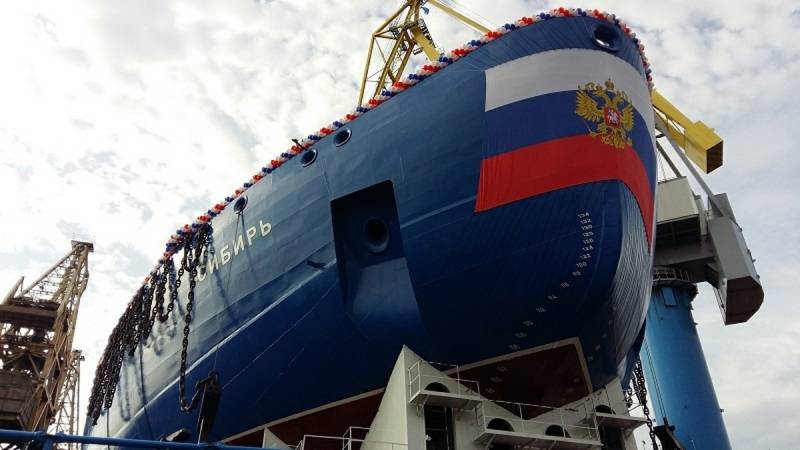 USC President Alexei Rakhmanov confirmed to the newspaper: the question of building the fourth and fifth LC-60 at Baltzavod is being discussed, but "to say that the contract is already under way, today it is impossible".
The idea is that the LC-60 is good, but for more efficient posting caravans of ships with a large displacement, they should be slightly different configuration. They will be different from the first three,
added on.
According to the Chief Designer of the Iceberg Central Design Bureau (designer LC-60) Alexander Ryzhkov, the Krylovsky State Research Center "has already passed the tests of models of the fourth and fifth icebreakers of the 22220 project". New ships will be wider on 5, which will provide a higher speed for tankers.
Today, with an 1,5 ice thickness, a gas carrier such as Christophe de Margerie will be able to follow LC-60 at speeds of 4,5 – 5 knots. Increasing the size will allow you to go at a speed of six knots,
Ryzhkov explained.
According to one source, an understanding of the need for two more LC-60s arose after Dmitry Medvedev's visit to China, since China is interested in Arctic LNG-2. They are required even for the year-round western route.
For the East Siberian Sea, the base gas carriers must be of the Yamalmax class with a deadweight of almost 90 thousand tons, a width of 50 m and a length of 300 m. Icebreakers are necessary for their posting even on the sea channel in the Ob Bay, which are now wider than the UAL. Such a decision should not be a major change for designers,
said the source.
However, none of the sources of the publication could not explain where to get funds for the new LC-60. Apparently, the possibilities of the budget have been exhausted.
Mikhail Grigoriev, a member of the Scientific Council under the Security Council of the Russian Federation, considered the idea of ​​building two more icebreakers "absolutely correct." At the same time, he noted that while there is no experience in operating vessels for Yamal LNG, no one knows how they will work throughout the year, especially in the eastern direction, and now the predictions about the necessary number of icebreakers are "fairly conditional".