The timing of exit from the repair of a large anti-submarine ship (BOD) "Admiral Chabanenko" Northern
fleet
once again they will be reviewed, and not through the fault of shipbuilders, an industry source said Wednesday.
Due to the lack of funding, the entire scope of modernization works that need to be carried out on a ship has not yet been determined.
- He said.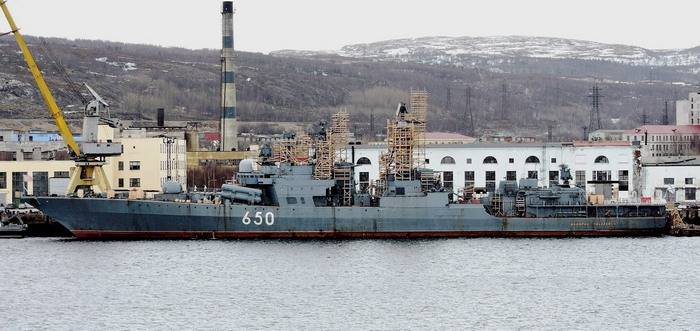 BOD "Admiral Chabanenko" - the only representative of the ships of the 1155.1 project in the Russian Navy - got up for repair and modernization at the 35 ship repair plant - a branch of the Zvezdochka Ship Repair Center (part of the United Shipbuilding Corporation) in 2014. At first it was assumed that he would restore technical readiness in the 2016 year, then in the 2017 year.
Even the adjusted plan will not be executed. Due to the lack of funds, it is now impossible even to say roughly when the BOD will leave the 35 CPH.
- Said the source agency.
Earlier it was reported that as of the end of 2015, there was an agreement between industry and the military to increase funding for the entire planned scope of work, but, apparently, it was not implemented, reports Interfax-AVN